An Vietnamese foods restaurant chain store is expanding quckly
I went to a restaurant at lunchtime that have green signboard could be seen from the platform of Keisei-Yawata station.
SUN FLOWER Motoyawata branch
Lunch menus. They serve various foods at lunchtime. This is bun menus. Another pho menus and rice menus there, too.
Every foods name is like magic spell and I had no idea what to eat if there is no photos and descriptions.
So, this menu is very kind to Vietnamese foods beginners like me.
I wanted to have rice, so, I ordered rice set.
All rice sets have spring roll. The spring roll was good. But the sauce was … it was tasteless 😛
After a while, my lunch was completely served.
*Ga Xao Sa Ot set (ガーサオサーオット, 980 yen)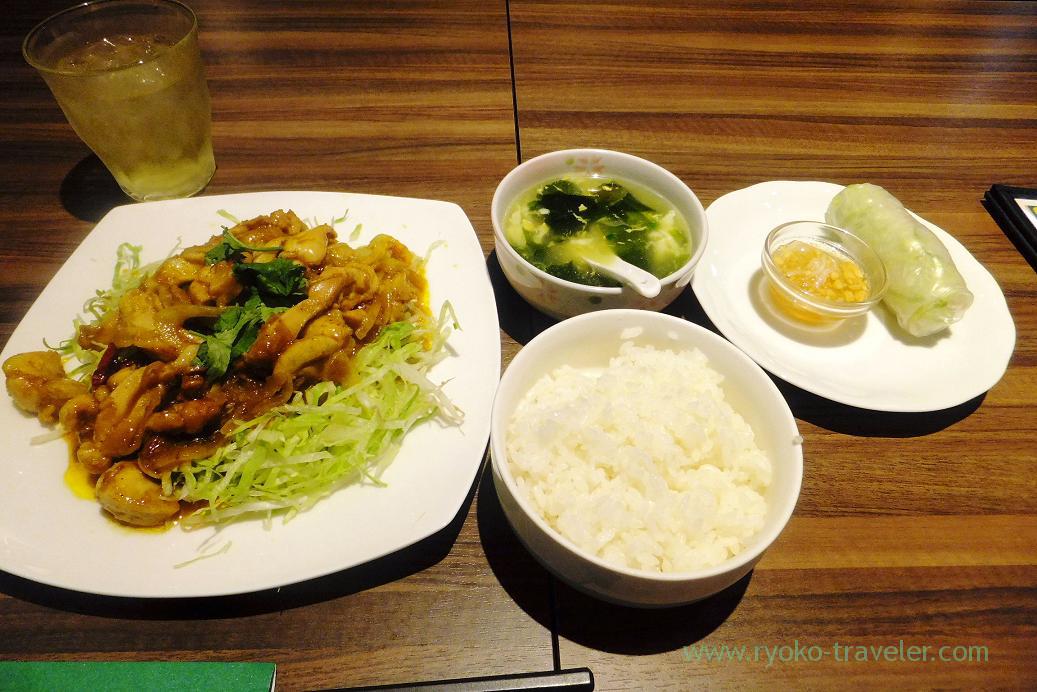 It is fried chicken and onion with lemon grass and curry powder. Coriander leaves on it. It's rather sweet, but tasty.
The sauce was good and I ate the spring roll with the sauce 🙂
Iced coffee after the meal.
I think this is very inexpensive. But let me say just one.
It's far from Vietnamese foods. It's Japanese tastes !
Only the coriander made me feel Vietnam !
This is a branch of chain stores that is recently expanding around Keisei stations and recently Keisei Funabashi branch is open.
I want to try there, too.
About Sun Flower Motoyawata branch (サンフラワー本八幡店)
Address /3-27-5 Yawata, Ichikawa-shi, Chiba
Station / Keisei Yawata station (Keisei main line)
Open / 11:00 – 15:00, 17:00 – 23:00
Closed / No scheduled