My delight dandan noodles has changed a bit…
I felt like eating dandan noodles at AUN after a long absence and went to there after work.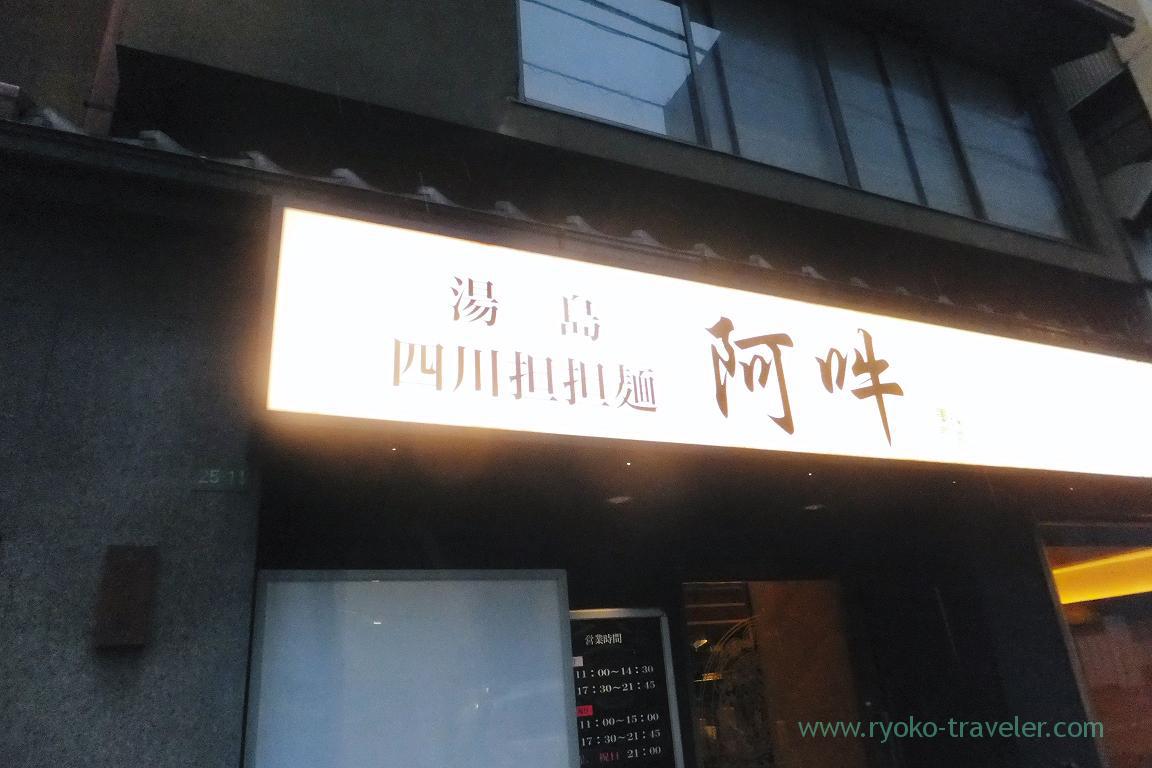 The signboard has changed. "Yushima (湯島)" was added on the signboard !
YES. AUN is open new branch at Asakusa before I knew.
So, that day, when I got to the shop, there were many vacant seats. I had to wait for about 20 minutes last time.
Maybe many people visit new Asakusa branch 🙂
The manager has changed and the new manager seems to eager to earn money. The former manager was good cook, but he wasn't good at management and nevertheless it was popular shop, the business condition got worse.
As same as last time, I ate level 4 of dandan noodles  (without soup)
Plenty of minced meat, Sichuan pepper, mizuna. The noodles were wide and sticky.
The degrees of spiciness is chosen from three. Level 3 to 5.
Mixed altogether well. The noodle was sticky. So, my arm got tired 😛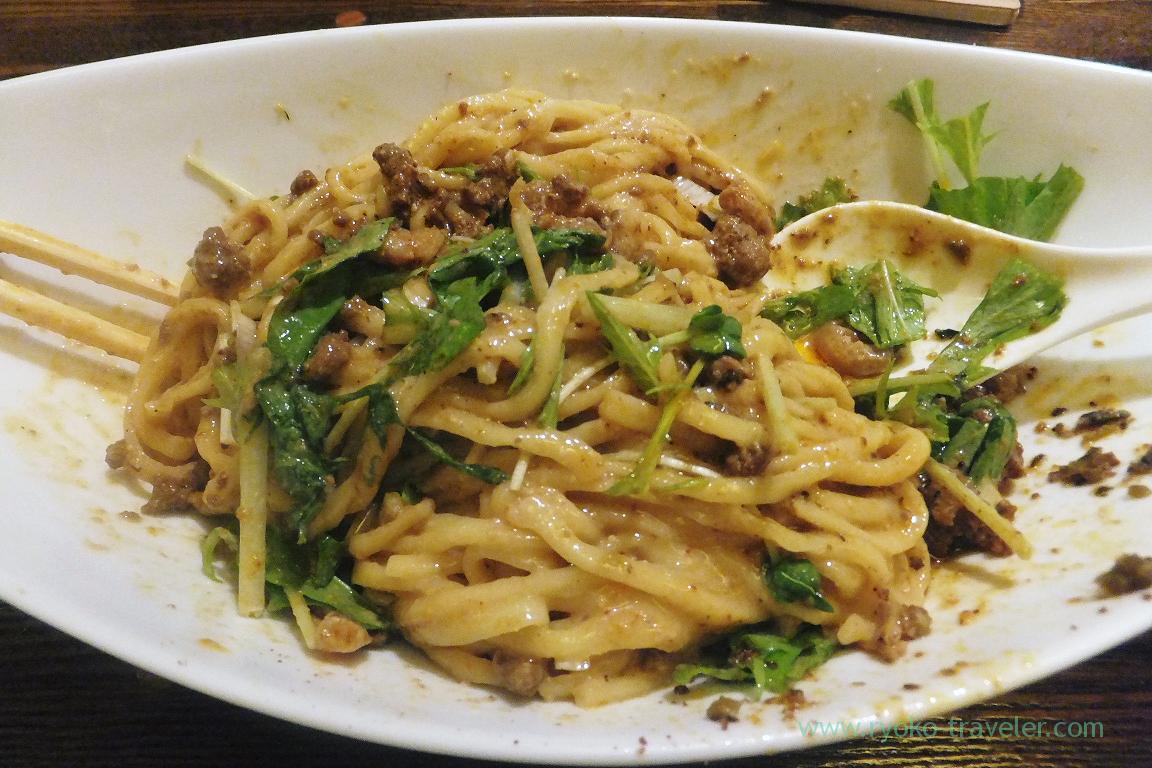 I had thought this is No.1 dandan noodles in Tokyo, but this time, I didn't think so.
The best reason is the levels of spiciness. The noodles I ate last time had so much Sichuan pepper and great pungency.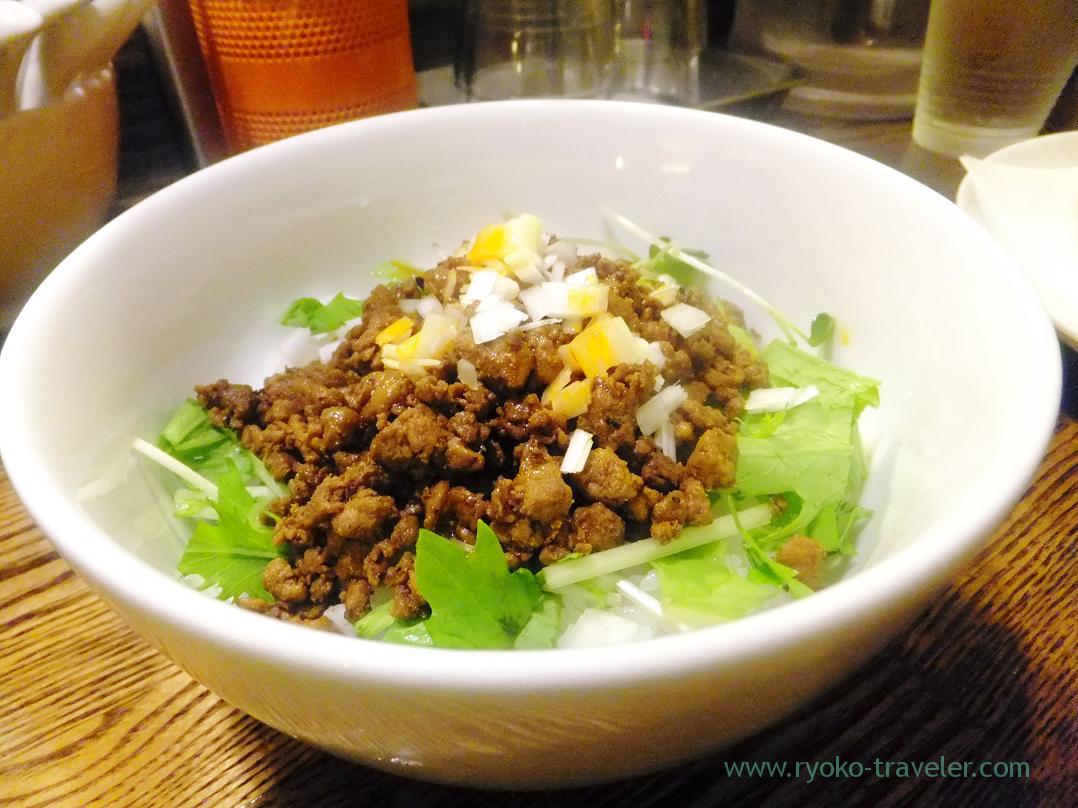 Yushima : Wishing my favorite shop AUN continue the business (四川担担麺 阿吽)

My best dandan noodle shop has reopened I went to the my favorite shop around Yushima. Aun This shop have much...


But this time, the amount of Sichuan pepper was not much. Umm. The new manager's management skill ?
Perhaps, Asakusa branch have better cook. I'll try the branch.
About Sichuan Dandan noodles AUN Yushima branch (四川担担麺 阿吽 湯島店)
Address / 3-25-11 Yushima, Bunkyo-ku, Tokyo
Station / Yushima station (Tokyo metro)
Open / 11:00 – 14:00, 17:30 – 22:00
Saturdays / 11:00 – 15:00, 17:30 – 22:00
Sundays and another national holidays / 11:00 – 15:00, 17:30 – 21:00
Tuesdays (national holiday) / 11:00 – 18:00
Closed / Tuesdays (In case of national holiday it is open and the next day is closed)
Website / http://szechuan-aun.com/(in Japanese only)

About Sichuan Dandan noodles AUN Asakusa branch (四川担担麺 阿吽 浅草店)
Address / 1-1-13 Nishi-Asakusa, Taito-ku, Tokyo
Station / Asakusa station (Tokyo metro)
Open / 11:00 – 15:00, 17:30 – 21:00
Closed / Tuesdays (In case of national holiday it is open)
Website / http://szechuan-aun.com/(in Japanese only)