Shungourmand is a dining bar serving various awesome meats
I had wanted to go a dining bar close to Hacchobori station for a long time.
My friend is a regular customer and he often visit there day and night.
Finally, he brought us to there !
Shungourmand
Hacchobori is business district. It was calm when I got to there about seven p.m. on workday.
I walked from my office to there for about one hour 😛
2-3-7 Shinkawa, Chuo-ku, Tokyo
It is not large dining bar, so we have to reserve in advance.
At first, we toasted with sparkling wine !
crunchy pickled plum and olives were served as otoshi.
It's innovative and nice !
I said now my friend is regular customer of there and he reserved this dinner. So, I don't know some of foods' price because those were not on the menus.
Also it, too.
Mochi buta pork rillettes (もち豚のリエット)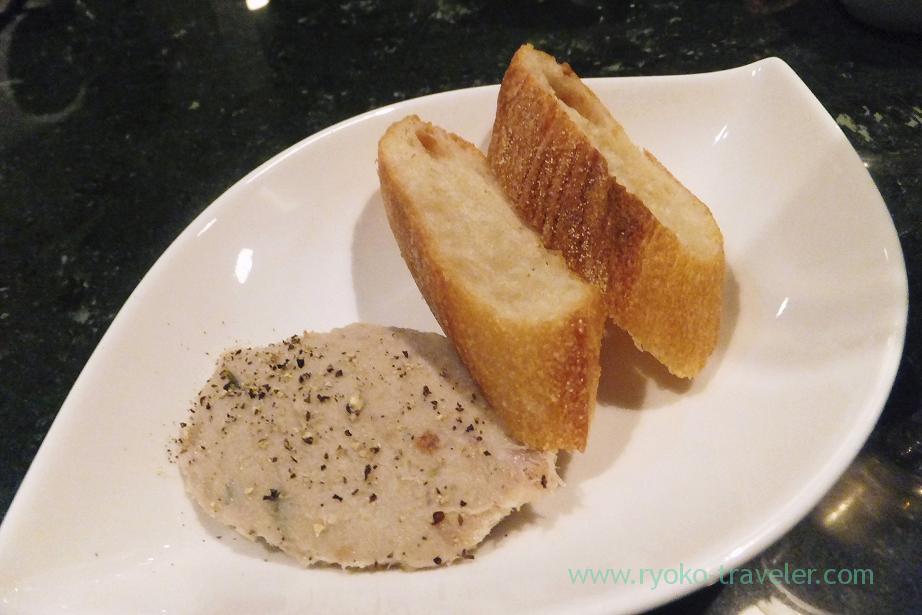 Appetizers (前菜盛り合わせ)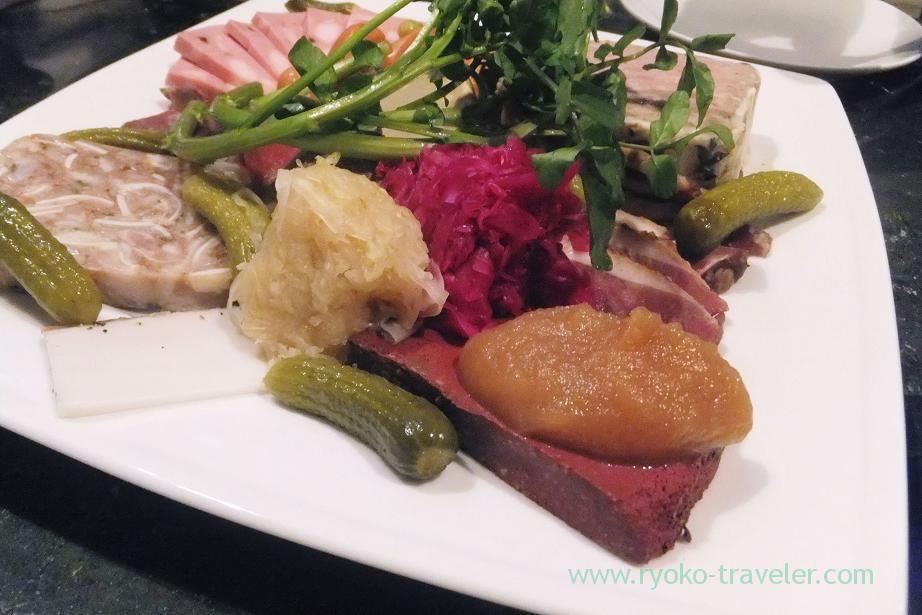 Everything was meat ! Collagen terrine, foire gras terrine, marinated lamb meat with salt and so on.
Brown red paste this side is made from porks' blood. Sounds disgusting, but by eating it with apple sauce on it, the beast-smell was diminished.
Tankaku beef carpaccio (短角牛のカルパッチョ)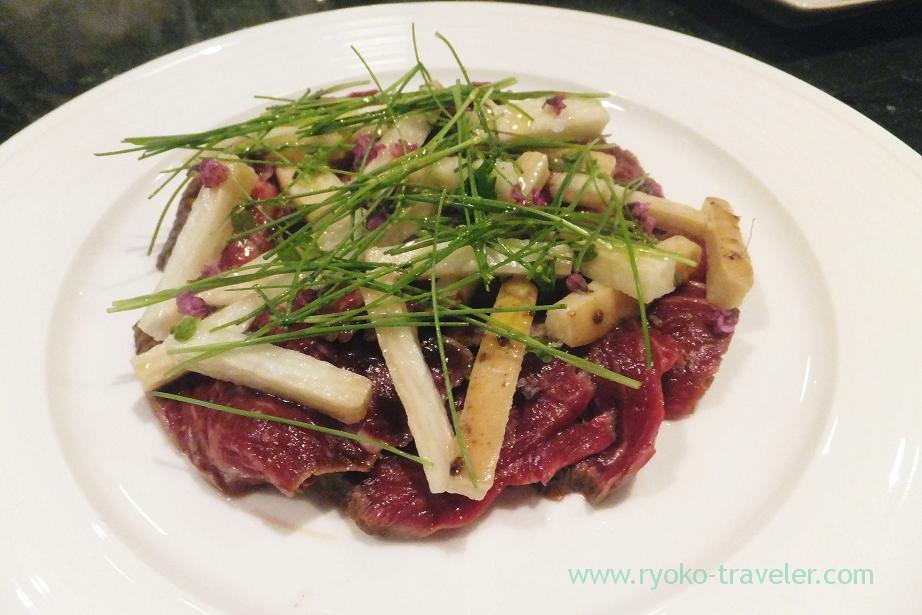 We have to eat not only meats but also vegetables !
Bagna cauda (バーニャカウダ) 1800 yen
Those vegetables are freshly harvested in the morning at a farm in Ibaraki.
Marinated whelk and red eggpland puree (つぶ貝のマリネと赤ナスのピュレ)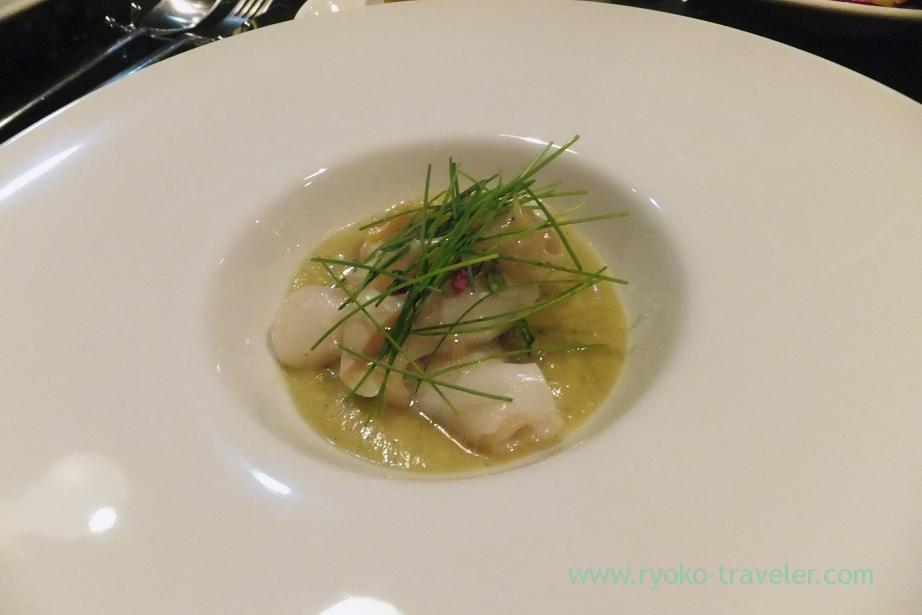 Steamed conger eel with fragrant grass and white wine (香草と白ワインで蒸した穴子) 1500 yen
With white asparagus and fresh fruits tomato sauce.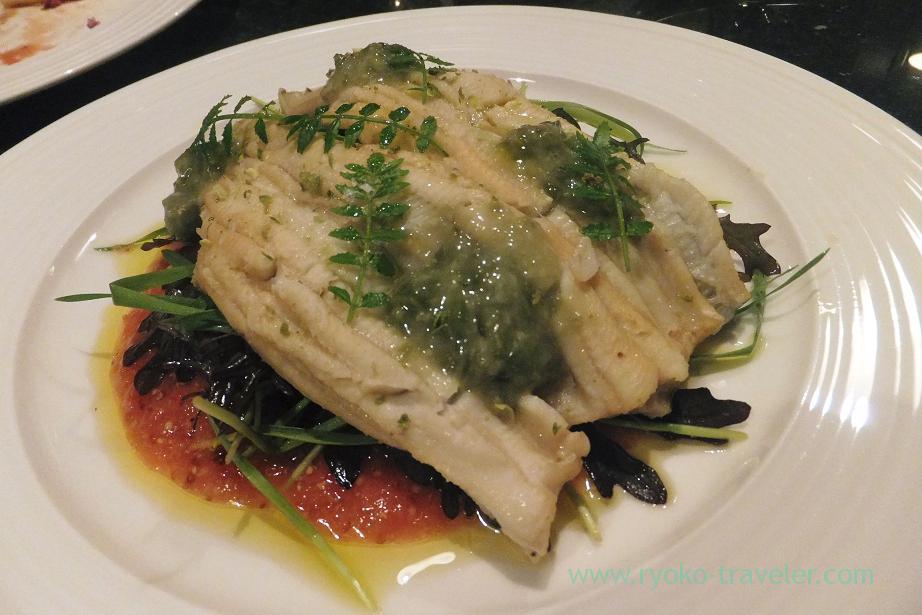 We ordered red wine for gorgeous meats dish… Yes you already see from this photo.
Yakiniku matsuri deluxe (伝統のヤキニク祭りDX, 8000 yen for 3 or 4 person)
It is larger size for 6 person 🙂 Gorgeous !
Umeyama pork ! So thick !
Chicken's soup ramen (鳥だしのラーメン, current price)
Meat shop's napolitan (肉屋のナポリタン, 1000 yen)
It was unusually spicy napolitan. Those red powders were red pepepr 😛
Last, Assorted sweets (デザート盛り合わせ, 1500 yen).
The dinner was wonderful and I like this restaurant. I want to visit there lunchtime, too.
At lunchtime, they serve "lunch plate" that have much meats as same as Yakiniku matsuri deluxe 🙂
The first picture of this page is lunch plate 🙂
–> http://shungourmand.jp/menus
About Shungourmand (シュングルマン)
Address / Namisho Bldg 1F, 2-3-7 Sinkawa, Chuo-ku, Tokyo
Station / Hacchobori station (Tokyo metro)
Open / 11:45 – 13:30, 18:00 – 23:00
Saturdays / 18:00 – 23:00
Closed / Sundays and another national holidays
Website / http://shungourmand.jp/(in Japanese only)