This is a sample I got before when winter comes, I don't use it.
So, I tried to use it now.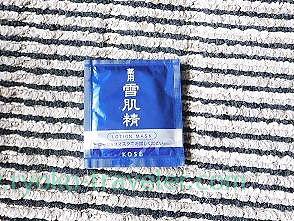 This is a sheet mask with sekkisei lotion.
Why I don't use it in winter?
Because Sekkisei Lotion does not have enough moisture for me.
I have a very very dry skin.
It is only for trying sekkisei lotion.
It is not for sell. This is a sample.
So this paper doesn't have good quality.
I can keep only 5 minutes on my face.
Because of dry-weather, it is easy to dry fast.
Sekkisei Lotion has been admired by me in my school days because it is expensive for teens,
and I admire Sekkisei Lotion because of my dry skin in future.
… Oh, heavy thunder comes.
It begins to rain heavily.
I thought this is sounds that someone carrying suitcase.
I think I haven't heard rolls of thunder for a long time, always only shining.
Meitetu-Kanko send me an airline ticket at last.
They said not contact me after receiving money.
I was worried about whether they could receive my money, whether My reservation was  complete 🙁
It was heavy rain all the day yesterday,so  ticket is moisten slightly.
[amazonjs asin="B001TJ937C" locale="US" title="Kose Sekkisei Lotion, 12.1 Fluid Ounce"]
* Rakuten global market : KOSE Kose sekkisei energy lotion 200 ml