After going down Mt.Warabi, I dropped in at Sawarabi no yu.
http://www.ryoko-traveler.com/mt-warabi2011/
There is a "Sawarabi-no-yu" bus stop, but "Sawarabi-no-yu" is located farther away from the bus stop.
There is a ticket vending machine at an entrance.
Naturally, I thought I give it to receptionist,but
She said, "Please give me it when you leave."
I can't understand. For what?
I have no experiences such a system.
Entering the entrance, there is a resting space.
Entering the dressing room.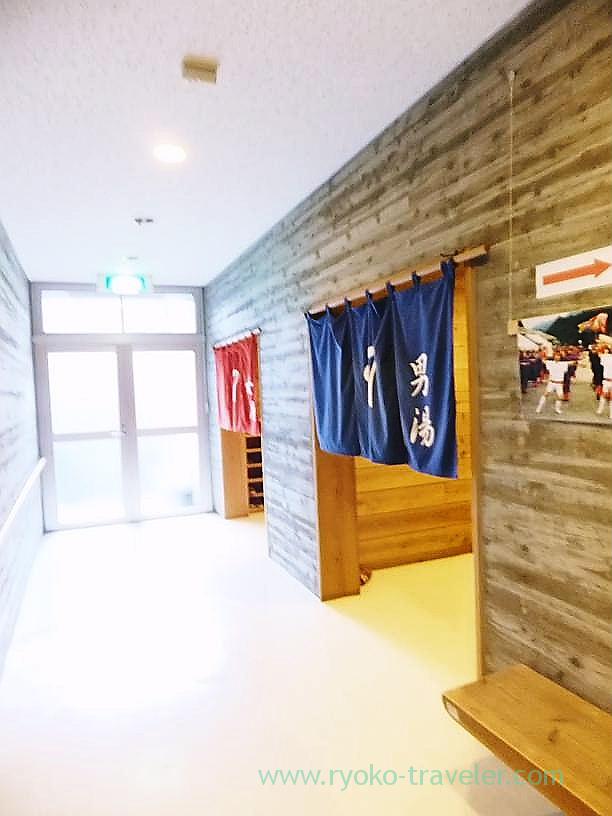 Too small.
There is not too much guests, but it is small.
There is much guestes than the capacity of the room.
There is many coin-operated lockers, but the number of guests who can stand in front of the locker is only 6 people.
So, there were some people who cannot get the locker.
Dodge my way through the crowd, I managed to hold the position.
Entering the bath room, it is larger than I expected.
But it is small for the number of guests.
Sauna is steam sauna. I'm please.
I don't like dry sauna.
There is a very tupid bath(not cold water)
Why does it such a stupid ?
There is a sauna, so probably it is use as cold water bath.
Why isn't it cold water ?
The reason is that cold bath isn't good for body ?
Ummm.
Open-bath air is small
Onsen water became drop in quality because it affected by air outside.
And, tepid.
Indoor bath is better than such a uncomfortable bath.
But I don't like the indoor bath, too.
Because….
Each bath water chlorinate.
So, it smells chlorine strong.
Of course, I have been wanted to take the bath for a long time, so I'm only glad to take the bath.
But I don't want to come again.
Especially, alkaline simple hot spring doesn't have any smell, so chlorine smells appears clearly.
A, but it is good for me that I could disinfect with chlorine my body after the mountain 😛
About SAWARABI NO YU
* onsen / Alkaline simple hot spring
* bathtub / large bath (onsen), open-air bath(onsen), vary tepid bath(onsen?)
* sauna / steam sauna
* address / 685 Shimonaguri Hanno-city Saitama-ken
* closest station / Hanno Station (Seibu Chichibu Line)
* closest bus stop / Sawarabi-no-yu bus stop
* charge / 800 yen
* open / from 10:00 to 18:00 (change according to seasons)
* holidays / almost nothing (Irregular)
* locker / free locker (for shoes, for baggage)
* hair dryer / two (free )
* another facility / restaurant, room to take rest, shop