I was landing on Russia for the first time !
I have been to Russia from 13 August to 20. (Exactly untill 19 :P)
It already one week passed after I went back to Japan.
This was the first time to go travel by group tour, so I didnt know what should I do.
I went to the reception, then checkin, went back to the reception again.
Finally, everyone to gathered,
I thought in my mind"I want to go back to home 🙁 "
I thought that I couldn't bear acting as a group for days. Before I arrived at Russia, I thought so 😛
After reaggregation, when we went to safety inspection area, our tour conductor said that we could take free action until reaching Moscow.
So, I went to restaurant area.
This trip was for 8 days. It was long for me, so I intended to eat fishes until my stomach is full at Tsukiji just before, but I couldn't get up early hour.
I went to Hajime Sengyo-ten.
So, I ate sushi at "Kyotaru Sushi-yuraku" in the Narita Airport.
It was not good. Sushi itself was not good. And an elder sushi cook's attitude was so bad 🙁
I never visit there again 🙁
Then I got the airplane.
I took a Aeroflot plane bound from Narita to Paris via Moscow
There were so many vacant seats in our airplane.
I kept 4 seat in a line, and I slept all the time 😛
In Japan, I drink coke only at McDonald's. Hamburgers goes very well with coke.
But somehow I always feel like drinking coke at overseas.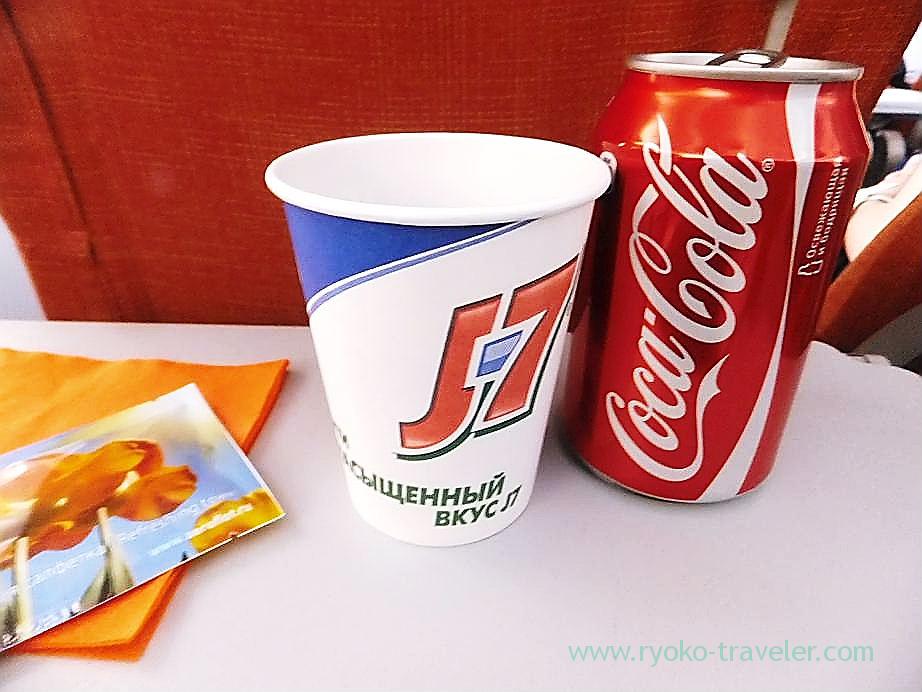 In-flight meals came.
Beef or fish, I selected beef.
I thought that is likely to be more acceptable for me 😐
In-flight meals in Aeroflot that I ate was not good.
Frankly, these were nasty 🙁

I think "Nasty" is a word for it.
I say again.

It's really nasty.
And the cake was too much sweet.
I ate the cake only one bite 🙁 Later I ate senbei. I wanted to remove its sweetness in my mouth by saltiness of senbei.
And before landing, second in-flight meals came. Shrimps or salmons. I selected shrimps'. That was a spaghetti.
Mikan jelly was good 😛
I could eat up only this meals in the all in-flight meals that I ate at this travel.
Before being in Russia, I felt off-color. So I felt uneasy about my travel "What will come ?"
After 10 hours flight, we arrived at Sheremetyevo International Airport without any accident. New and clearn airport.
It had a long long line for immigration. At first, I couldn't recognize it was a line for immigration. Because Its long queue was snaking its way to about 30 meter from immigration.
It was unable to find immigration from the end of the queue.
But an airport staff took us to another place.
You can't see too well, but it is written as "For Russian Citizens".
We went through immigration procedures at here.
Certainly I heard that tourist groups are given good treatment in Russia.
But I never thought of going through the immigration procedure at the place for Russian 🙂
I went toward exit, I found it rained so heavily.
You may be unable to find by this photo.
But ill drained. It seemed pond 🙁
When I took the picture, an old man(maybe he is Russian) spoke to me. "Why taking such a picture ? No rain, in Japan ?"
No, what unusual for me was such a sodden ground. 😛
Well, now it have so heavy rainfalls around Shikoku and Kyusyu.
He also said, "Do you like rain ?"
At first, I thought, "I never like rainfalls 🙁 Who ever heard of a man liking such a heavy rainfalls ! "
But on reflection, there aren't some countries that haven't sufficient rainfalls. Well,,,,
Well, I went out of the airport like this without much thought, then I tried to enter the airport again, but I couldn't enter from same entrance that I went out. It is for exit only. I had to go through the inspection 🙁
Going out of the airport is too easy, but getting into the airport is difficult.
I tried to force my way through, but I couldn't 🙁
8:00 p.m. It was still light.
The time when we arrived at our hotel, the rain stopped and the blue sky was showing.
[amazonjs asin="1742207332″ locale="US" title="Lonely Planet Russia (Travel Guide)"]
About Kyotaru Sushi Yuraku Narita Airport Terminal 1 branch (京樽 すし遊洛 成田空港第1ターミナル店)
Address / Narita Airport Terminal 1, 4F, 1 Furugome, Narita-shi, Chiba
Station / Narita airport station (Keisei Narita Airport line)
Open / 8:00 – 20:30
Closed /No scheduled
Website / http://www.kyotaru.co.jp/ (in japanese only)