Huge night market embarrassed me.
Well, what I ate at Ruifeng night market after all was…
Though I wanted to eat yakitori,
I decided to eat 海鮮鍋 (Seafood hotpot, 100 TWD) at 池王 that I had wanted to eat when I visit to Taiwan.
Those Japanese words are something strange… but no problem ! I pointed it out !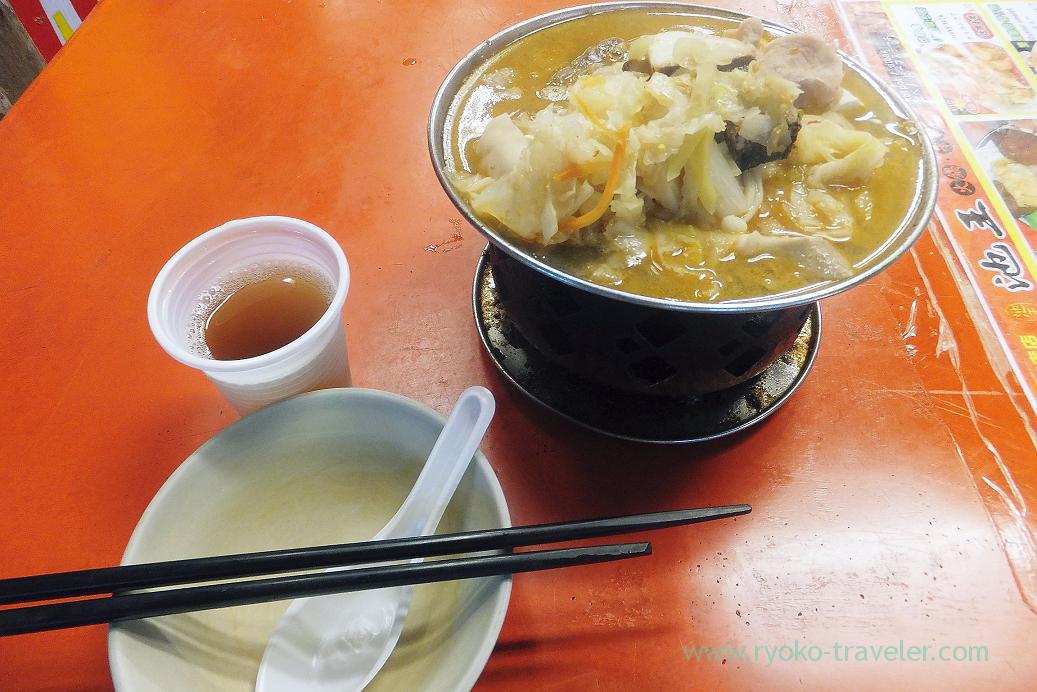 They fried all ingredients once and then they put them into the hotpot.So, everything was cooked when it was served. I could eat soon.
Cabagge, carrot, enoki mushrooms, and so on. But to my disappointed, there was little seafood in the hotpot as you see 🙁
Only a few slices of fish were in it. Though I ordered very spicy hotpot, it wasn't spicy at all.
What's this ? I thought at first and asked the staff. He said to me that it is blood of duck. Oh my…
I didn't hate its taste, but I couldn't like its springy texture 🙁
After that I ate soup dumplings at this stall. The lady gave order sheet to me, so it was easy to order though I can't speak Chinese 🙂
邵師傳上海湯包
爆漿湯包 (Soup dumplings, 60 TWD)
It had plenty of soup 🙂 I like it. And this 8 soup dumplings made me full :p
So, I went back to my hotel after finished eating them.I got tired of large number people…
About Ruifeng night market
Station / Kaohsiung arena station (巨蛋帖)
Open / around 18:00 – 25:00
Closed / Mondays, Wednesdays