Notice : Re-fish shokudou has changed their name to "Nippon Fisherman's diner"
(December 20, 2015)
Coffee Amikane quit their business.
(April 30, 2018)
---
New shop has opened temporarily in Platto Tsukiji bldg.
I heard the shop named Re-fish Shokudou is open until end of this August and my friend took me to there.
The shop is in the prefab house. After the shop end their business, new limited-time shop will open again.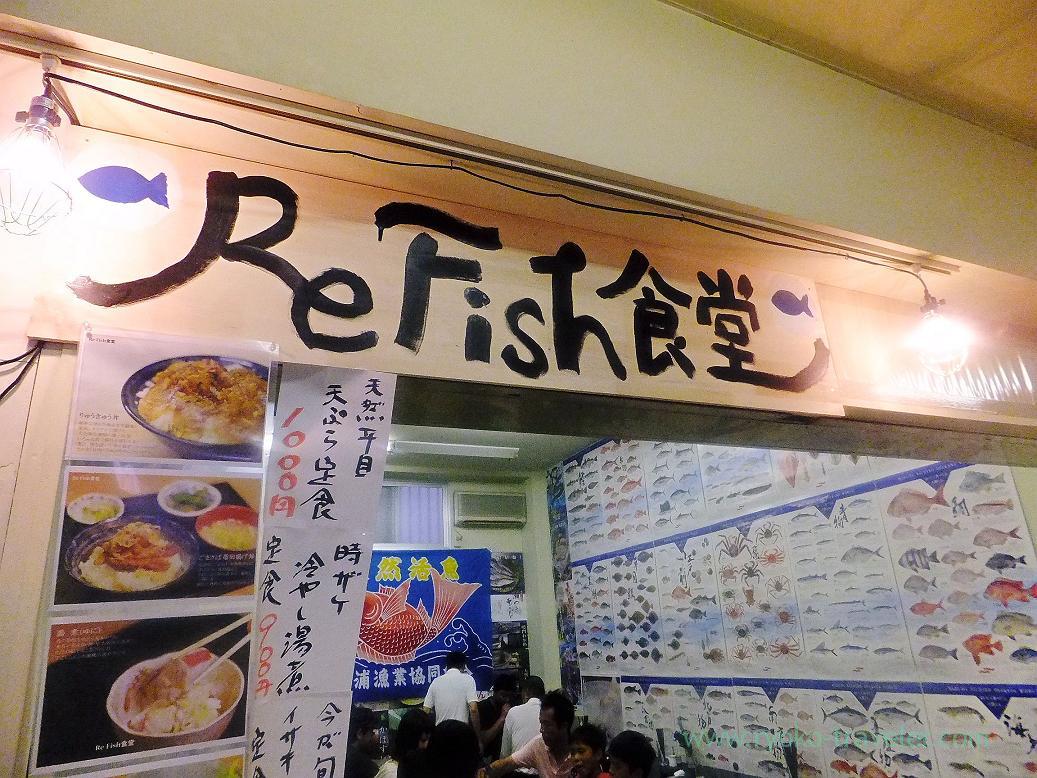 I remember this flag,,, If I remember right, former shop had this flag 😛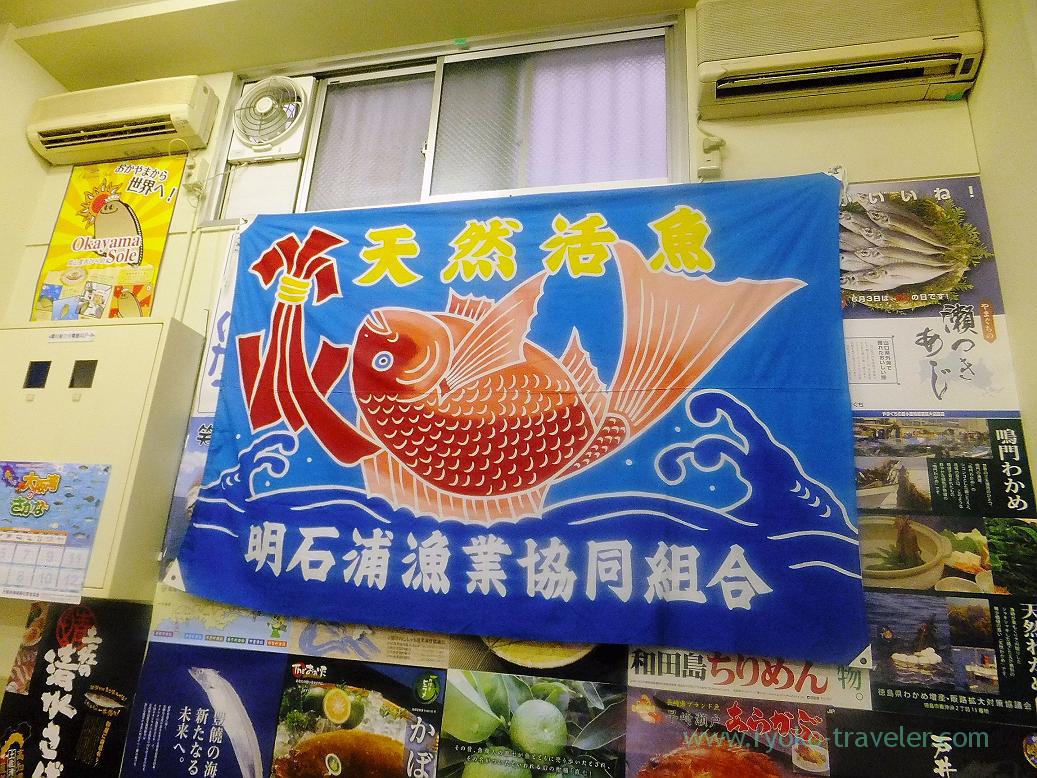 Octopus croquette from Akashi (明石の蛸コロッケ) 200 yen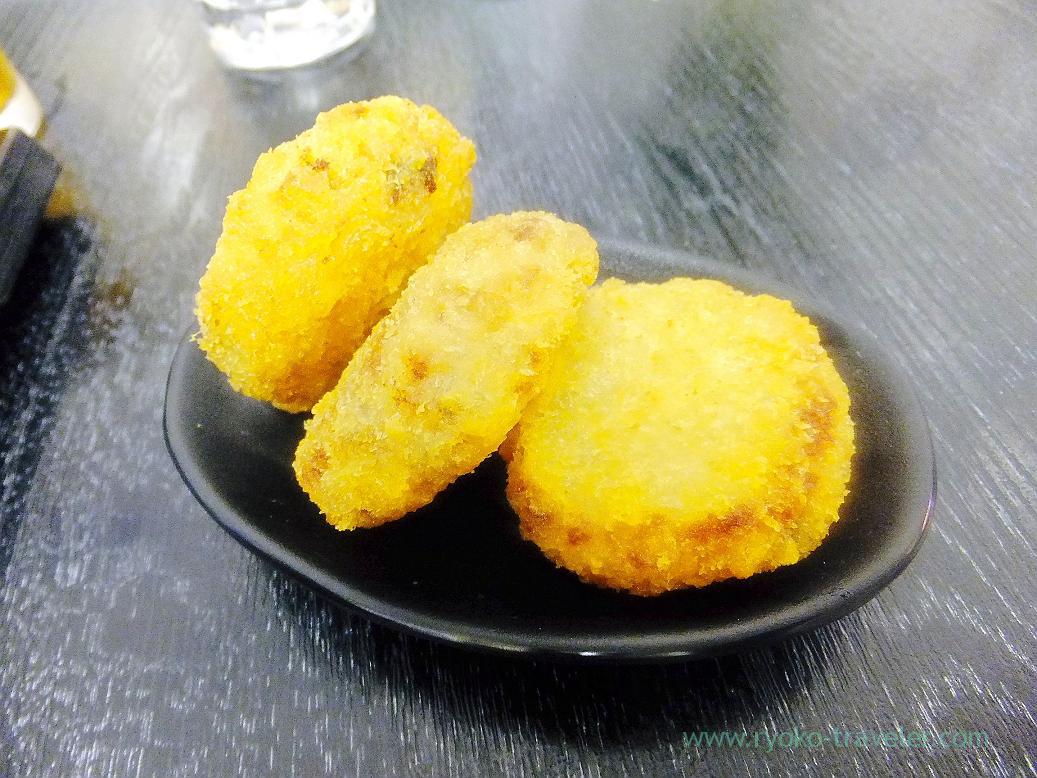 Those croquette didn't have much octopus …. 🙁 Well, only 200 yen….
Boiled salmon from Hokkaido (北海道産時鮭の冷やし湯煮) 600 yen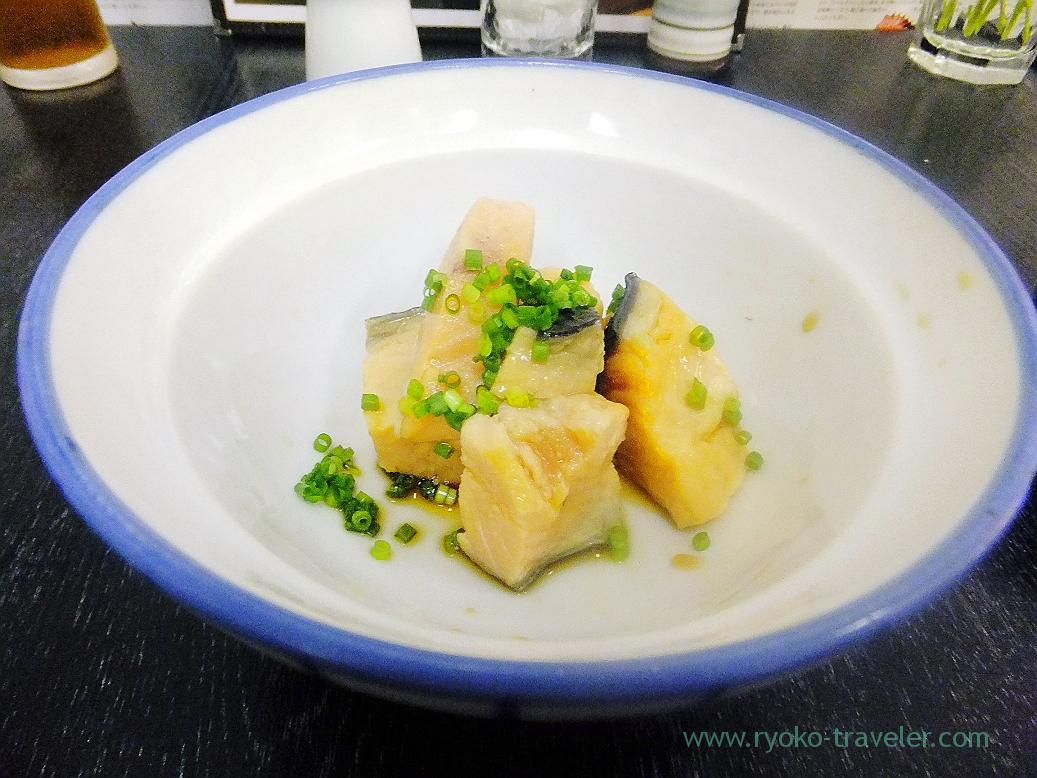 Rare salmon was good 🙂 It is called "Yuni (湯煮)" in Japanese.
It means something boiled in hot water. As its name !
Squid's legs (すみいかの下足炙り) 500 yen
Squid's leg is my delight ! Especially, grilled squid's leg is excellent !
Burnt smell, crunchy texture and its taste ! Awesome !
Boiled splendid alfonsino's head (金目鯛の頭煮付け) 1000 yen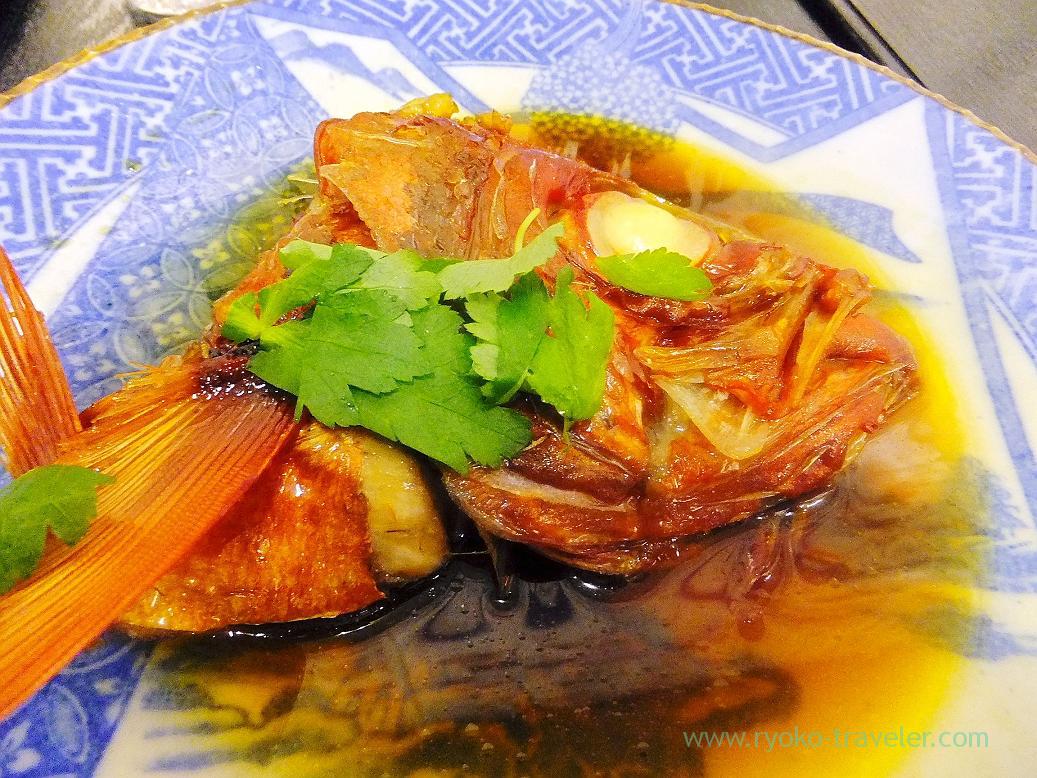 Much meats left around the bones 🙂
Ryukyu bowl (りゅうきゅう丼) 900 yen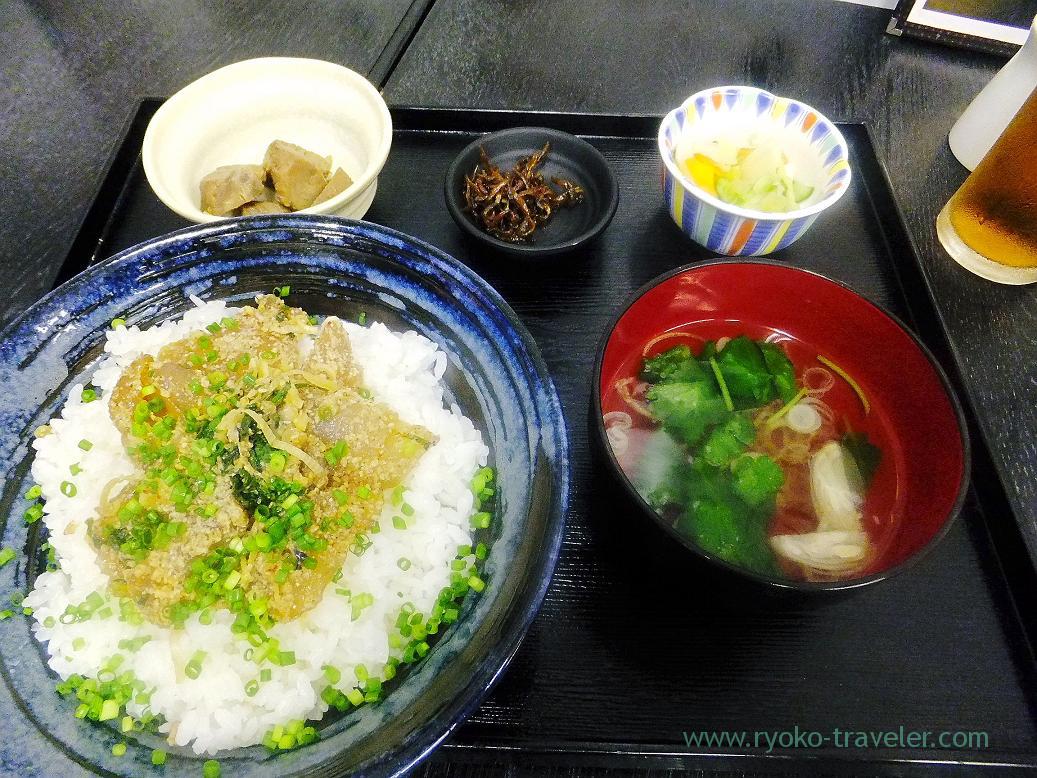 Those slices of fish were sea bream. Umm. I wanted more slices ! The taste was good.
I don't know why this bowl is named "Ryukyu" bowl. Okinawa ?
Boiled tuna.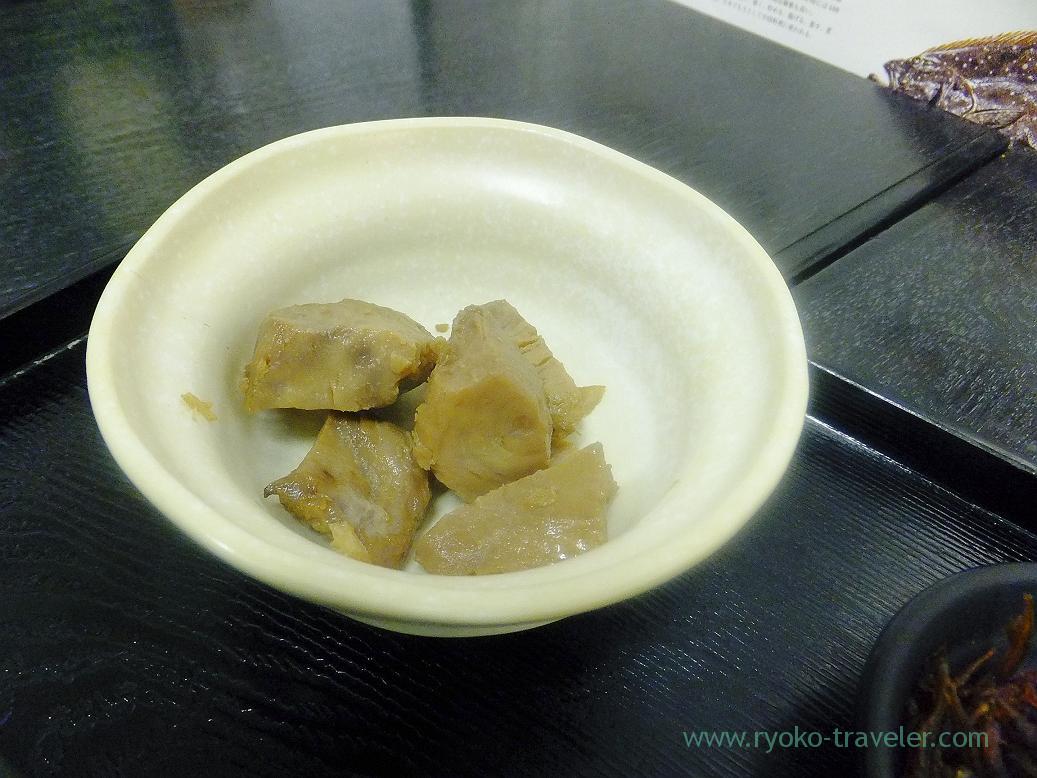 Everything was good. But truthfully speaking, I think those were costly a bit.
I wasn't satisfied with those quantity as a whole. Small.
After that, we went to kissaten that is named Coffee Amikane
To my great surprise, there is no air-conditioner and the door is opened ! Nevertheless such a muggy day !
Though I felt so muggy, but there is no choice for us to order.
The kissaten serves only hot coffee and toast.
Hot coffee in the muggy air :p
But this shop is loved by people.
Certainly I felt something comfortable and the coffee was tasty 🙂
The coffee cost me only 250 yen. The shop open only Tuesdays and Saturdays.
The shop have only 5 seats or so. I like such a retro kissaten very much 🙂
I want to go there again after the weather will get cool.
About Re-fish Shokudou (Re-fish食堂)
Address / Puratto Tsukiji Bldg 1F, 4-16-2 Tsukiji, Chuo-ku, Tokyo
Station / Tsukijishijo station (Toei subway)
Open / 6:00 – 15:00 (Limited time eatery untill end of this August)
Closed / Sundays
About Coffee Amikane (コーヒー網兼)
Address / 6-27-3 Tsukiji, Chuo-ku, Tokyo
Station / Tsukijishijo station (Toei subway)
Open / Tuesdays, Fridays and Saturdays 7:00 – 10:00
Closed / Except Tuesdays, Fridays and Saturdays