Stylish restaurant is open in Tsukiji area
New nouvelle chinois cuisine restaurant has opened in Tsukiji 😀
The restaurant's name is Pu-Pu-Ru.
They open at lunchtime only Saturdays. One lunch course (ランチコース) only. About 2625 yen or so ? Because they don't have much seats, it's necessary for guests to reserve in advance.
After being seated, the waitress asked us our drinks. I ordered a plum liqour (梅酒, 630 yen).
Antipasto.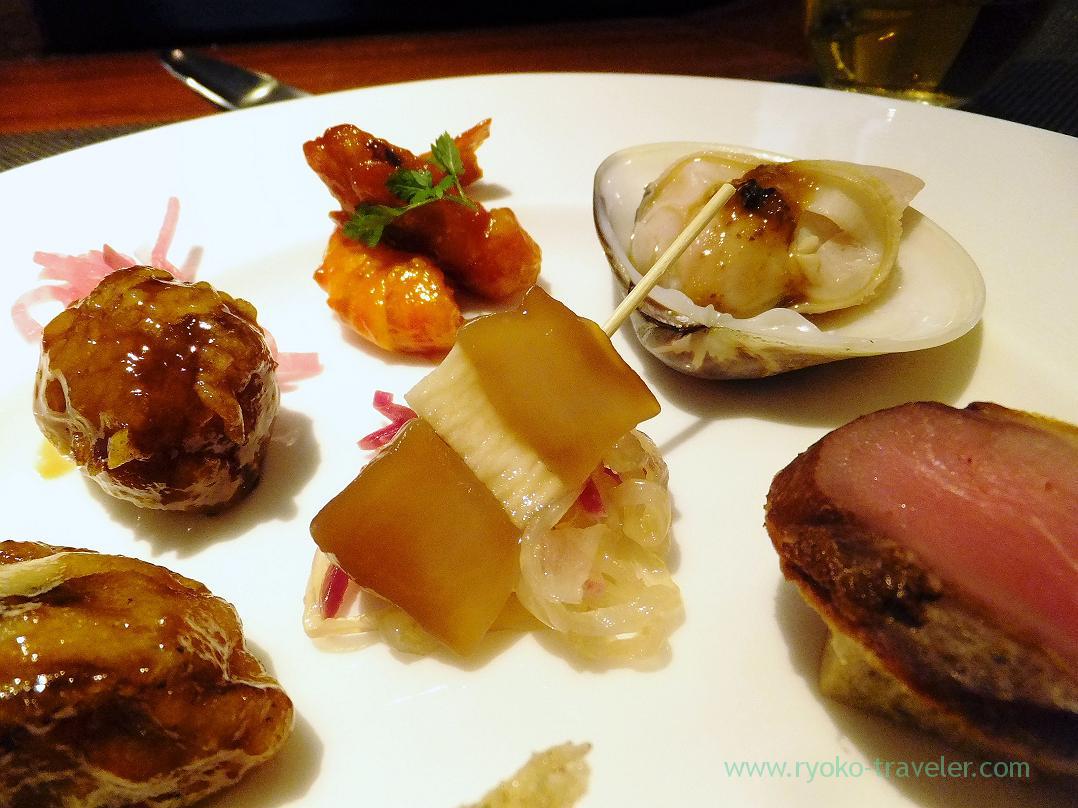 Eight small foods on the dish. My delight, oyster was there, too 😀
Next.Fried blow fish and vegetables.
It tasted moderately sweet and sour. Good. Especially the blowfish was soft and tasty.
And then, Minced pork meat and crab meat ball and vegetables soup in a cocot.
This ball was very soft and juicy. So much meat juice ! Of course, I drunk it up !
Fried rice with salmon and salmon roe.
It had frying feeling and crispy feeling. It smells good and tasted good.  Very nice. Beautiful 😀
Dessert after the meal. So much !
Jasmine tea pudding, mango pudding and almond jelly, and pu-erh tea jelly. With Chinese tea.
About PU-PU-RU (歩歩路)
Koyo Sun Crest 1st floor, 7-4-4 Tsukiji, Chuo-kui, Tokyo
Open – from 17:30 to 22:30
Saturdays – from 11:30 to 14:30, from 17:30 to 21:30
Holiday – Sundays and national holidays
HP – http://pu-pu-ru.com/