When I visit Taiwan, I want to eat something that can't be eaten in Japan.
Especially, goose meat is common meat that can be eaten in Asian countries like Taiwan, Hong Kong so on. But somehow it's rare meat in Japan.
So, I visit this goose meat restaurant. The restaurant's name is 阿城鵝肉. I'm sorry I don't know their name in English.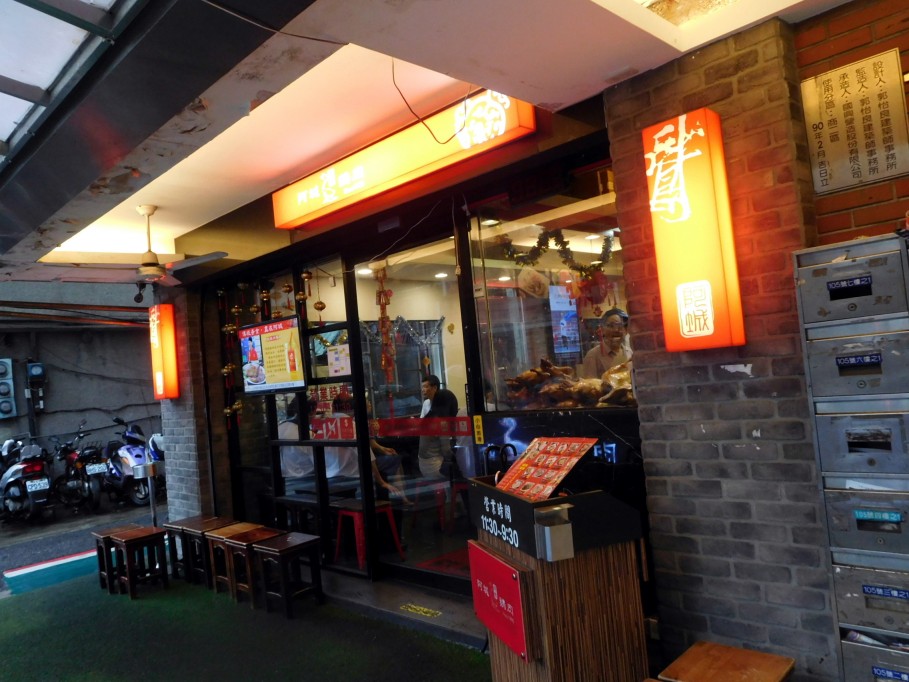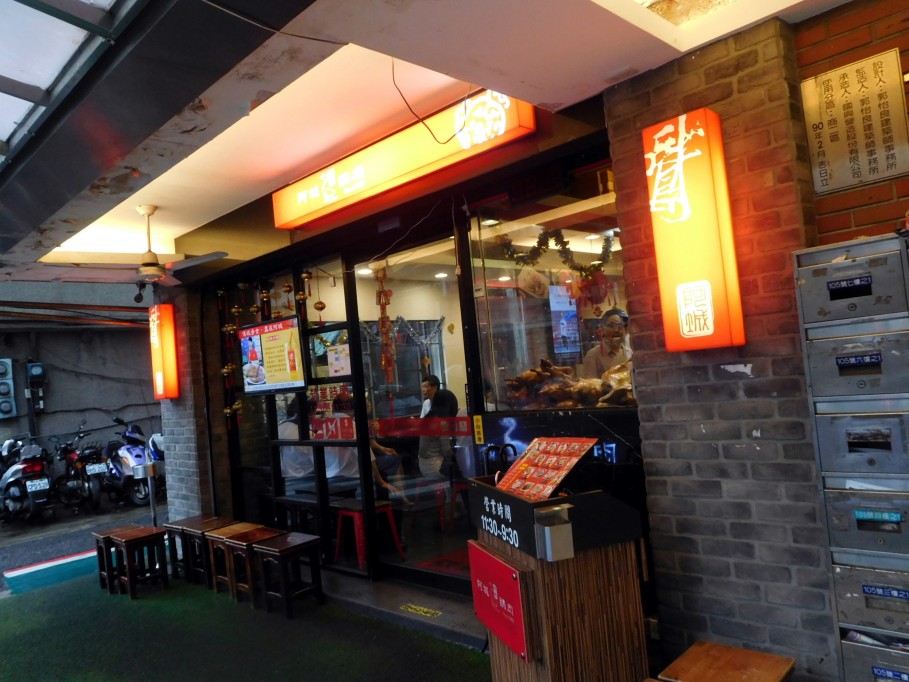 Where?
It located between Xingtian Temple station and Songjiang Nanjing station.
Interior
Interior. They have rather much tables and seats. But.. when I visited there before 5 p.m., there were many vacant seats. But there was few vacant seats soon.
Beer is in the refrigerator and we can take it to the table by ourselves. Though I wanted to have beer, there were only large bottled beer. I gave up.

We can see goose meat cut in the kitchen from the table.
When I entered, a man asked me whether I eat foods inside or outside of the restaurant. I answered "For here". He gave order sheet to me and took me to the seat.
Menu
This is the menu. It have English Chinese words.
Though it don't have Japanese words, Chinese words are easy to understand for Japanese 🙂
Goose meat can be chosen from two parts of goose.
"前半段" is breast meat. And "後半段" is leg meat.
But we can't choose part of meat if we order 200TWD of goose meat (suitable for one-two person)
We have to take our dishes, chopsticks, seasonings on the shelf to our table. So, after I handed my order sheet to the staff, I went to the shelf and picked spoon, chopsticks, dishes and sauce.
Delicious Foods
Fried sweet potato leaves
I wanted to eat something vegetables and I found Fried sweet potato leaves (地瓜菜, 80 TWD). So, I ordered it. Also sweet potato leaves usually can't be eaten in Japan, too.
Whenever I order "青菜 (=seasonal green leaves vegetables)" in Taiwan, they serve Ipomoea aquatica. I heard Taiwanese people think Japanese are glad with Ipomoea aquatica. Umm. I know. But I want to eat sweet potato leaves :p
It was seasoned with garlic and red pepper. Delicious. I visited there by myself, it was too much for me 🙂
Goose meat 200 TWD
By the way, my target was goose meat. Because I visited there alone, I ordered goose meat with 200 TWD. I think I could eat 300 TWD's up.
Those were breast meat. But it was so fatty and soft. The fat was sweet. The skin was like jelly. Awesome.
White stripe things were ginger.
Eating those meat without anything was, needless to say, good. But eating them with ginger was good, too. Ginger went with fatty meat well.
I left some shredded ginger and at last, I ate ginger dressed with fat left on the dish 😉
Goose innards soup
Last… I ordered another one. But this was not good at all. It tasted like Chinese medicine. Goose innards soup(鵝腸湯, small 60TWD). Much goose innards in it. And Taiwanese basil, much shredded ginger.
Goose innards itself didn't have bad smell at all and those had springy texture. But the soup tasted really like Chinese medicine. I don't like it. And more, it was small portion. But it was served in such a large bowl ! Though I ate those innards up, I left much soup…
Awesome Goose meat
I thought goose meat is MUST food in Taiwan all the same. And I'll eat 300 TWD's goose meat next time.
About 阿城鵝肉
Address / 105, Jilin Road, Zhongshan District, Taipei
Phone / 02-2541-5238
Open / 11:30 a.m. – 9 p.m.
Closed / No scheduled
Reservation / Unknown
Credit card / Unavailable
Smoking / Not permitted