Peach !
Somehow it's hard for me to eat peach parfait this year.
When I went to Frutas, they were temporarily closed. And when I went to Goto, peach was out of stock.
But finally, I could eat peach parfait at Fukunaga Fruits Parlor !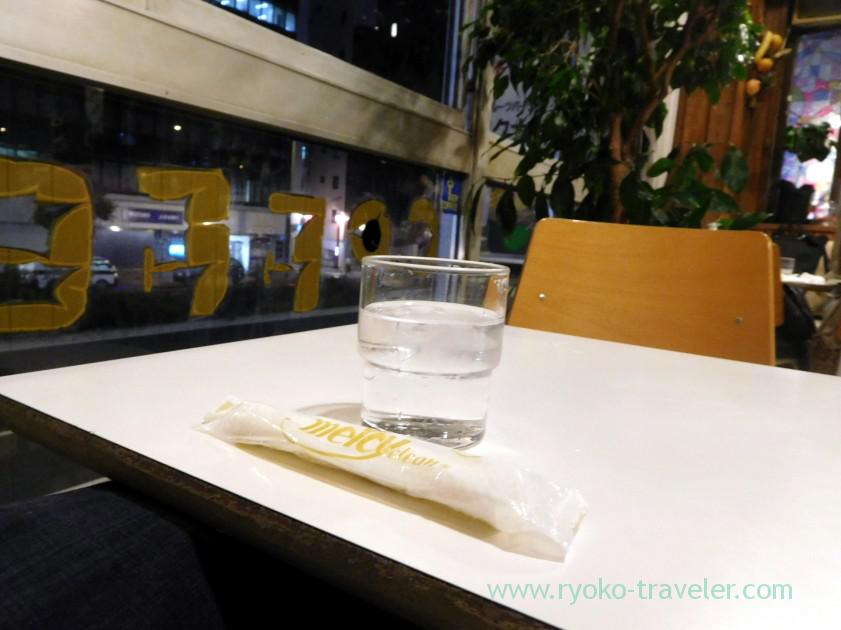 When I got to there around6:30 p.m., there were so many people waiting. Fukunaga is on the 2nd floor of the building, but the there's an end of the line at the entrance on 1st floor !
I was so disappointed because the closing time is 7:30 p.m. and I couldn't think that I could be in the shop until the closing time.
But actually I could be seated in the shop after 30 minutes waiting or so 🙂
Menus.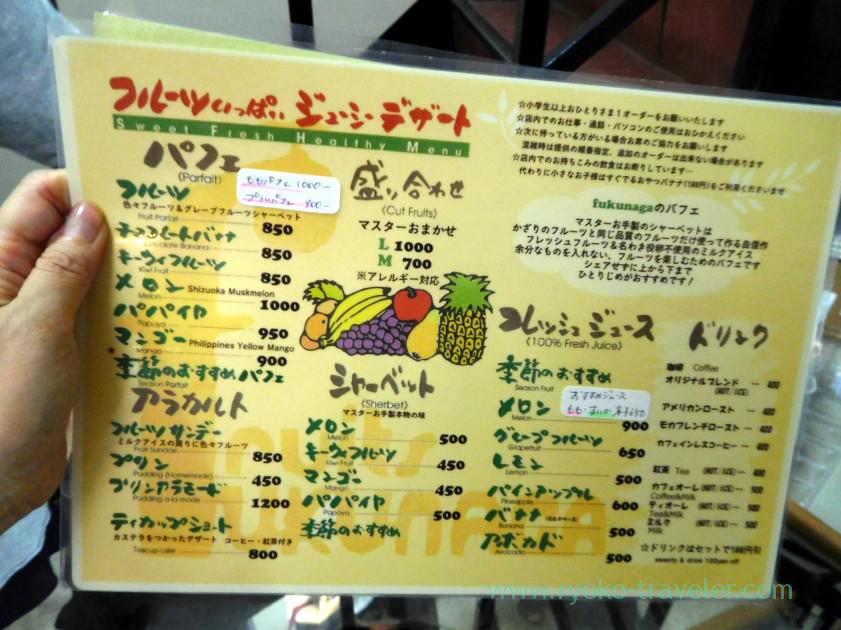 I ordered peach parfait and watermelon juice as soon as I was seated.
I already decided to order it before I got out of the office :p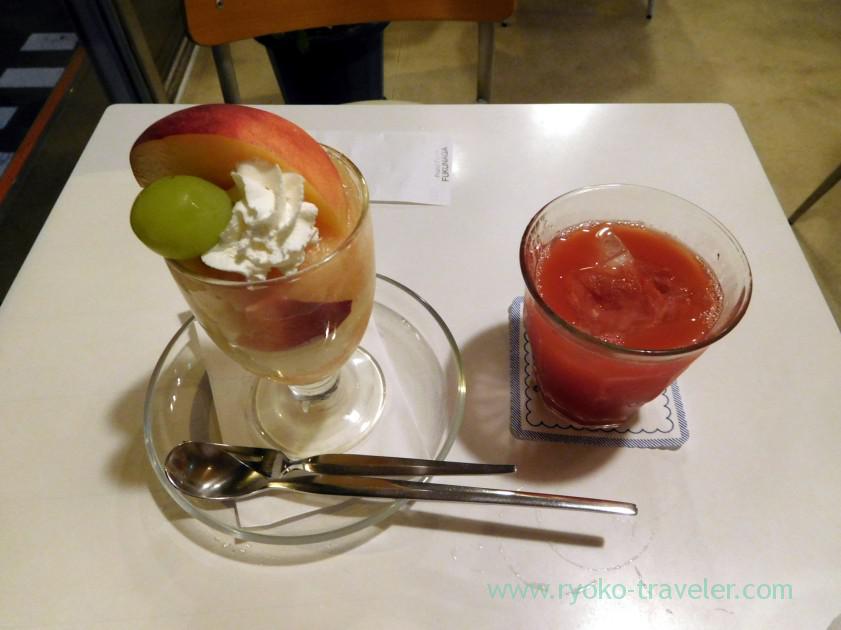 This is Peach parfait (桃パフェ, 1000 yen) that I'm looking forward to eating every year. The peach was from Kasugai of Yamanashi prefecture. And it is named "Natsukko (なつっこ)". Its peel can be eaten, too 🙂  Not only the peach but also peach sorbet in the middle of the container was tasty, too.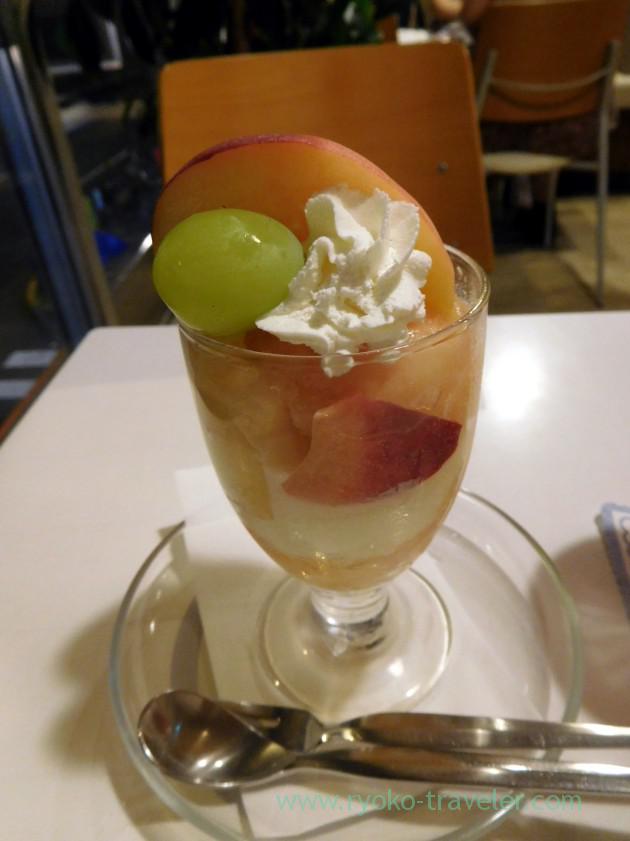 And watermelon juice (スイカジュース, 650 yen). 100%.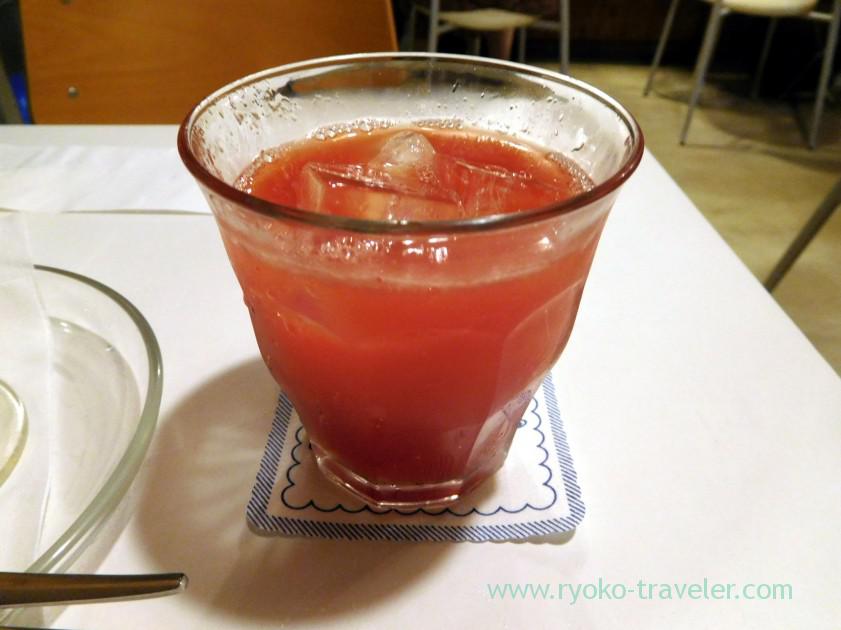 This was the first time to have it at Fukunaga.
I was really impressed by the tastes of watermelon juice in Taiwan.
It was so juicy and tasty as well as in Taiwan. (It costs twice as much as in Taiwan, and the amount is one seventh of in Taiwan :p)
I think it had 200% of watermelon ! It was sweet and had thick tastes.
I wanted to drink it more, but I couldn't order any more.
They don't accept additional order during summer vacation season because there're many people waiting throughout the business hour.
About Fukunaga Fruits Parlor (フクナガフルーツパーラー)
Address / F-Bldg. 2F, 3-4 Yotsuya, Shinjuku-ku, Tokyo
Station / Yotsuya-sanchome station (Tokyo metro)
Open / 11:30 – 20:00
Wednesdays / 15:00 – 20:00
Saturdays / 11:30 – 18:00
Closed / Sundays and another national holidays
Twitter / @fruits_fukunaga