Speaking of trip in Kyoto, you might be anxious about your bed. Me, too.
Hotels in Kyoto is really high. Even old cheap hotels cost over 10000 yen ! Oh my !
I never want to spend many money for such an old cheap hotels, so I always stay in dormitory when I go to Kyoto (and also Osaka).
This time, too. I stayed in Piece Hostel Kyoto this time.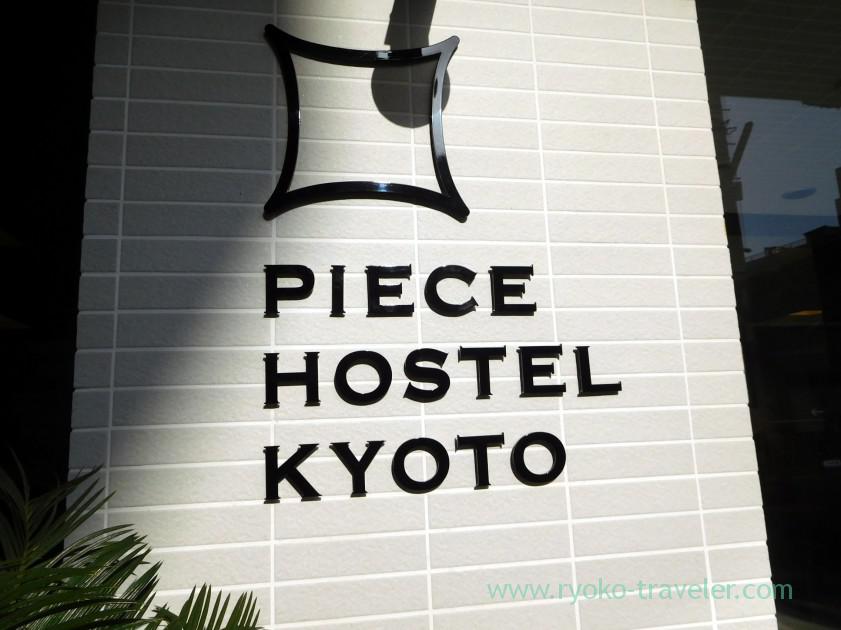 It's close to JR Kyoto station. It takes about 5 minutes walk from Hachijo-guchi entrance of JR Kyoto station.
Piece Hostel Kyoto have not only dormitory but also private (for 1 or 2 person) room (from 4000 yen).
Where?
It's very close from the station in a straight line. But it takes time to cross Hachijo-dori street.
You walk along Hachijo-dori street for a while, and then this narrow street appear. This signboard help you 😉 Go straight this street and then white building appear.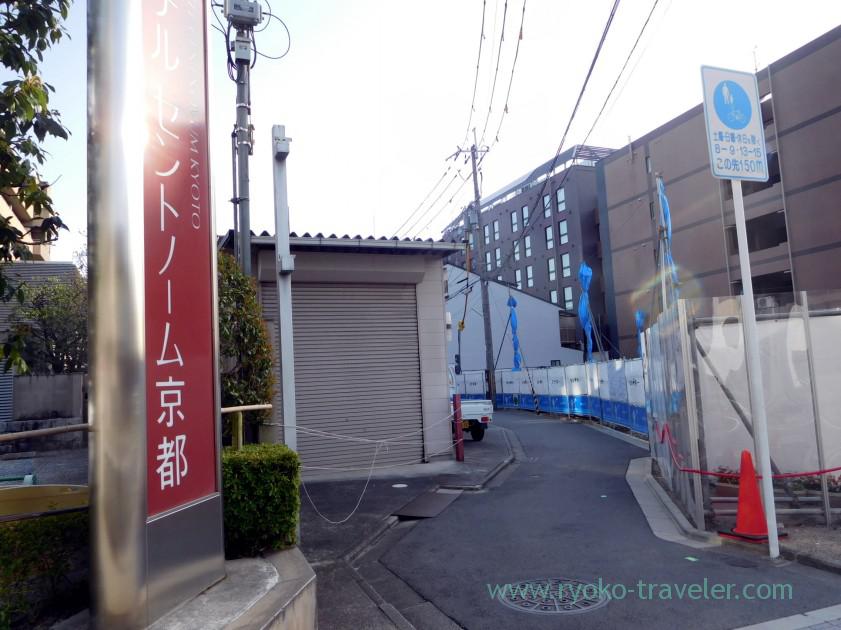 This is Piece Hostel Kyoto.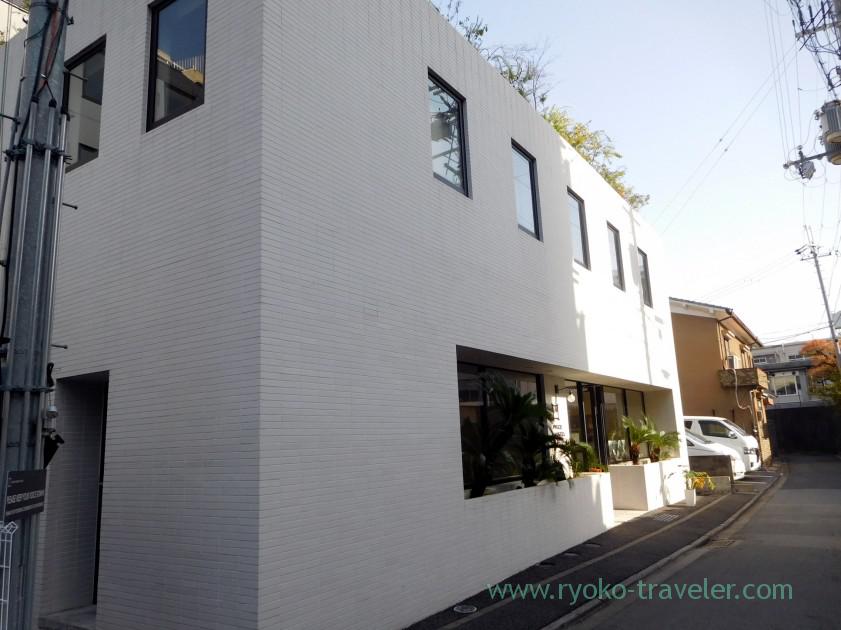 They are also open as cafe bar.
There is a front desk for check-in at the center of the floor.
The front desk is open from 8 a.m. to 12 a.m.They keep your baggage (before check-in, after check-out) during the time.
Check-in after 0 a.m. is available if you ask them in advance.
Though it's close to the station, it's in the residential area and it was calm at night.
Booking
You can book this accommodation at
agoda,
Expedia, Booking.com and so on.
They do their business mainly for tourists from abroad. So, they can speak English and Chinese. And many notice in the accommodation is written in English.
Room for 16 people
The most inexpensive room in this accommodation is MIX DORMITORY wth 16 beds.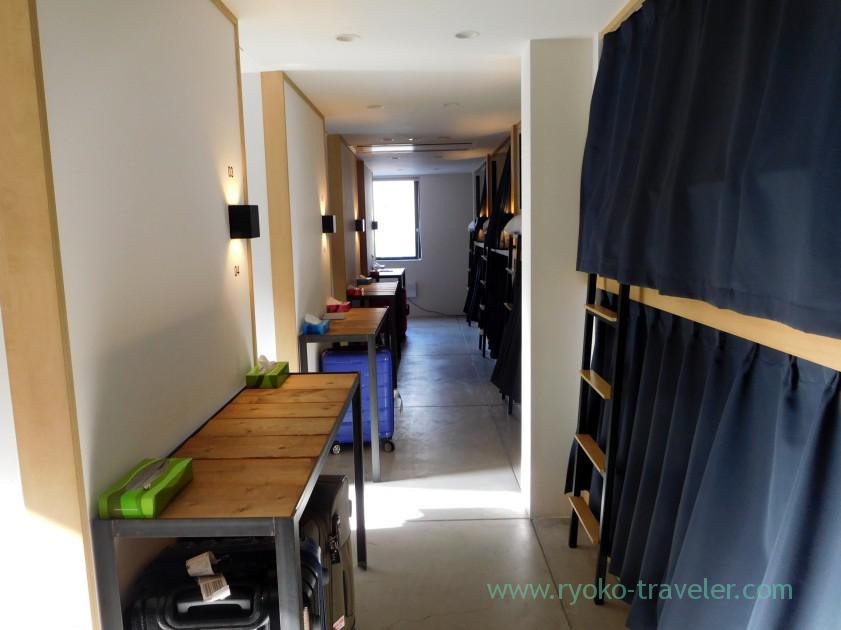 From 2400 yen to 2900 yen. When I stayed in this accommodation, it was the middle of cherry blossoms season. Trip in Kyoto in this season is the most expensive as well as summer vacation! But I could stayed in the dormitory room with 2900 yen (cancellation was unavailable) 🙂
The place under eache tables is good for suitcases.
Wood, blue and white. The interior of the room is simple and cool. There're windows.So, I didn't feel cramped. Card key for the room.
This No.17 was my bed 🙂
There's a shelf at each bed and it was convenient for me. And one outlet.
The height of the ceiling is enough and I felt comfortable.Wifi is available.
The curtain is enough thick and we keep our private space.
The PIN locker is prepared for each guests.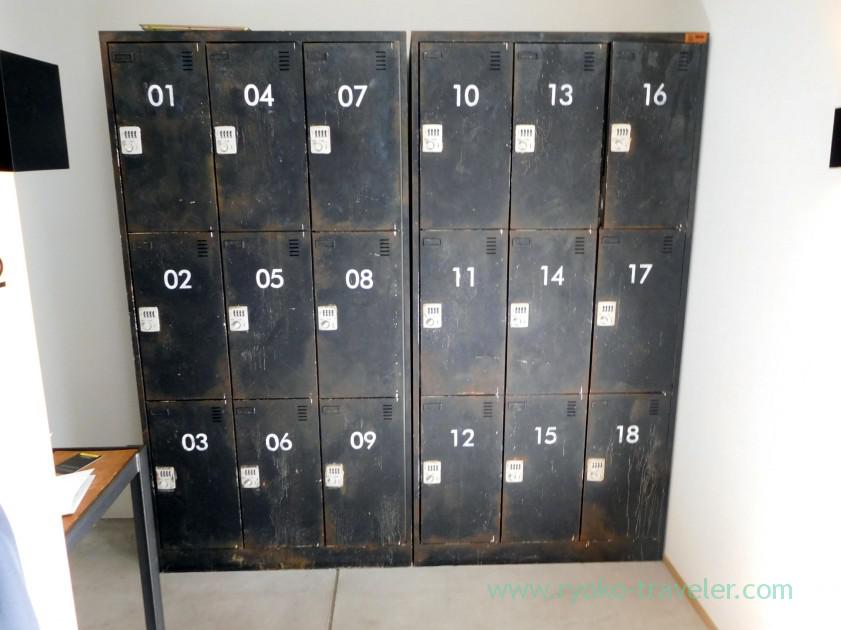 If you want to use another pillow, there're many pillows at the corridor.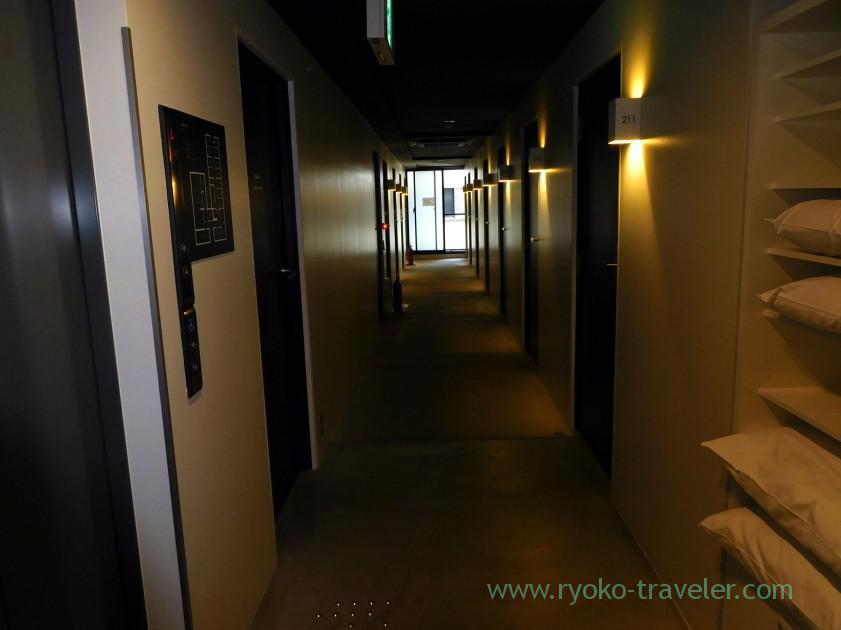 Also there're flip flops for inside the house, too. Bath towel and small towel is prepared too ! Awesome !
Facilities
There's a kitchen. Induction cooker, microwave, dishes, seasonings, refrigerator and so on. So you can cook at anytime. Coffee, tea and water is free of charge, too.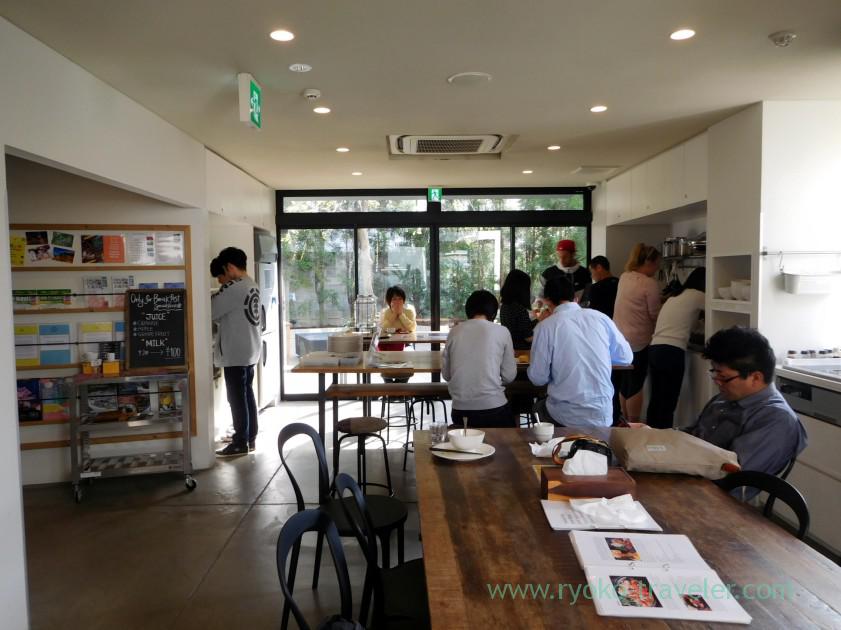 There're tables and chairs outside. Thouh smoking is not permitted inside the house, you can smoke at there.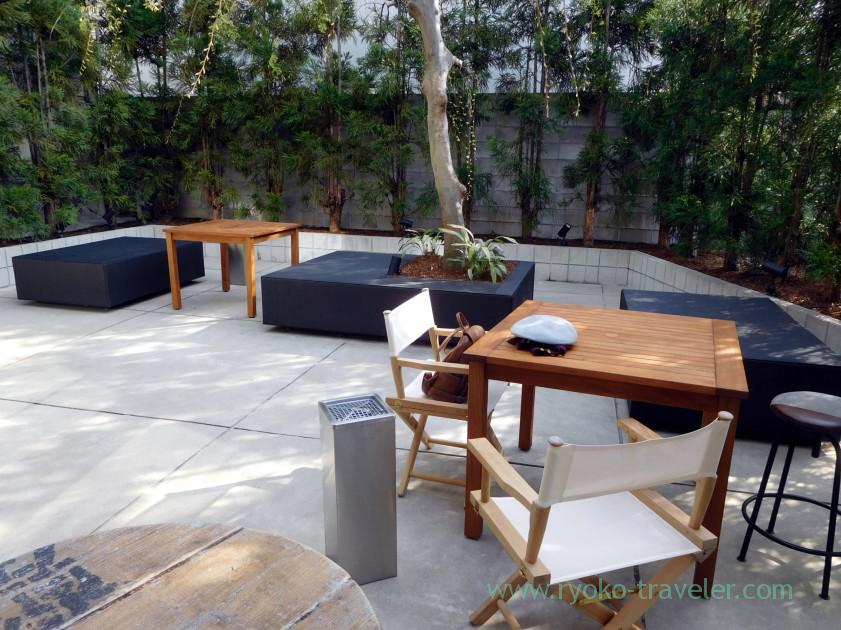 Also washing machines and dryers are prepared outside.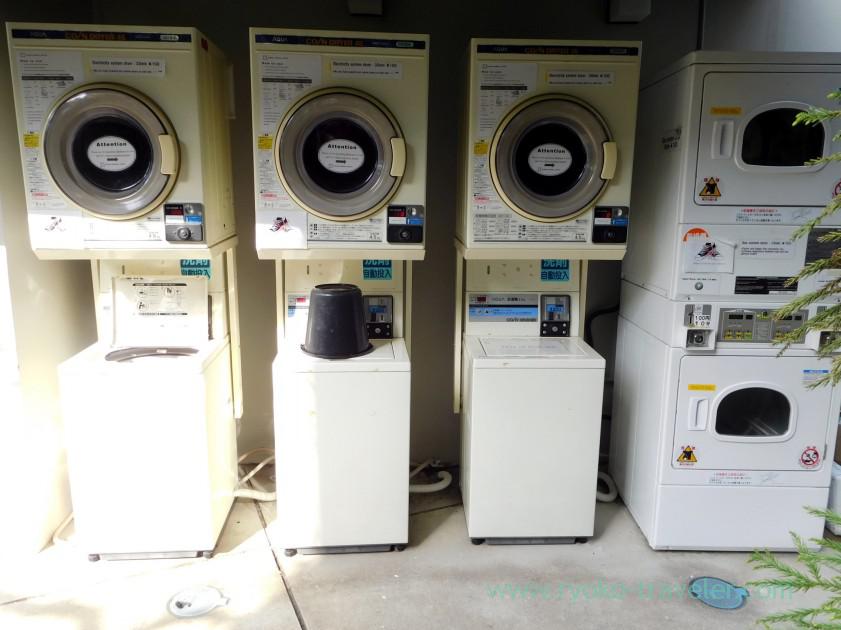 Public space is enough large !
There're many shower rooms. So, you don't have to be anxious about your bath time. Whenever you want take a shower, many vacant shower room wait you.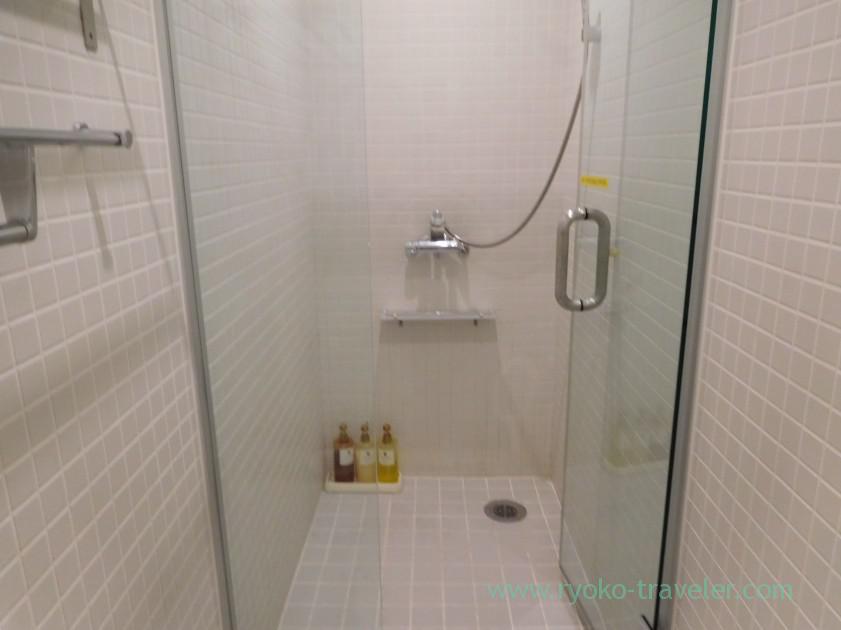 Hair shampoo, hair conditioner and body shampoo is at each shower rooms. Dressing room is enough large to put your towel, clothes and baggage.
There're two bathtubs, too.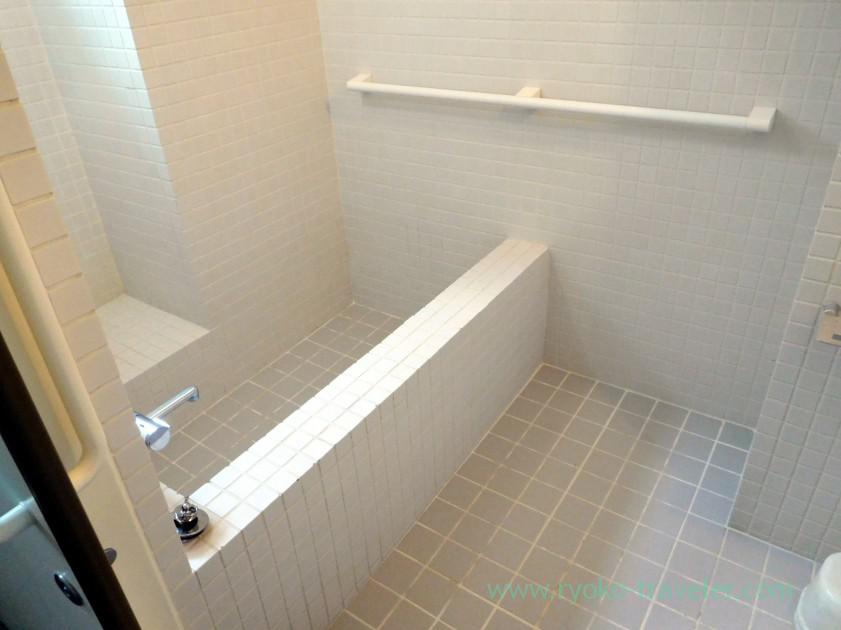 There're Hair dryers in the Washrooms.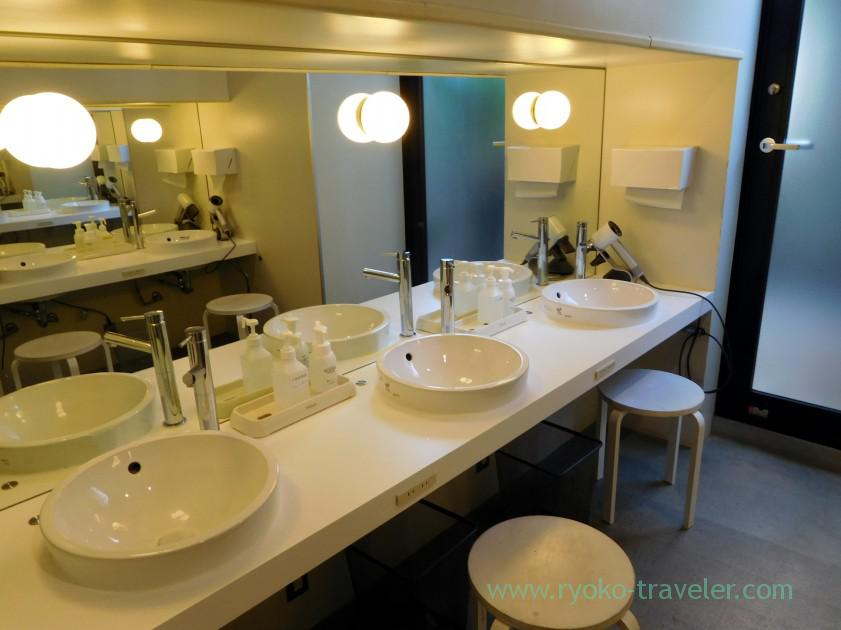 We can lend bicycle ! only 500 yen per a day !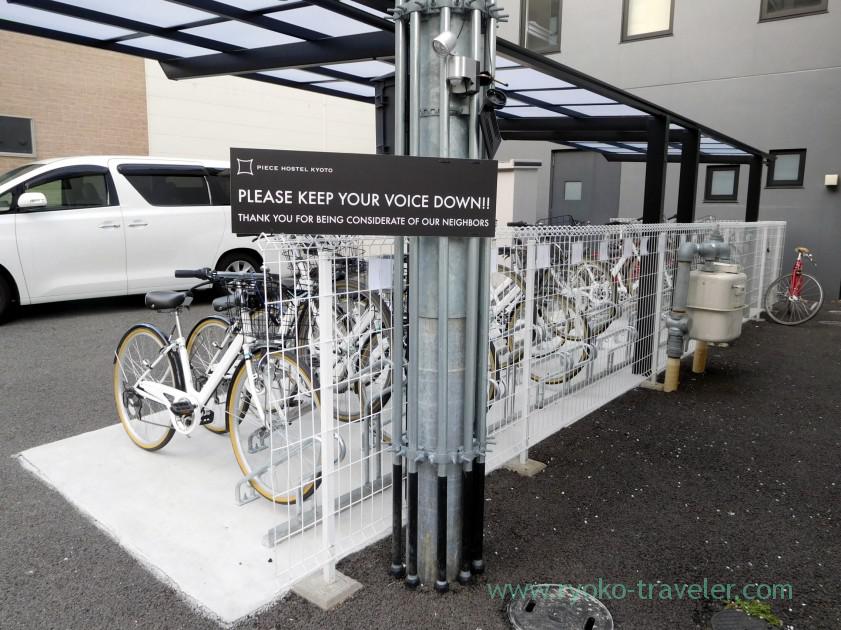 Tourist information
There's a large map besides the front desk.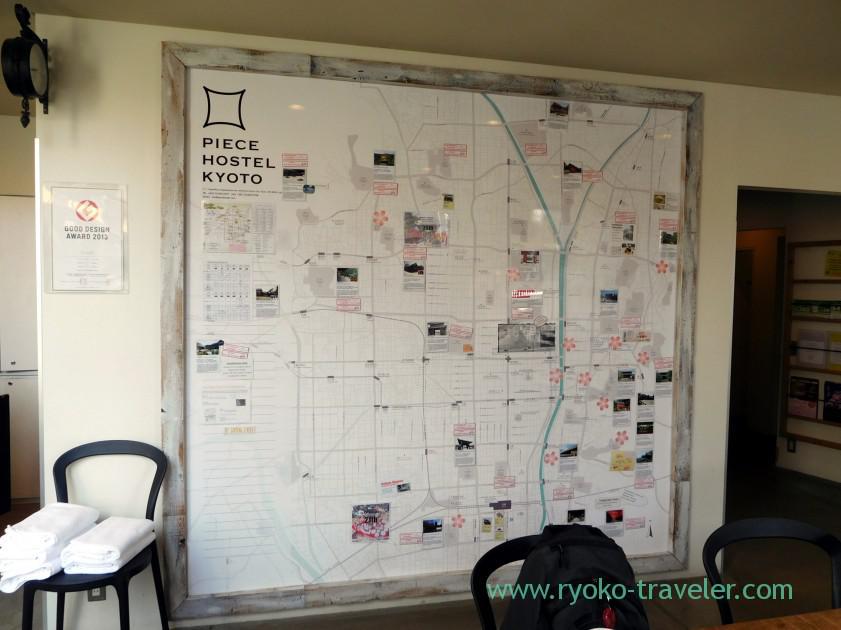 If you want to know something about your sightseeing and meals, they kindly teach you what you want.
Breakfast
All guests can have breakfast at there. There's no breakfast ticket. After you get up, go straight to the kitchen on 1st floor. It's not buffet. "Do it yourself". After you finish eating, you have to do the dishes.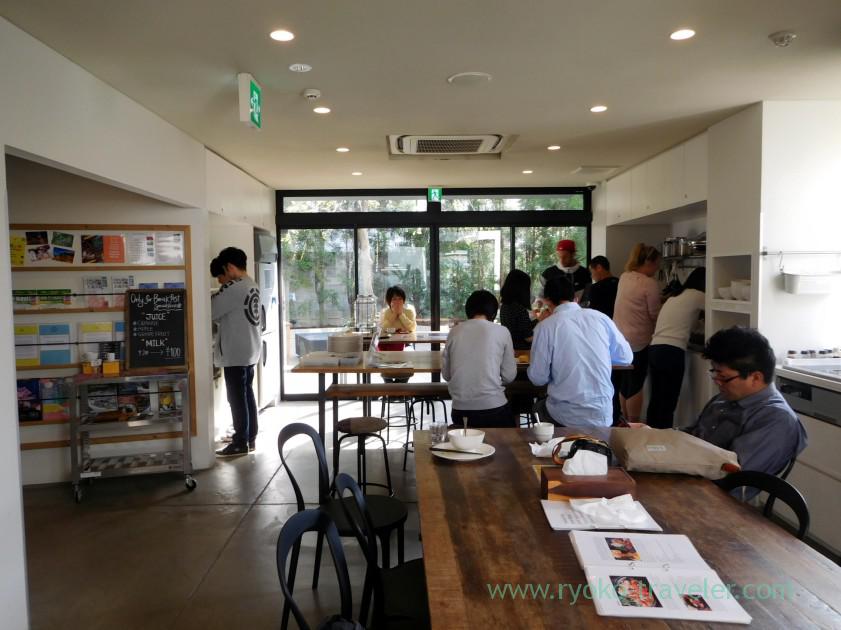 Though there're not many foods, you can have Japanese and European breakfast.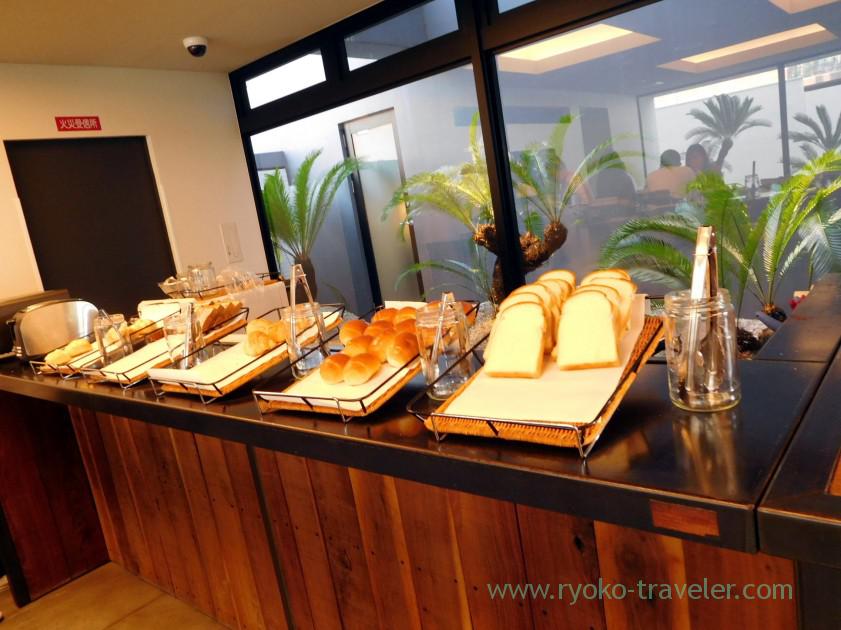 Rice. Of course, they have white rice.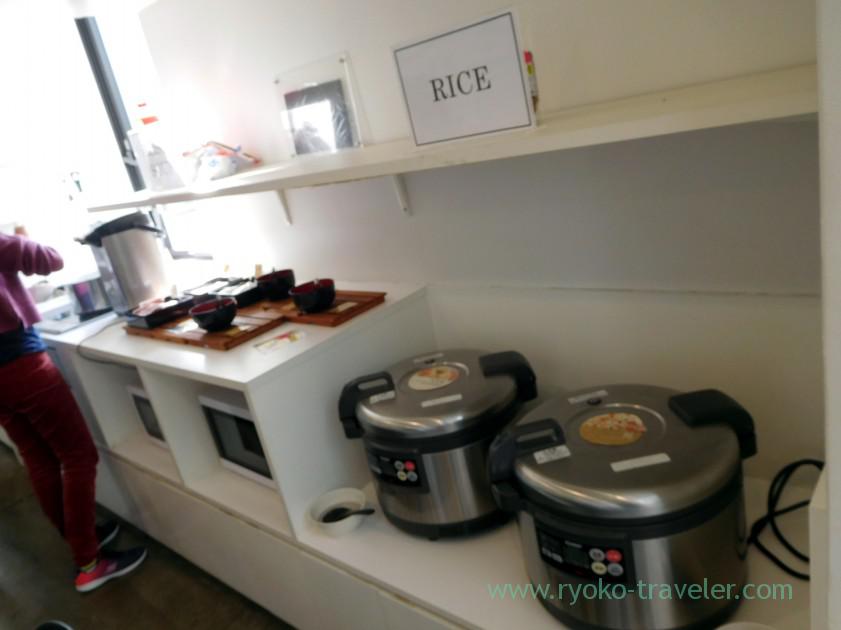 This is Mazegohan. Maybe it's simple one that is mixed with dried ingredients.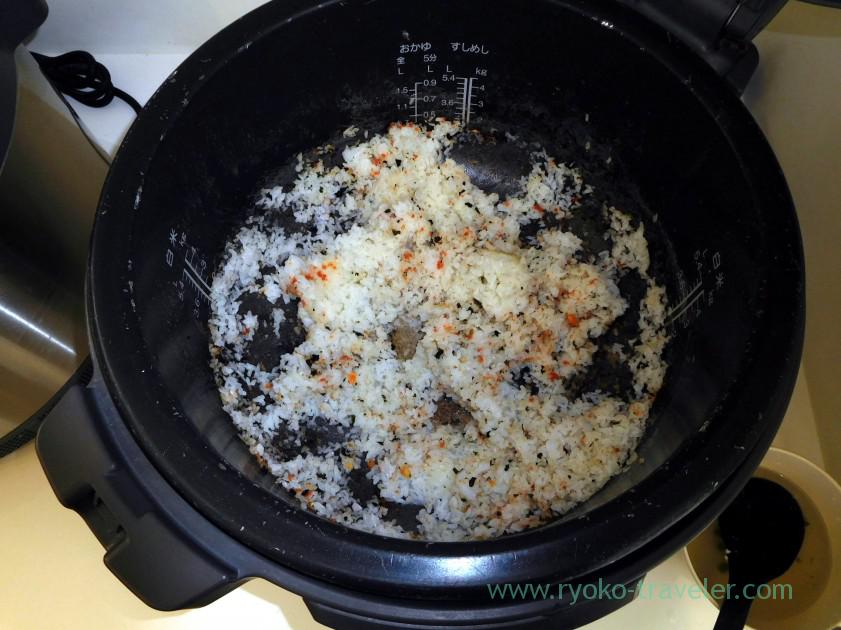 Instant miso soup.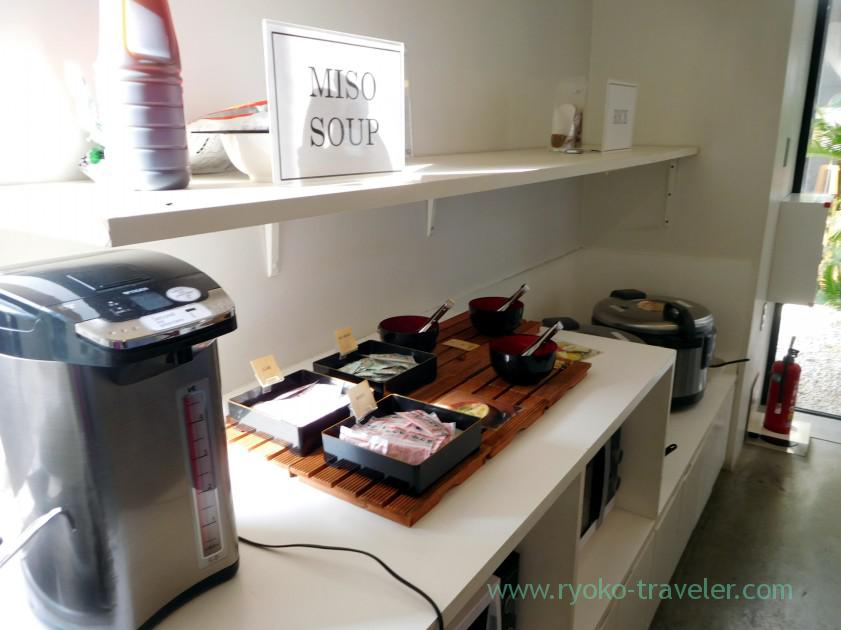 Apart from miso soup, the staff cooked soup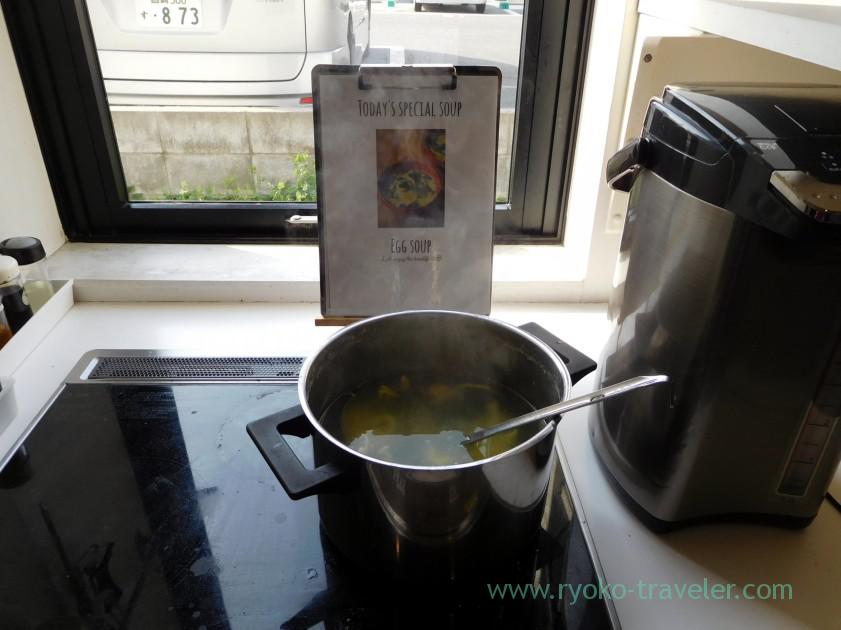 Simple egg soup was good.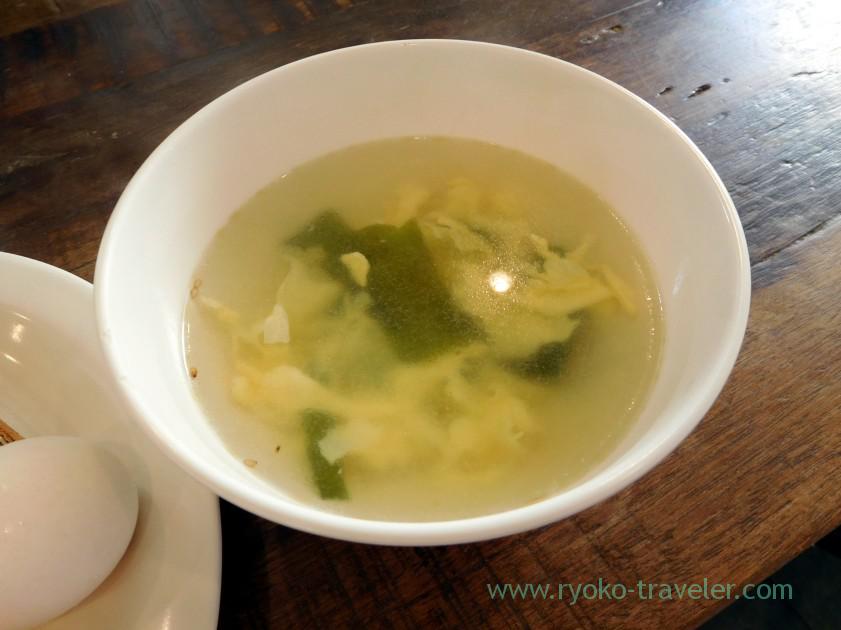 Their breakfast is enough for me.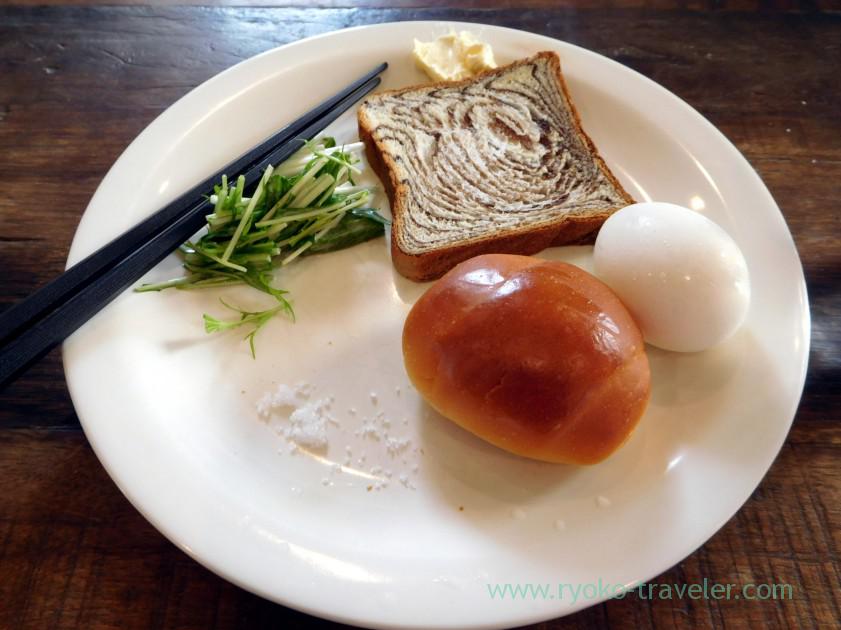 Another, you can order fruits drinks, milk, coffee and so on with extra charge.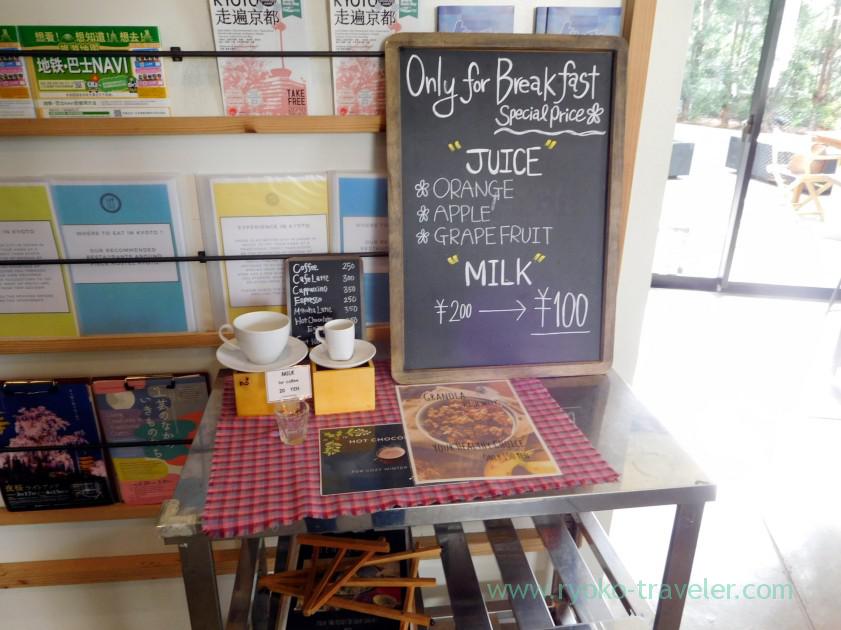 What I felt
There's no dissatisfaction about Piece Hostel Kyoto. I was really satisfied with them in all things like facilities, room, location. Though I though dormitory is good for short trip but not good for long trip because those are narrow and we can't keep our private space.
But this accommodation isn't so.
I think I feel good until the end if I stay in this accommodation for a long period.
There's Piece Hostel Sanjo in Sanjo (Karasuma) area.
Basically everything is the same as Piece Hostel Kyoto.