Celebrated my birthday with lamb, soft roe and flower cake !
My friend invited me to dinner at Bistro Persil
in Ginza again the other day 🙂
My drink was this Grape juice (ぶどうジュース) all the same. This grape juice is really tasty 😀
I must know its name next time 🙂
My friend reserved special course with soft roe and lamb meat. Perci accept guests' requests and serve dishes, so those courses are current price.
But it is not so expensive like fancy sushi restaurant in Ginza, so don't worry 😛
….I had never eaten at fancy sushi restaurant in Ginza 😉
Perci is said to be a bistro or french restaurant, but they serve Perci cuisine blended with Japanese, Western, French, Italian, and so on 🙂
This bread is super awesome 🙂 No bakery can win against the bread.
Putty(ペースト). Eggplant, Salmon and monkfish liver, Orange queen (Chinese cabbage) ,
The monkfish liver was special one. From Shimoburo of Aomori. "Shimoburo" reminds me of Shimoburo Onsen first 😛
Marinated tuna salads (まぐろのマリネ)
The tuna shining !!! The small tomato is named "maiden's tears".
Soft roe beignet and deep fried shrimp (白子のベニエとエビの揚げ物)
So much soft roe ! Deep fried shrimp was good, too !
Soft roe ! SOFT ROE !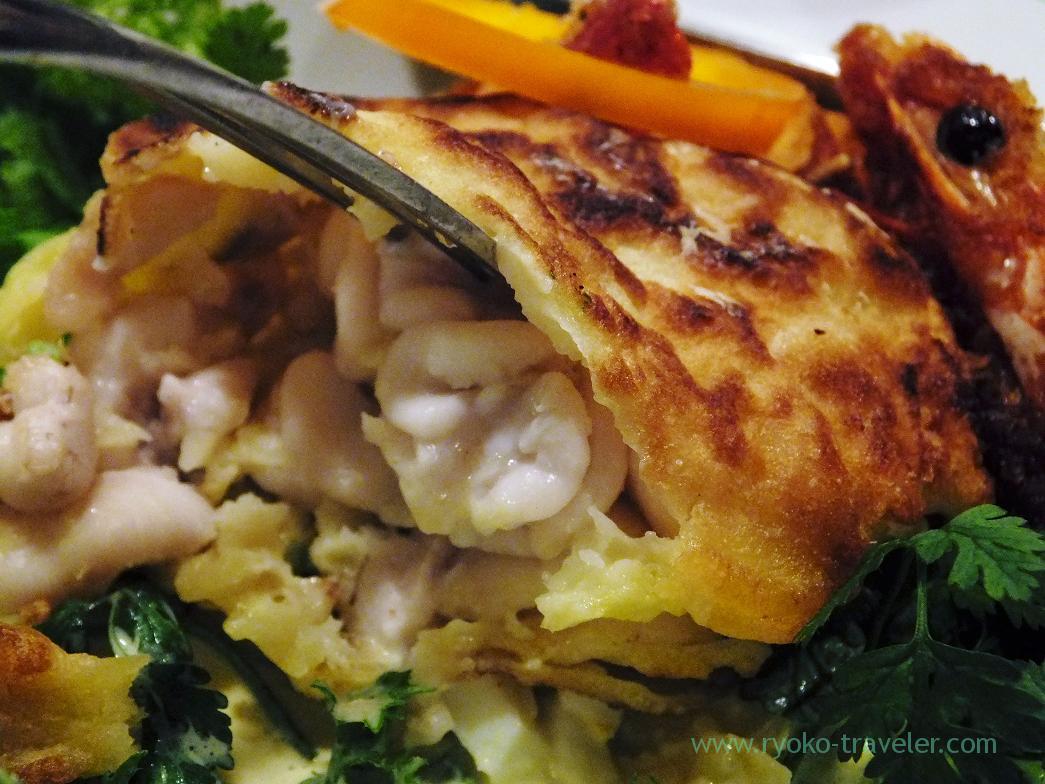 Then, the chef showd us proudly…. Lamb chop ! (ラムチョップ)
Of couse, the chef cut and served us.
This dinner was also a birthday party for two persons. So, two birthday cakes 🙂
Strawberry tart (いちごのタルト)
Those flowers are eatable 😀
Kumquat tart (金柑のタルト)
After finished taking picture, the chef cut and dish up with ice cream 😀
Herbal tea (ハーブティー)
Everything tasted good !!!
Last, I have to say that Perci end running their restaurant at the building this month. They will open again at another place (maybe somewhere in Ginza ?)
The relocation site has yet to be decided, so we can't eat Persil cuisine for a while from March (T_T)
About Persil (ぺるしぃ)
Address / 8F, 1-15-13, Ginza, Chuo-ku, Tokyo
Station / Ginza-itchome station (Tokyo metro)
Open / Appointment only