Notice : Bistro Persil moved to Ginza area.
Please confirm new address at my post.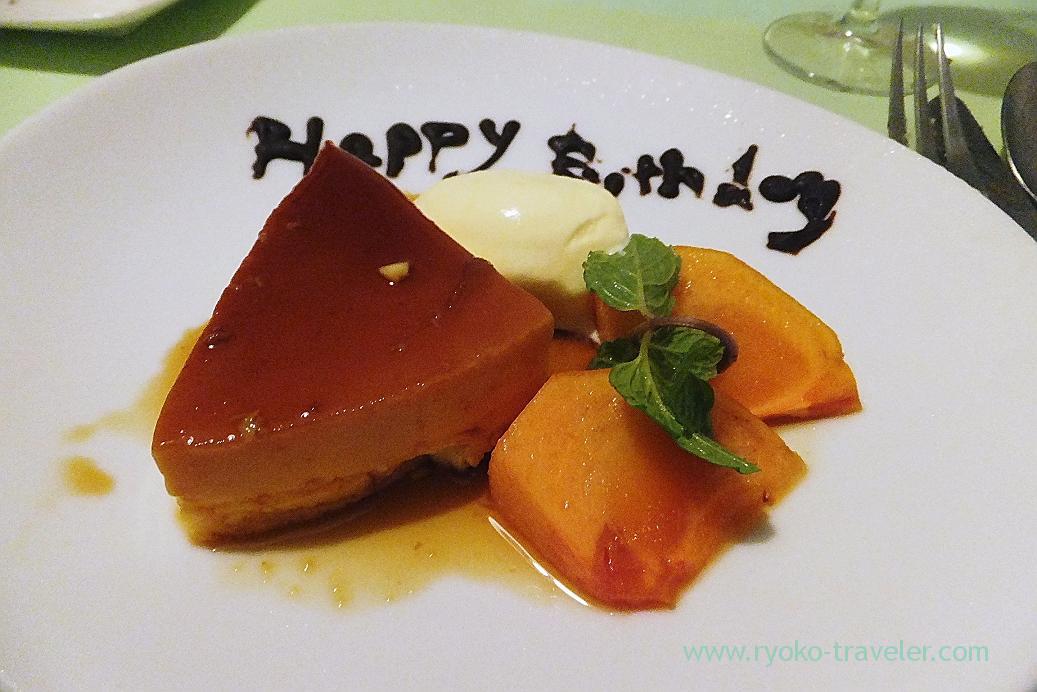 Ginza : Our longing hamburger steak and pudding at Persil

That brings back memories. This is about the dinner that we had before Christmas. I joined the dinner party at Persil...


(January 31th, 2016)
---
Mussels came all the way from France
This is about the day of December 4th.
My friend invited me to a French cuisine restaurant that is named bistro Persil at Higashi Ginza.
I'd been to there just once before that. It is a cute, cozy restaurant 🙂
At first, my drink coming.
Grape juice (葡萄ジュース)
Paste (ペースト)
Grilled eggplant, Hidenmame beans and burdock root.
Bread (パン)
Putting paste on the bread 🙂
Springy, springy and springy…. It tasted very good without paste, too.
Wheat's sweetness spread in my mouth 😀
Venison's ham (エゾシカの生ハム)
Can you find santa clause on the dish ?
orange color eggs are rainbow trou's eggs. Those were smaller than ikura.
Negiyaki with oysters (牡蠣のネギ焼き)
(Negiyaki is so-called a green onion pancakes mainly eaten at Kansai region)
This sauce was made by worcester sauce and homemade demi-glace.
Mussels in a tomato soup (ムール貝のトマトスープ煮)
Every mussels in the dish was just mine 🙂
Those mussels came from MontSaintMichel by air. Welcome into my mouth 😛
Everyone mutely ate up. Extra good. I can eat a bucket of those mussels !
Assorted meat dish (肉料理)
Meatloaf, quiche, Saitama beaf steak.
December 20th is my birthday. So my friend prepared such a cute Tart (タルト) 😀
I was so happy.
And another my friend was born in Decemter, too. We blew out candles of each cake.
After blowing out, the waitress took those cake to the kitchen and cutting for everyone.
So cute. Not only it's looking, it was tasty. Those fruits were sweet and fresh.
This restaurant doesn't use any artificial additives, so this ice cream was easy to melt.
I took this picture just after coming. It already started to melt. But its natural sweetness made me so happy 🙂
Herbal tea (ハーブティー)
About Persil (ぺるしぃ)
Address / Dairoku Maruka Bldg. 1F, 3-11-8 Ginza, Chuo-ku, Tokyo
Station / Higashi-Ginza station (Toei subway)
Open / 11:30 – 13:30, 18:00 – 23:00
Saturdays, national holidays / 18:00 – 23:00
Closed / Sundays, 3rd Mondays