Udon in a temple town at a lower price
We, Chiba don't have much good udon restaurants.
Well, there're not many udon restaurants in Chiba in the first place.
Certainly, there are many chain stores like Marugame udon, Hanamaru udon, Yudetaro and so on in Chiba, too.
Yes, such chain stores are good. I like Marugame udon !
But. BUT !
Sanuki-udon such as Marugame udon and Hanamaru udon serve excellent udon.  But they don't serve good soup.
Yudetaro serve weak soup.
I want to eat tasty udon with tasty warm soup !
Fortunately, we found there is one good udon restaurant in Chiba !
It is named Otafuku close to Kamagaya-Daibutsu station.
As you see, it's locally and cozy udon restaurant.
Kamagaya-Daibutsu station, as its name, it's famous as Kamagaya Daibutsu.
There are many tourists.
Kamagaya Daibutsu sta. have Kamagaya Daibutsu, Otafuku and another popular soba restaurant. That's all 😛
It's ordinary residential area.
Otafuku is popular as saba-zushi (mackerel sushi さばずし, 700 yen)
Ordinary saba-zushi isn't put shredded kombu (or Tororo kombu) on it. But Otafuku serve such saba-zushi 🙂
The smell and texture of shredded kombu go with those sushi very well. Those mackerel were vinegared lightly.
Of course, we ordered it.
And we shared two limited udon during this season.
Shijimi clam udon (しじみうどん, 850 yen)
That's my longing soup !
I love eating udon with such a tasty soup !
Of course I like Kamatama udon, Kamaage udon etc., too. But I need soup !
I want to eat ramen, soba and udon with tasty soup basically.
It had so much shijimi clams. I ate about half of those shijimi clam, but I couldn't eat it up because there were too many shijimi clams in it.
Abundant flavor of shijimi was there. So tasty. It was like clear soup.
And Yasaka udon (やさかうどん, 1000 yen)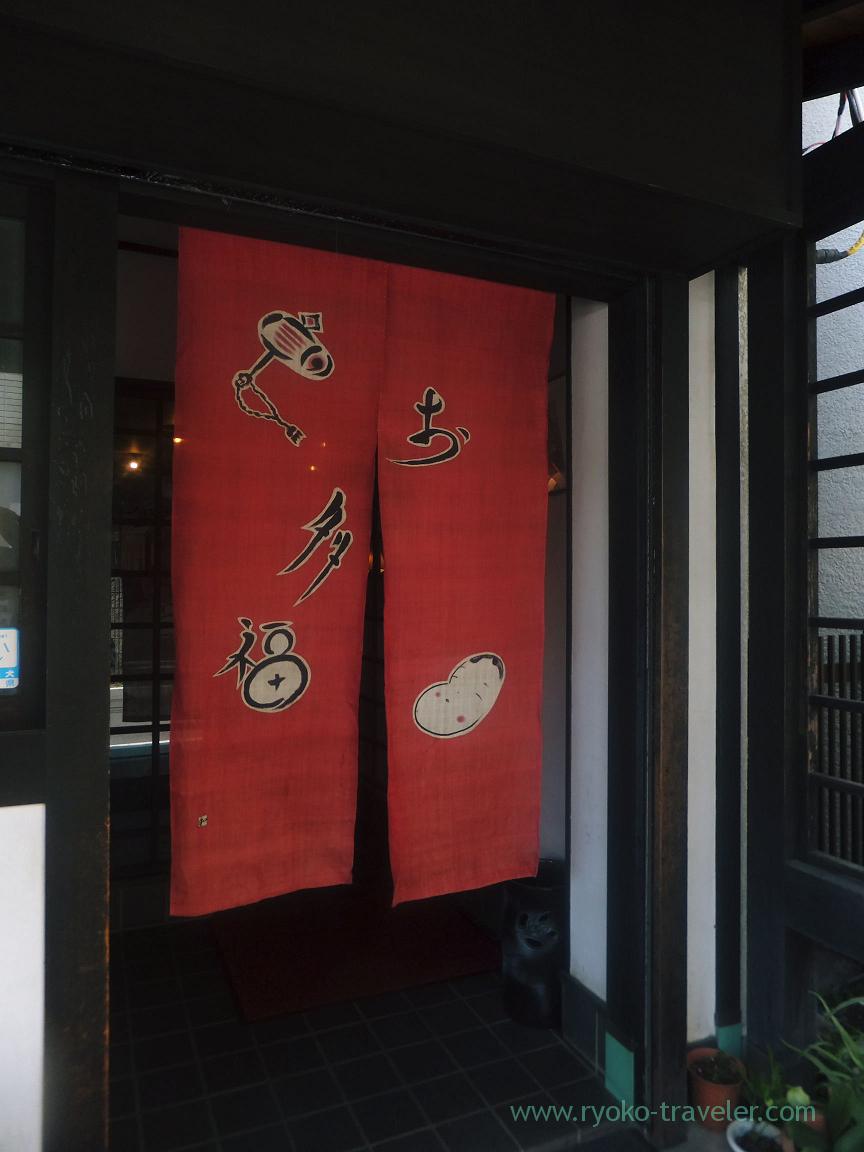 Kamagaya Daibutsu : Kakiage udon at Otafuku
Precious delicious udon shop in Chiba I got off at Kamagaya-Daibutsu station for the first time. Why ? It is becaus...
Plenty of vegetables with thick soup.
Truthfully speaking, I don't like it. I don't like thick soup 😛
About Otafuku (お多福)
Address / 4-2-51 Kamagaya, Kamagaya-shi, Chiba
Station / Kamagaya Daibutsu station (Shin-Keisei Line)
Open / 11:00 – 14:30, 17:00 – 21:00
Closed /Mondays (If of national holidays, it is open and the next day is closed