Thanks to the taxi driver I met at Kannawa onsen, I could complete my wish in Oita.
This is the last post about my trip to Oita.
After I walked to Jigoku area again and finally arrived at there.
http://www.ryoko-traveler.com/oita2015spring5/
Kannawa Onsen town is steaming town !
Steams by onsen resource everywhere.
Not water, but hot onsen resource !
There are many spots that use this steams in Kannawa Onsen town.
Stone sauna for foot
Steamed bath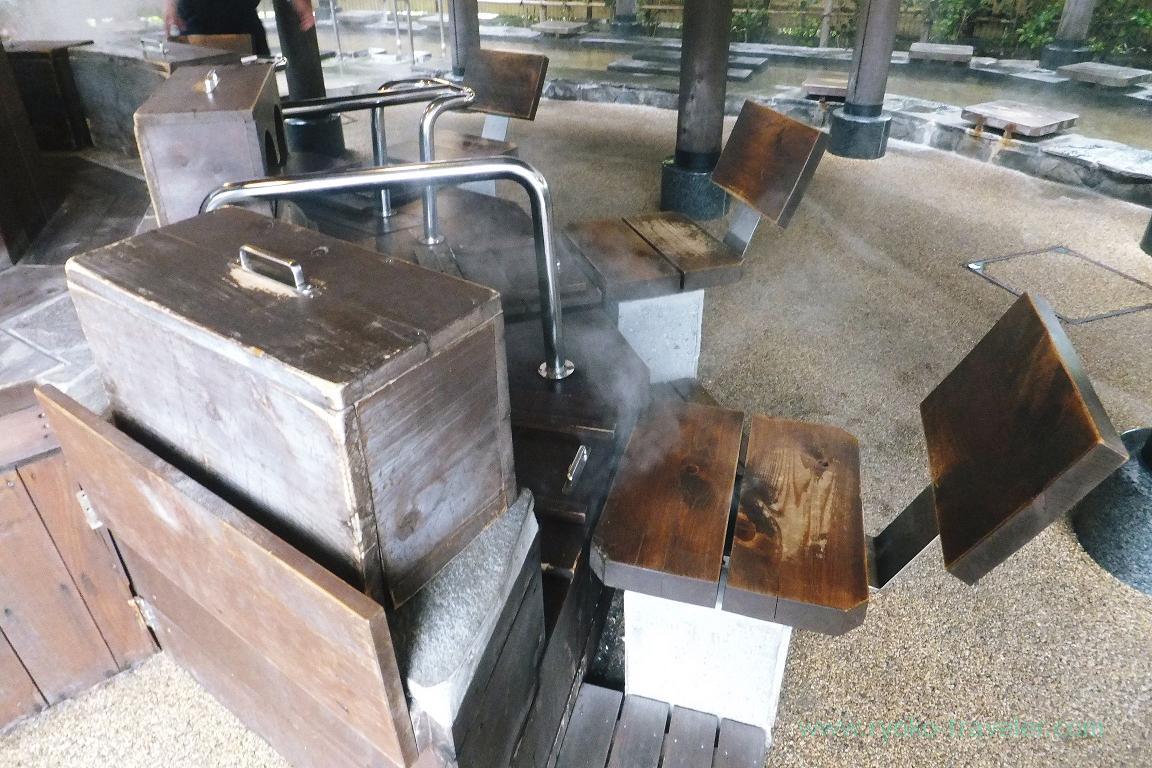 I tried ! Very hot ! No !
Ashiyu (foot bath)
Onsen drinking spot (inside the restaurant site)
You can enjoy Kannawa Onsen resource at lots of facilities by free of charge. FUN !
All seven hells are surrounded by walls and we can't see inside from outside.
We have to pay 300 yen for seeing each hells.
I think there are so many people who are interested in it or to go there in the near future. But clearly speaking, I think it is not well worth seeing it 🙁
I'll never go there twice. If those are free of charge, I'll take into account.
Umm. I really cannot understand why can they require tourists for money to see it.
Well, especially people living in Kanto region like me mostly saw Owakudani in Kanagawa at school trip and hiking.
It is the "hell". Overwhelming view there.
Compared with it, Beppu jitoku is too small.
Chinoike Jigoku is just small red puddle.
If you were disappointed with Beppu Jigoku before, go to Owakudani by all means after eruption warning is cancelled.
Well, I was at a loss because there was little time left. I walked around jigoku spots and thought where to visit, and then a taxi driver who seemed not have
much guests that day called me and chatted something. He advised me to go Chinoike Jigoku and Tatsumaki JIgoku and brought me there.
He talked to me something about Jigoku spots.
He tought me that only two "jigoku"is natural. And another is artificial for gathering tourists.
And every jigoku is run by different people. Those are privately-owned.
Chinoike Jigoku and Tatsumaki jigoku is natural thing.
Chinoike Jigoku (地の池地獄)
Chinoike means blood pond hell…Umm, if it would be more bigger, they must have more punch,,,
And it is not red like blood. Orange ….
Tatsumaki Jigoku (龍巻地獄)
The rock stopped geyser spouting out, so it lacked punch.
It never shows us hell…..
I want to visit Kannawa onsen again, but there's no need for me to visit Jigoku again.
It was right decision not to buy full ticket of Jigoku (2100 yen?) At first, I
thought I should buy it. But the driver said before going to Chinoike Jigou,"you don't need to see every jigoku."
And after that the taxi dropped off me at Myoban onsen that I gave up going at that trip once because there was no time ! Yay !
The facility name is Myoban Yunosato
At first I thought taxi fee is expensive for my trip, but I was really satisfied with my trip as a result.
I could visit both jigoku and myoban onsen !
Myoban onsen was far the best onsen that I took at this trip for three days !
But somehow I deleted my photos about Myoban Onsen …. 🙁
I walked around the onsen facility to kill time till the bus time.
View from the location of Myoban Yunosato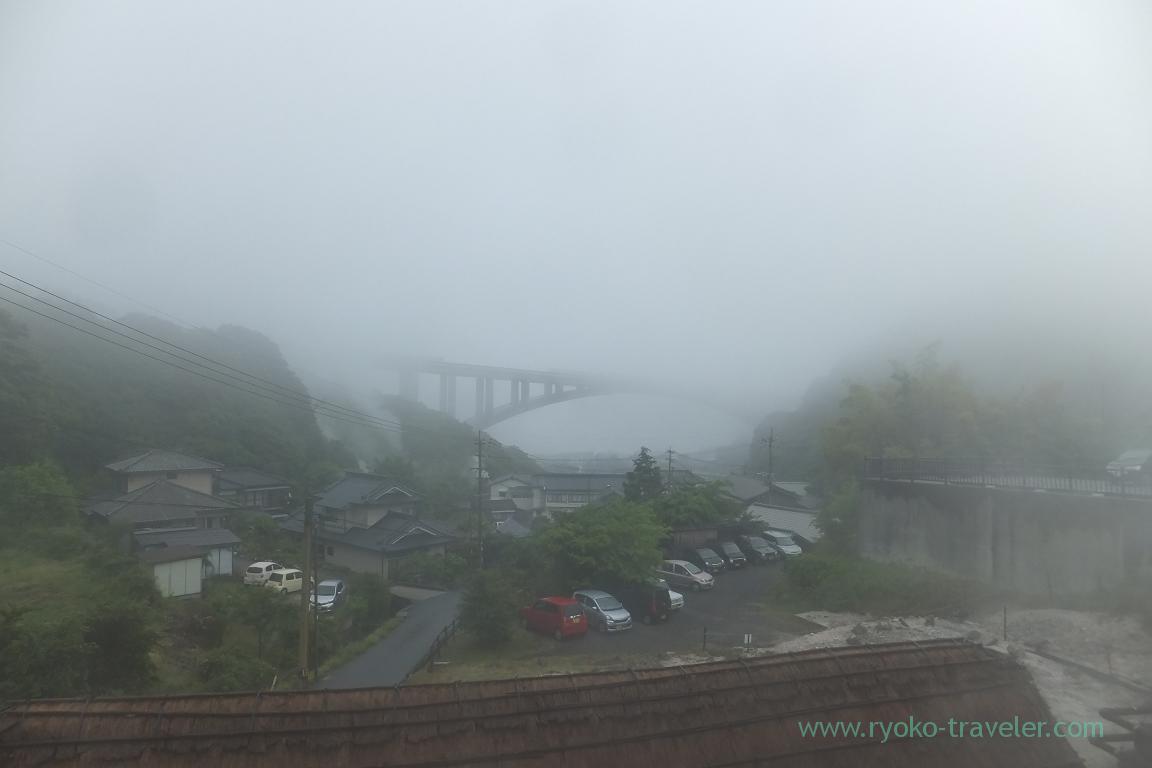 Yunosato have family bathes like yunokoya (house for yunohana extracting)
Yunosato is very popular as their high quality technique of yunohana (hot-springs mineral deposits) extracting. And they exhibit the method like this. It is free of charge.
Onsen tamago and myoban pudding was delicious 🙂
Onsen tamago at Myoban Yunosato after taking bath (100 yen).
Myoban Pudding at Okamotoya while waiting bus (in front of the bus stop).
I went to Beppu station by bus and went back to my accommodation, picked up my baggage from the locker. And I took a rest for a while at lobby.
And then I went to bus stop to Oita airport.
I stayed at Oita two nights and I found it was very good place to visit. I want to go there again soon. It was short trip but I visited some places, so I couldn't see much at Beppu and Yufuin. If I could, I want to go there within this year.
About Myoban Onsen Yunosato (明礬温泉 湯の里)
Address / 6 Myoban Onsen, Beppu-shi, Oita
Station / Jizoyu-mae bus stop
Open / 10:00 – 21:00
Close / No scheduled
Website / http://yuno-hana.jp/(in Korean)
Admission fee / Adult 600 yen, Child 300 yen for taking bath
*Store, restaurant and seeing yunohana extracting facility is free

About Okamotoya Shop (岡本屋売店)
Address / 4 Myoban Onsen, Beppu-shi, Oita
Station / Jizoyu-mae bus stop
Open / 8:30 – 18:30
Close / No scheduled
Website / http://www.jigoku-prin.com/shop/index.html(in Japanese only)