One of "Three major onsen in Bungo"
It took about one hour from Yufuin Onsen. Finally, I got to Amagase station.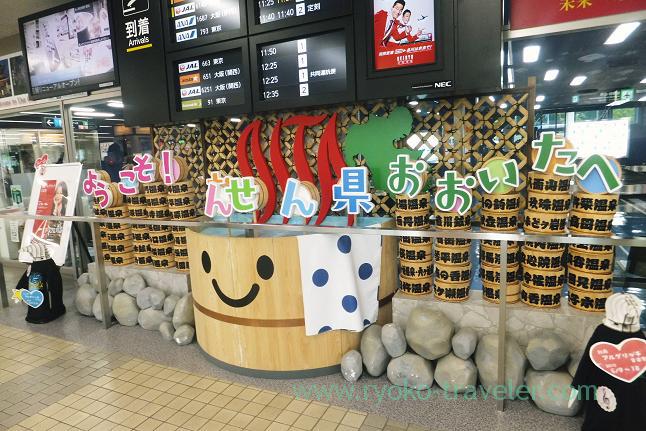 Oita 2015 (1/6) : Yufuin Onsen (由布院温泉)
From Narita Airport Terminal 3 to Yufuin onsen resort It was a still cold day, I went to Oita to take onsen bath. Now ...
Amagase onsen is said that 1300 years have passed since the onsen was found for the first time.
And it is called "three major onsen in Bungo" with Yufuin and Beppu.
Because I was late for the scheduled check-in time, the ryokan's staff waited for me at the station and took me to the house.
That day's accommodation was Ryokan Hitaya. Though it is old ryokan, it is comfortatble house.
About 10 minutes walk from the station.

My room. There isn't toilet in the room.
The toilet is outside. The tatami is old, I could see Kusu river and green out of the window.
After I took a rest for a while, I got out of the house and explored the onsen town !
By the way, many accommodations in this Amagase Onsen town have onsen bath outside and we can use it freely even if we don't stay at the accommodations . Also this Hitaya have. But it was really hot bacause no one used it for a while.
There are many open-air bathes along Kusu river. Most of those bathes are mixed bathing and can be seen very well.
Jinden-yu (神田湯)
It was in front of my ryokan, so I thought I try to go there at night, but young people fussed at night, so I gave up 😛
Tsurumai-no-yu (鶴舞の湯). Also it cost you 100 yen. It is for female only. But !
It can be seen very well 😛
It is open until 10 p.m., so I intended to go there at night, but because I was really tired, I felt asleep before 8 p.m and woke up past 11 p.m.
Suspension bridge for Seitenkaku hotel (成天閣ホテル) that I had scheduled to stay at first.
(I changed the visiting day to Amagase, and reservation of the day was full. So I reserved another hotel, Hitaya)
Korean tourists group crossed the bridge with their large suitcases for Seitenkaku.
Only looking them made me scary.
But this suspension bridge is tough and not shook violently.
They have no way to enter the hotel because large bus can't stop along the alley of the hotel side.
The suspension bridge had good view.
Of course, Seitenkaku have free foot bath 🙂
Amagase onsen town along Kusu river. There are lots of ryokans and hotels, but I didn't meet much people.
Then I went back to Hitaya and took onsen bath there.
The bathroom is on the under ground.
Bathroom. There is another bathroom that have fish tank and we can reserve both.
Though the bathroom is old and small, the onsen spring was good 🙂 Though they didn't say it is sulfur spring, it contains sulfur.
Dinner at my room.
I added Grilled Bungo beef (+1500 yen), but it was hard to grill well by myself…
But another grilled sweet fish, horse meat sashimi, tempura, chawanmushi, sashimi was good.
After that I took bath again. And then I felt like sleeping and felt asleep. it was still before 8 p.m. !
I think I was exhausted !
The next day, My breakfast was prepared another room. It was light breakfast and just for me.
After we checked out, I had a little time, so I went to Sakura-daki falls (桜滝) near the station.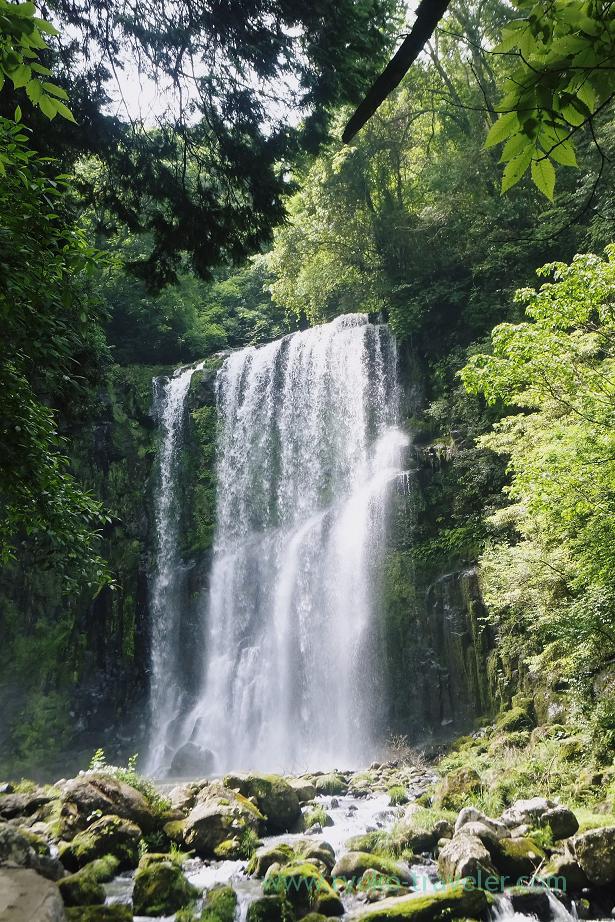 "Sakura" means cherry blossom in Japanese, so, I expected it is small and cute falls. But it was overwhelming falls because of the water amounts, though it was not big ! It is said to be the most beautiful falls in Oita prefecture.
15 meters high and 10 meters width.
I saw it for 5 minutes sharp so that I won't miss the scheduled train for Hita station and went back to the station.
I heard that we can fireflya glowfly and Kajika frog in summer, so I want to visit there again in the best season 🙂
About Ryokan Hitaya (旅館 日田屋)
Address / 362-1 Sakura-Dake, Amagase-machi, Hita-shi, Oita
Station / Amagase station (JR Kyudai main line)
Price / 9000 yen (dinner and breakfast included)
Official website of ryokan association / http://www.amagase-spa.com/(in Japanese only)