From Narita Airport Terminal 3 to Yufuin onsen resort
It was a still cold day, I went to Oita to take onsen bath.
Now Japan is in rainy season and especially Kyusyu region have been raining all day. So, visiting there in Spring and Winter is most recommended.
Such a cute object welcomed us at Oita airport.
I took Jet star airline to Oita airpot from Narita airport terminal 3 as usual.
At Oita airport, I took bus for Yufuin bus terminal and it took about one hour.
I intended to take a bus 10:30a.m., but my airplane left 30 minutes late and we got to Oita past 10:30a.m. and there are only 5 buses or so in a day. I was anxious about my plan broken, but the bus waited for us 🙂
There are so many coin-operated lockers around Yufuin station, including inside the station. But everything was occupied except large lockers (500 yen, 800 yen). I didn't have huge suitcase, so I went to this "Yufuin Chikki" and left my baggage. It cost me 300 yen. As same as small lockers 🙂
If you stay at Yufuin onsen area, they deliver your baggage to your hotel at 500 yen 🙂
More detail about it is here.
Before I started hanging around, I bought a ticket to Amagase station.
And then I went toward Kinrinko lake.
I had a plan that I have lunch at "Yufu Mabushi Kokoro" and eat Bungo beef close to Yufuin station.
BUT.
I felt car sick in the bus 😛
I couldn't eat much.
So, I decided to have lunch at this doughnuts shop.
nico doughnuts Yufuin Honten
The branch is in Tokyo, too. But this is the head shop.
You wonder why I ate oily doughnuts nevertheless I wasn't feeling very well.
But their doughnuts is made from soybean and it don't absorb much oils. So, it had light taste and I didn't feel heartburn 🙂
But this big Yufuin cider gave me heartburn after all 😛
After that I went to Kinrin-ko lake. The street on the way to Kinrin-ko lake is very busy street and there are so many shops like souvenir shops, soft ice cream shop, cafe, karaage shop… and so on.
I heard Oita is a birthplace of karaage and there are much karaage shop here and there 🙂
Kinrin-ko lake
Thought it is small, but beautiful lake
I wanted to have tea at outdoor seat of the cafe restaurant in front of the lake, but to my great regret, they were closed because of wedding party ! Oh my !
In any case, I thought I couldn't take the outdoor seat because it is very popular.
After I saw the lake for a while, I went toward Yunotsubo onsen to take Yufuin onsen spring.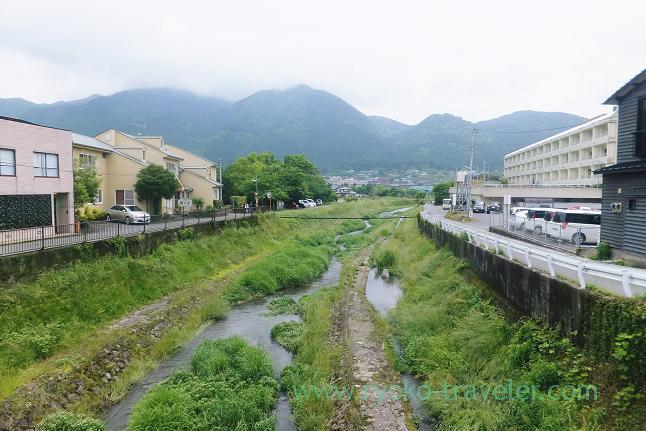 This is the Yunotsubo onsen.
It is public onsen facility and everyone can take the bath for 200 yen.
You have only to throw your 200 yen and enjoy the onsen to the full 🙂
It was very very hot ! The women's bath seemed not have guests and hot onsen spring was being poured without cold water.
For take the onsen bath, first of all, I had to pour much cold water into the bathtub 😛
I managed to put my body into the onsen water. The water is not colored, but it had sulfur smell a bit 🙂
After I enjoyed the bath, I went back to Yufuin station along to the busy street. And I felt like having some cold sweets because I took hot bath 😛
Bee honeys
I enjoyed the sweet soft ice cream, and after a while I found I was surrounded by Korean people. Well?
There are only Koreans except me !
This shop seems to be very very popular among Korean tourists (Maybe everyone is Korean people except shop staffs and me :P)
Certainly the ice cream is very tasty and understood why so many Korean tourists gathered.
After I went back to Yufuin station, I got my baggage at Yufuin Chikki and went toward Amagase Onsen that had my accommodation that night !
About nico doughnuts Yufuin Honten (nicoドーナツ 湯布院本店)
Address / 3056-13 Yufuincho-kawakami, Yufu-shi, Oita
Station / Yufuin station (JR)
Open / 10:00 – 17:00
Close / No scheduled
Website / http://www.nico-shop.jp/(in Japanese only)
About Bee Honeys (ビーハニー)
Address / 1481-1 Yufuincho-kawakami, Yufu-shi, Oita
Station / Yufuin station (JR)
Open / 9:00 – 17:30
Close / No scheduled
Website / http://beehoney.dg.shopserve.jp/index.html(in Japanese only)
About Yunotsubo onsen (ゆのつぼ温泉)
Address / 1087-1 Yufuincho-kawakami, Yufu-shi, Oita
Station / Yufuin station (JR)
Open / 10:00 – 18:00
Close / No scheduled