Notice : GROM Shinjuku branch already quit their business. Now Umeda branch (Osaka) is only the branch in Japan (November 18th, 2015)
---
We have to say good-bye to liver sashimi…
We visited this izakaya last Thursday for eating liver sashimi that is unable to be eaten soon by regulatory law.
They serve great raw meats, but they will be unable to serve them soon… 🙁
The shop's name is Nomiya. Nomiya means izakaya. As it is ! I got to Shinjuku earlier and went to Nomiya at first for checking the place of it against I was late for the appointed time.
..before that I ate jelato by myself at GROM close to the shop because I got to there earlier 😛
I didn't get to Shinjuku jelato on purpose for eating 😛
You might know GROM is gelato shop coming from Italy and there are some branches in Japan.
Then I went back to Nomiya.
Their beer server is the proud of theirs. They control it.
They do through management of the server.
I don't like beer very much, but I tried it 🙂 I believe that there might be my ideal beer somewhere in the world 🙂
Everything is so. I try at least once everything.
It had really smooth bubble. And it was sweet just a little.
It had no astringent taste and easy to drink.
The photo of otoshi had strong white light, so I don't upload it.
Meat sashimi series (刺身盛り合わせ) were served !
From left to right in front of me, liver sashimi, tongue sashimi and rumen sashimi
And the back, from left, tripe sashimi, diaphragm sashimi and liver sashimi.
Beef tongue sashimi
diaphragm sashimi. Beautiful.
Every meats were fresh and tasty.
Especially, the liver sashimi was great !
Though we ordered mizuna and dried young sardines salad, I couldn't take the photo well, so I don't upload it, too.
My second helping of alcoholic drink. Marib coke (マリブコーラ). It had much marib. I got drunk !
Assorted kushiyaki (串焼き盛り合わせ)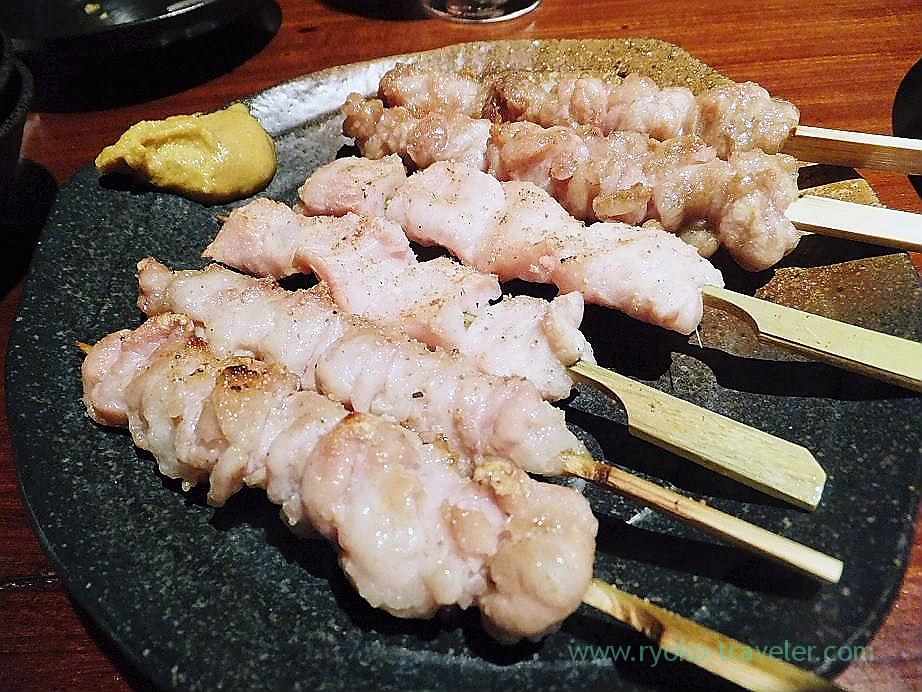 The head meat was tasty. But this white one was disgusting…. So fatty. It's fat itself !
Grilled diaphragm (ハラミ焼き) (with raw small sweet green pepper called shishito)
Guts nikomi (もつ煮込み). Mild salted soup.
c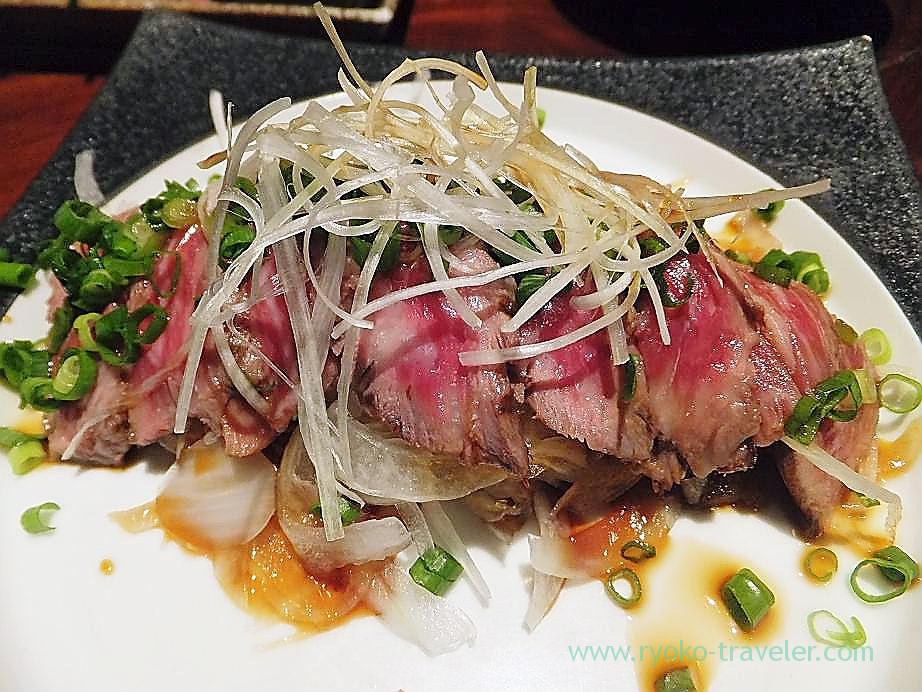 Beef tail soup ojiya(牛テールスープのおじや). The broth was tasty 🙂
Ah, why can't we eat meat as raw from now on ?
About Nomiya Shinjuku Sanchome (のみや 新宿三丁目)
Address / 3-8-4, Shinjuku, Shinjuku-ku, Tokyo
Station / Shinjuku-sanchome station (Toei subway)
Open / 11:30 -13:40, 17:30 – 24:00
Saturdays / 17:30 – 24:00
Closed / Sundays and another natiolnal holidays
Website / http://www.shinjuku-nomiya.com/(in Japanese only)
About GROM Shinjuku branch (GROM 新宿店)
Address / Shinjuku Marui Honkan 1F, 3-30-13, Shinjuku, Shinjuku-ku, Tokyo
Station / Shinjuku-sanchome station (Toei subway)
Open / 11:00 -23:00
Closed / no scheduled
Website / http://www.grom.jp/(in Japanese only)