I met my friends' longing shop by chance.
I dropped in at Ningxia Night Market on my way to my hotel.
When I got to there around 8 p.m., there were many people. The market is open from 6 p.m. to the midnight.
Taipei have so many night markets, and this Ningxia night market is large market, but it is popular as Taiwanese oyster omelet. So, I wanted to eat it.
But unfortunately, I didn't feel like eating anything because I already ate dinner, and I felt sick because of the smell of foods in the muggy air.
So, I gave up eating the omelet, but I wanted to have something and went back and forth. Then I found the tofu pudding shop by chance.
I knew this shop's name on the guidebook.
Gu Zao Wei Tofu pudding
But when I entered the shop, I found this is so popular shop because it was featured on the popular TV show named "Kodoku no Gourmet" in Japan.
My friends loved it. Though I seldom watch TV.
They serve not only tofu pudding but also drinks and shaved ice.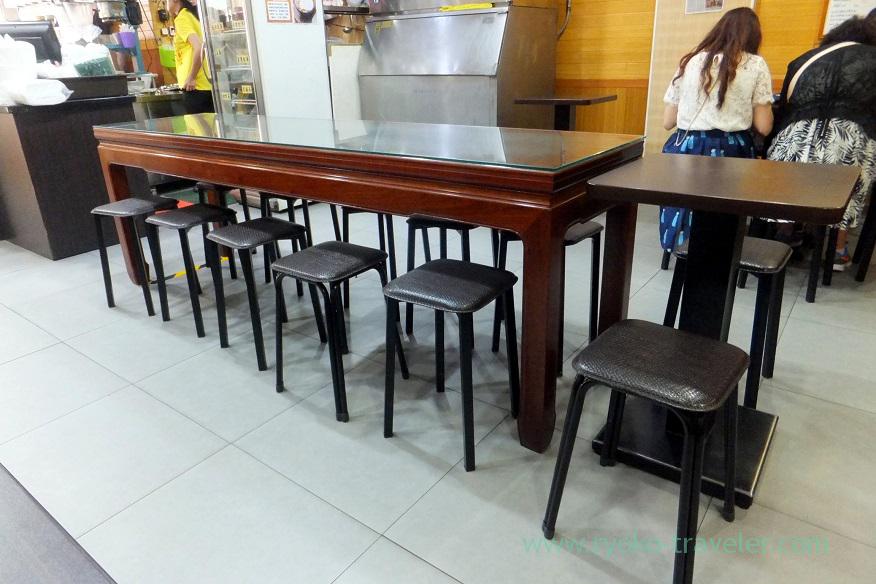 I chose shaved ice.
Snow shaved ice with redbeans (紅豆雪花冰, $NT75)
You think why this post have some photos in the daytime…. Because I visited there again the next day 🙂
I dropped in at this shop on my way to Pinsan (冰讃).
Tofu pudding with aiyu jelly and grass jelly. (愛玉・仙草豆花, $NT50)
I mistook the choice. I chose double jellies :p
But both was good.
Their tofu pudding have shaved ice on it.
I want be back soon for having oyster omelet at the market. I'll visit Taipei again in November. So, without fail.
About Gu Zao Wei Tofu pudding (古早味豆花)
Address / 台北市大同區民生西路210號
Station / Shuanglian station (雙連站)
Open / 11:00 – 25:00
closed / no scheduled
Website / http://www.toufa.com.tw/ (in Chinese only)