I went to Nara to view scarlet maple leaves last month.
I took a plane by low-cost airline both ways.
Though I thought first train to Narita Airport can be in time for my plane that leaving Narita at 6:40 a.m. , but I found I couldn't be in time for my plane by the first train.
So, I decided going to Narita by overnight bus. I managed to get a ticket two days previously. Nevertheless I live in Chiba, I had to go to Narita Airport from Tokyo by night bus ! Oh, my!
Tokyo station. Around 12:00 a.m. Almost all lines were already ended.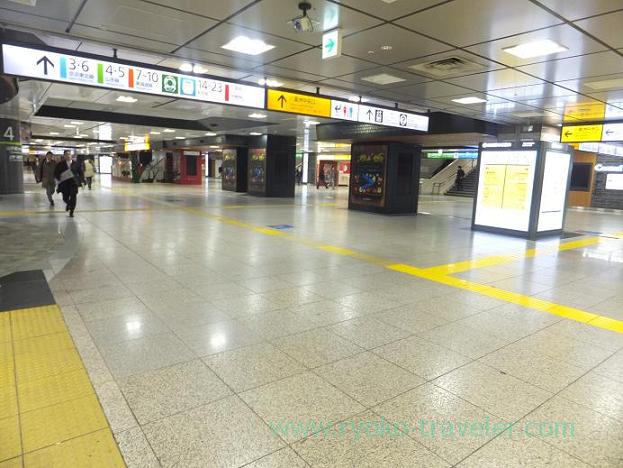 My bus left in front of Tokyo station at 1:30 a.m., and arrived at Narita airport at 4:30.
Then I could take my plane and arriving at Kansai Airport without any accidents.
After arriving Kansai Airport, I went to Nara using some trains:)
There are through airport buses to Nara. But these are expensive.
On arriving at Nara, I entered a cafe for breakfast. I was starved 😛
There is a bakery on the ground floor. Cafe is upstairs.

*Sandwiches set (サンドイッチセット) 370 yen

After that, I went toward Naramachi street for eating parfait at Nakagawa Masashichi Teahouse (中川政七茶房). "Nakagawa Masashichi" is a famous as stationery productor. It is a holy place for fans. I like its masking tapes, too. So I wanted to go there, but the teahouse's waitress said the reservation was full until 2:00 p.m.
It was still 12:00 p.m., so I gave up.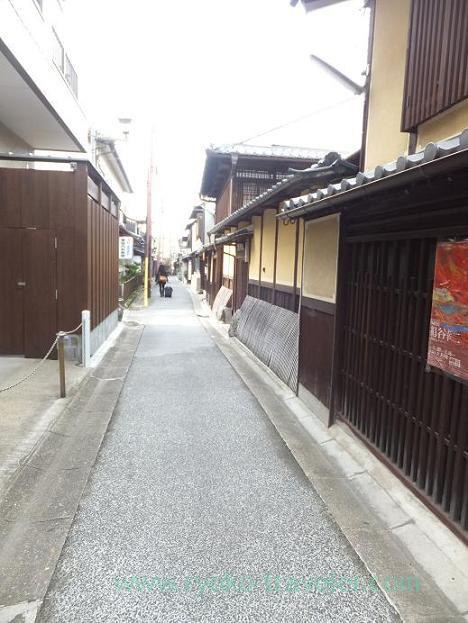 Sarusawa Ponds (猿沢池)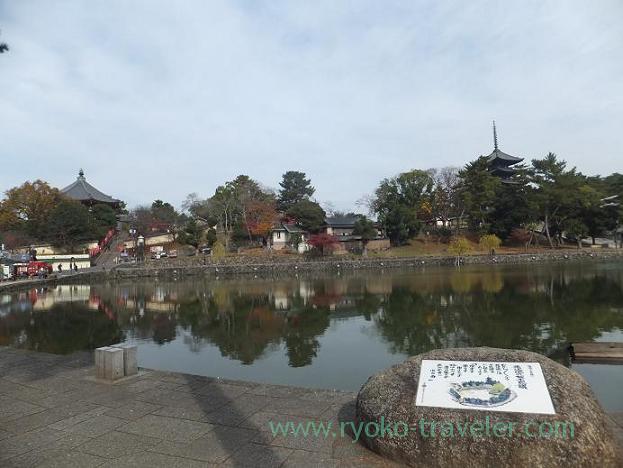 I searched for something sweet to eat,,,then I found the house. "吉野葛 (Yoshino Kuzu) attracted me.Judging menus in front of the house, this shop serves only sweet things using Kuzu. It seemed a kuzu specialty shop, so I, that loving kuzu-kiri, decided to eat kuzu-kiri here although I didn't know about the shop at all.
Yoshino-kuzu Sakura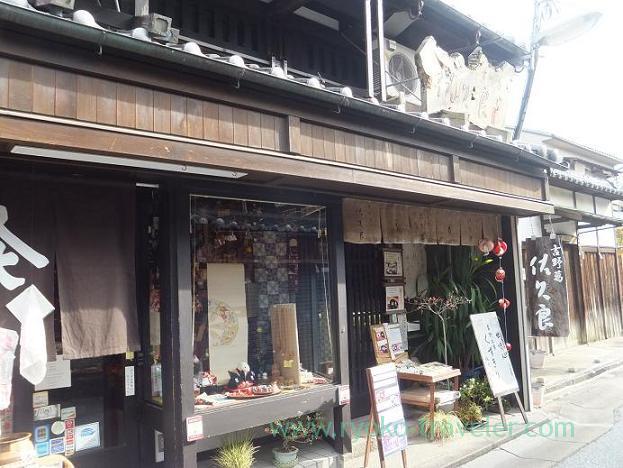 Because the shop stands far from main street, there were no person except me.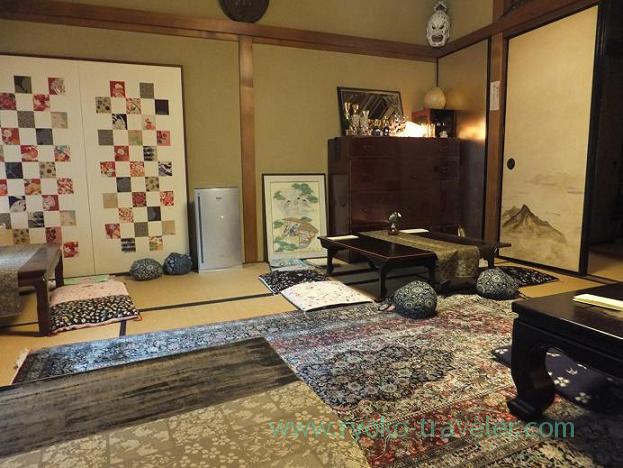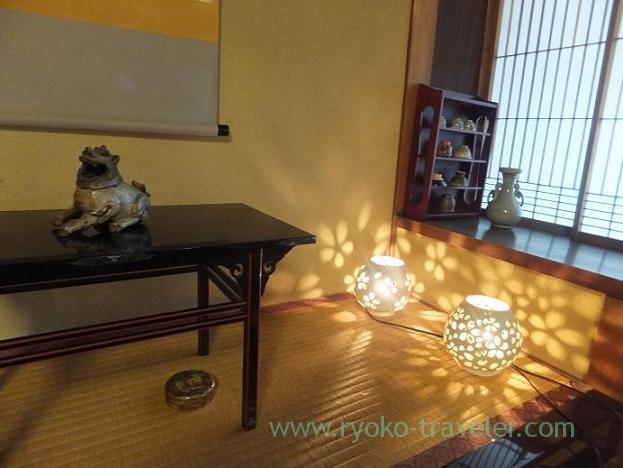 Carrying out my original intension!
*Kuzu-kiri (葛切り) 840 yen
Kuzu-kiri was cooled with ice.
The shop made my kuzu-kiri after order. So it more took time than I had expected. But I wasn't boring in such a cute room.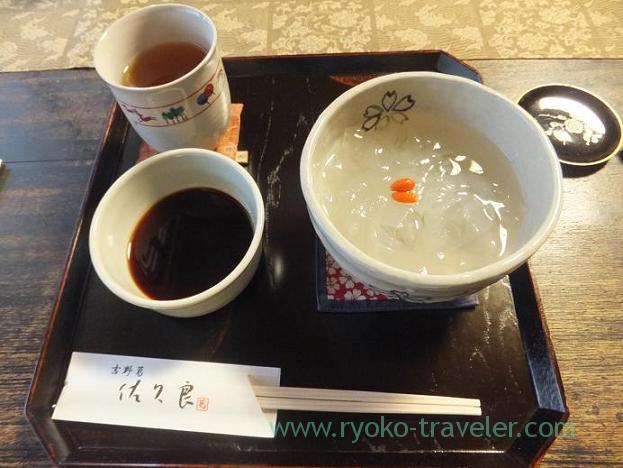 Dipped in kuromitsu (black sugar syrup)
It was awesome ! Fresh and smooth kuzu-kiri sure went down well 🙂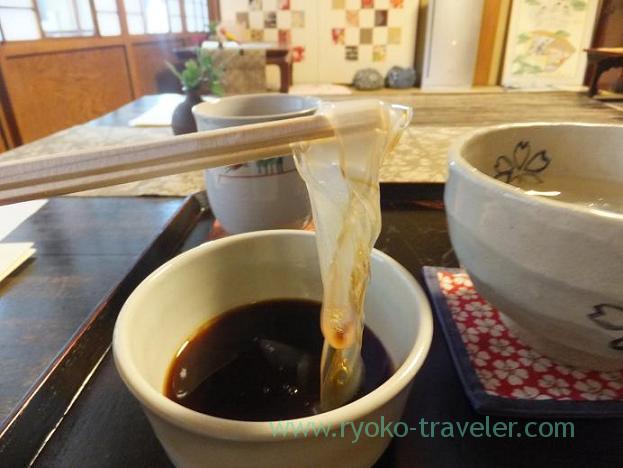 It was a right decision to enter the shop 🙂
After that, I went toward Kofuku-ji temple.
Château Doll(シャトードール)
39 Konishicho, Nara-shi, Nara
Open – from 8:00 to 22:00
Closed – no holidays
Yoshino-kuzu Sakura (吉野葛 佐久良)
2-27-20 Takamikadocho, Nara-shi, Nara
Open – from 10:00 to 17:00
Holiday – Tuesdays (except for national holidays)
HP – http://www.nizuka.com/naramachi.htm (in Japanese only)