Tsukiji for two consecutive days
I went to Tsukiji at breakfast for two consecutive days.:D
http://www.ryoko-traveler.com/katou2/
Today, I ate Sashimi bowl (海鮮丼, 1000 yen) at Nakaya.
This picture is a little blurred.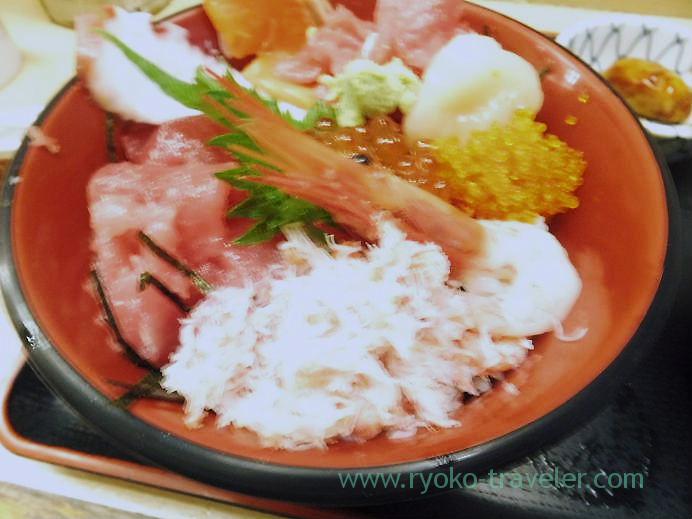 With Sea lettuce miso soup , squid with roe
And with yellow pickles.(I managed to eat only three piece of it.)
It doesn't matter of taste, I dismiss the vivid yellow.
The squid with roe tastes good. It has soft texture.
Thick taste of squid .
I like left-over flesh on the spine of tuna in the sashimi bowl.
Two foreign tourists came in to the shop, and they said "Is there any Sushi?".
Shopkeeper said "Nothing.",then they went out.
Many big pictures of sashimi bowl are put on the window :P.
I'll break the record of my running days to Tsukiji at breakfast tomorrow.
Where am I going to eat?
About Nakaya (仲家)
Address / Tsukiji Market Bldg No.8, 5-2-1 Tsukiji, Chuo-ku, Tokyo
Station / Tsukijishijo station (Toei subway)
Open / 5:00 – 14:00
Closed / Market's holidays