My longing soba restaurant in Nagano was…. closed !
I dropped in at Yukkulando on my way to my accommdation from Yonako Great Falls.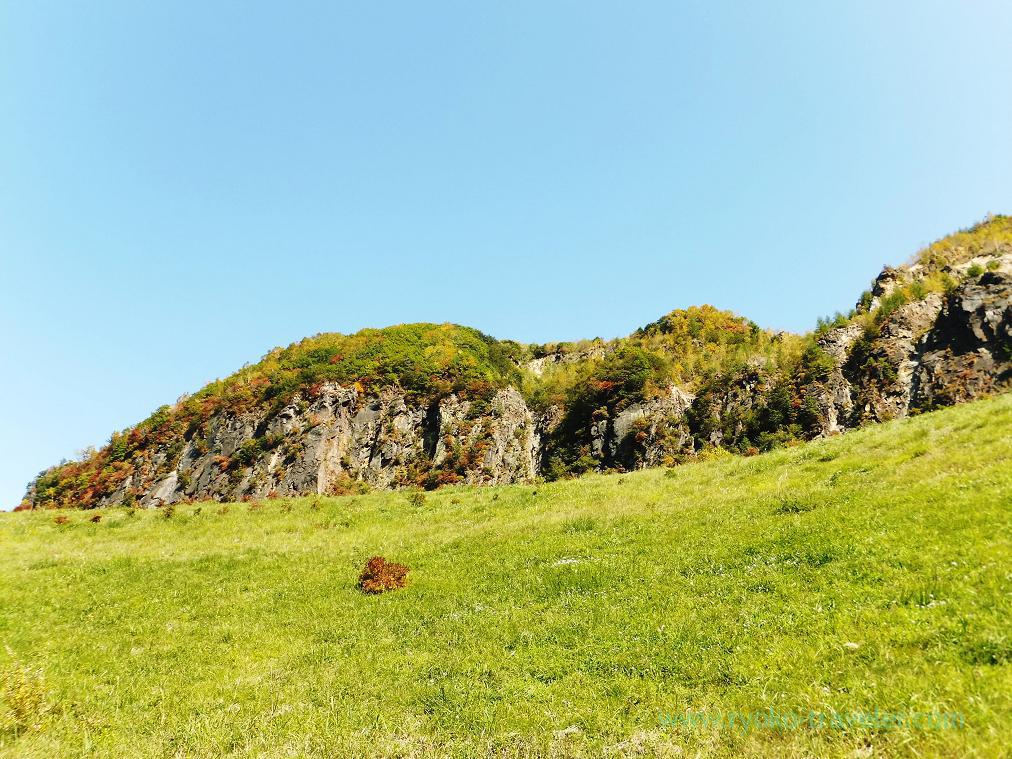 Nagano 2013 for seeing Yonako great falls 2/3 (米子大瀑布)

Finally Yonako great falls in my sight ! I intended to eat out for night meal, but a soba restaurant was fully reserved...


I took onsen bath and had night meal in Yukkulando.
Yukkulando have  food court and souvenir shop as well as onsen facilities.  You can use those food court and shop by free admission fee if you don't take the bath.
They recommend this Miso-suki bowl (みそすき丼, 850 yen).
Eating with beaten egg on it. It have specialty foods of Suzaka like early-ripening burdock and miso 🙂
This foods have simple taste of miso, soy sauce and sugar.
Well, miso was excellent all the same.
It says Miso-suki bowl is taste of Taisyo period 🙂
After that I went back to Guest House Kura that was my accommodation by bus.
From Yukkulando to my getting-off bus stop, there was no guests except me in the bus:P
At night, Suzaka is so dark because there are no showy lights and many shops and houses draw their shutters.
So my accommdation was conspicuous.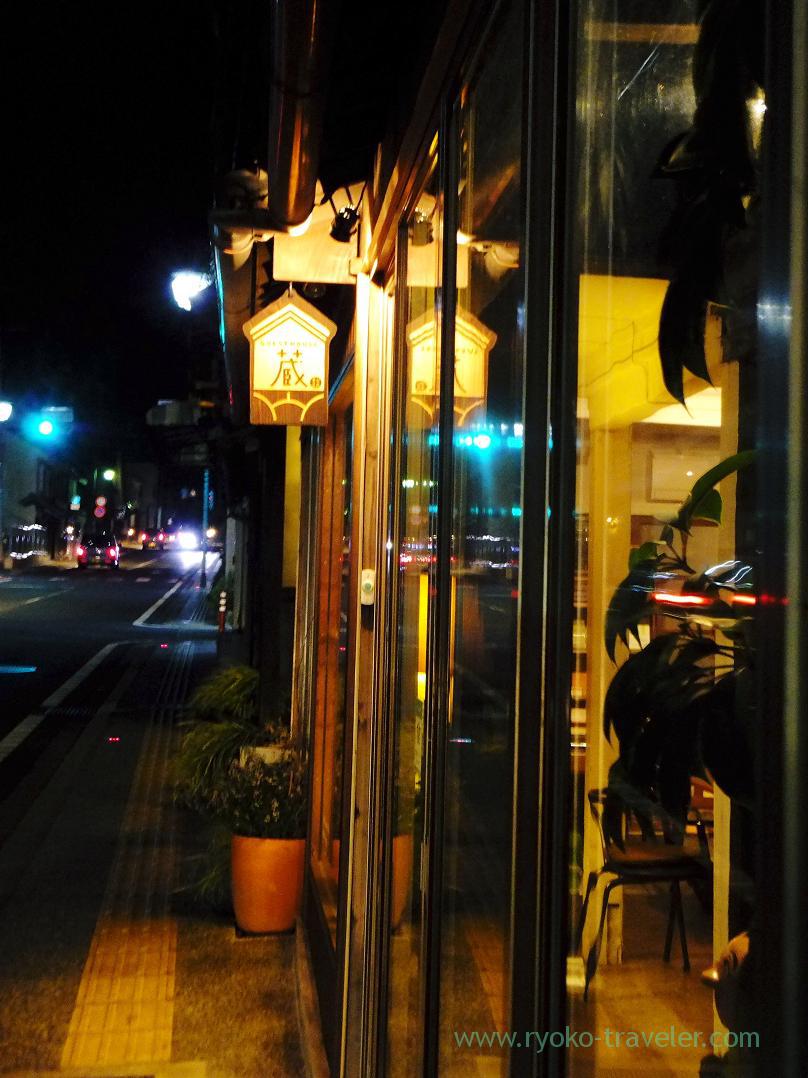 I was so comfortable in my accommodation.
This house was built as warehouse more 100 years ago and renovated in a few years.
I heard lots of foreigners come and enjoy their trip in the accommodation.
I like that I could sleep on Japanese-style mattress in tatami room, not on bed.
By the way,I heard the reason of many foreigners come Suzaka and stay the accommodation is for seeing Snow Monkey :O
I didn't now the word "Snow monkey". Snow monkey is monkeys in a hot spring to be warma at Jigokudani Onsen like human.
Snow monkey is not so famouse in Japan (I think because it is not rare for Japanese…)
Needless to say, my breakfast next day was oyaki, too 😀
That day, I bought my oyaki at Tsutaya Heas shop.
I ordered a fava bean oyaki, but the shop staff said fava bean oyaki is not yet unfinished.
So I ordered a pumpkin oyaki (かぼちゃおやき, 120 yen).
There is a small park in the back of the shop and I ate it at the park. Light yellow color.
It was sweet and tasty, but I wanted to eat as it is hot. It was already cold. I like warm oyaki all the same.
After that I checked out my accommodation, and I went to Tsusumi Station. It has no station staff.
On arriving at the station, I was astonished. Apple orchard sheet around the station !
Why I got off the station was, of course, for eating soba !!!
After 10 minutes walk, I found the soba restaurant !!!
Hm ? What is the paper ?
"I'm now at mountainside field."
This means …. closed ?
What is the mountainside field !!!!!?
Soooo disappointed !!!
I looked up next train with a smart phone and I found that next train for Nagano was 15 minutes later.
I didn't know what to do, but anyway, I went back to the station. There is no restaurants around Tsusumi station except the soba restaurant.
While waiting my train, I had the idea of going to Obuse next to Tsusumi station for eating Mont Blanc cake at my favorite cafe.
So I got off at Obuse station. But I wanted to eat soba because I missed eating soba first day of the trip. And I looked up soba restaurant around Obuse station with a smart phone, and I decided going to a soba restaurant that have good reputation.
Teuchi Hyakugei OBUSE
Far from Obuse station, and it has good appearance.
I entered the restaurant and I ordered Sprouted sobagaki and Sarashina soba.
Sprouted Sobagaki (発芽そばがき, 630 yen)
This sobagaki was soooo hard !!! (>_<)
Sarashina Soba (更科そば, 890 yen)
Don't ask me what is "Sarashina". I don't know about soba well 😛
It had chewey texture.
To tell the truth, I don't like soba that have chewey texture (T_T)
Also, it was hard for my teeth under dental treatment  to bite the chewey soba.
I should have looked up more carefully, not only its reputation 😛
But the soba tea was sooooo tasty !!!
Umm. Soba didn't favor my trip.
I went to Nagano with sorrow that I should have eaten Mont Blanc.
Arriving at Nagano station, I found there was a heavy rain.
Typhoon was coming 😛
The typhoon came two days earlier than I had expected.
When I arrived at Tokyo, storm had already rised.
But I could return home with no difficulty.
I bougtht the burdock tea for me at Suzaka.
I heard that Yamashita Pharmacy in Suzaka has produced it.
Dried early-ripening burdock in it.
About Teuchi Hyakugei OBUSE (手打百藝 おぶせ)
Address / 627-15 Obuse-Chuo, Obuse-cho, Kamitakai-gun, Nagano
Station / Obuse station (Nagano dentetsu)
Open / from 11:00 to 15:00, 17:00 to 20:00
Close / Thursdays
Website / http://www.janis.or.jp/users/sakahara/(in Japanese only)
About Yukkurando (湯っ蔵んど)
Address / 7 Oaza-nirei, Suzaka-shi, Nagano
Bus stop / Yukkurando bus stop from Suzaka station (Nagano dentetsu)
Open / from 10:00 to 22:00 (restaurant until 21:00)
Close / No scheduled
Website / http://yukkuland.jp/index.php(in Japanese only)
About Guest House KURA (ゲストハウス蔵)
Address / 39 Suzaka, Suzaka-shi, Nagano, Japan
Station / Suzaka station (Nagano dentetsu)
Domitory / 3000 yen
Reservation / Booking.com,
agoda.com
Website / http://www.ghkura.com/(English)
About Tsutaya Honten (つたや本店)
Address / 529-7 Oaza-Koyama-Kokumachi, Suzaka-shi, Nagano, Japan
Station / Suzaka station (Nagano dentetsu)
Open / from 8:00 to 19:00
Closed / No scheduled