Peach season will be end soon !
After enjoying lunch at Okeisushi, we went to Monzen-nakacho by metro.
http://www.ryoko-traveler.com/okeisushi1/
You know we didn't have dessert at Okeisushi!
So, we went to Fruits Cafe Frutas for eating peach parfait !
When we got to Monzen-nakacho station, it was around 4 p.m. We telephoned to Frutas if there have any vacant seats. But their answer is… "the shop is on a break until 3 p.m. !"
So, anyway, we had coffee to kill time. We went toward in front of Monzen-nakacho station.
We know there is good cafe along the approach to Tomioka Hachimangu shrine that is named Monz Cafe.
My Cappchino (カプチーノ, 460 yen)
Every time we pass through this shop, there are much people on weekends. But that day was weekday and there were many vacant seats 🙂
Then we got out of the Monz Cafe 15 minutes before the opening time of Frutas.
When we got to the shop, there were already some people there. And as soon as we were seated, there were many people gathering in front of the shop and waiting ! Oh my.
But, almost all people there left after a while. Because,,, yes, Frutas takes much time to serve.
20 minutes after the opening time, no foods were served yet. So, everyone gave up waiting in the rain.
We were first comer. And our foods were finally served 25 minutes after the opening time.
(next comer's foods took more time…)
My order was, needless to say, peach parfait (桃パフェ, 2160 yen) !
That day's peach is from Yamanashi !
I had to deal with it so carefully, or the slices of fruits drop !
So juicy, so sweet. Incredible delicous peach ! The sorbet was good, too.
His order was mango parfait (マンゴーパフェ, 2300 yen).
The mango was all the way from Mexico !
Fully ripened mango had awesome color !
The fork stuck the fruits to so smoothly.
This year, I could complete three major peach parfaits ! I'm fully satisfied and welcome Autumn !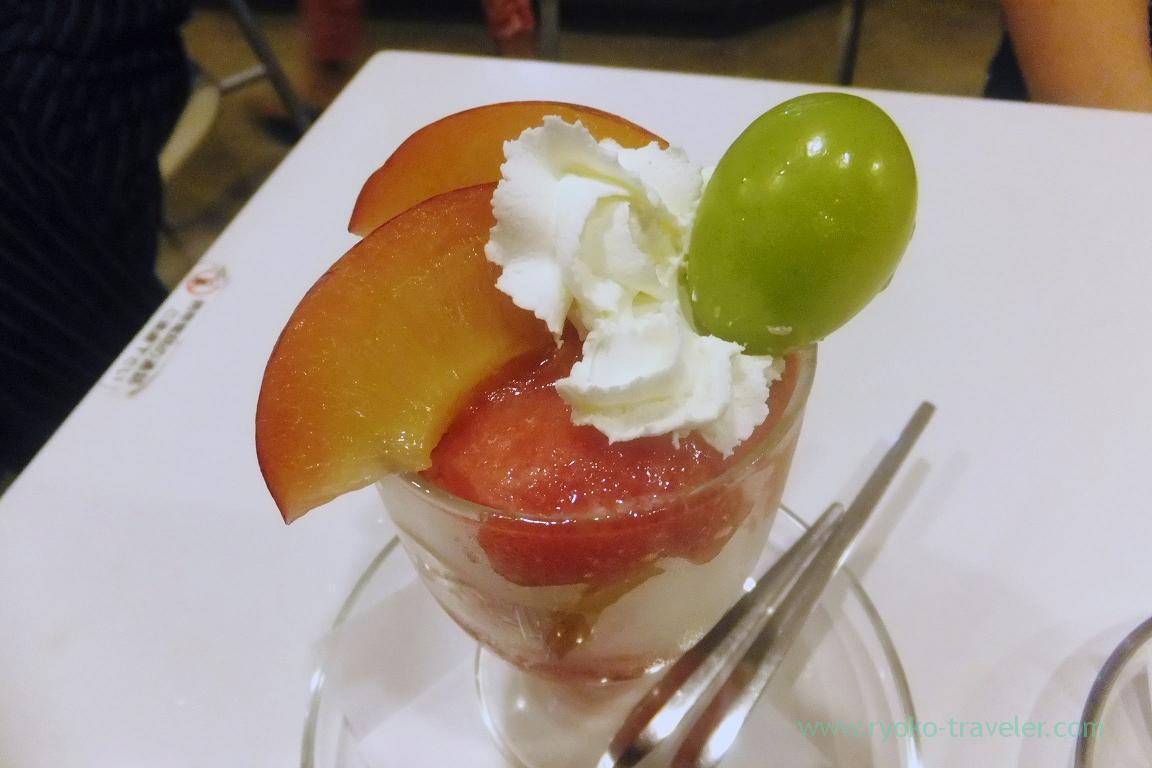 Yotsuya-Sanchome : Peach and Plum parfait at Fukunaga

This season has come this year, too !Now is summer.I hate muggy summer.But there is only one thing that makes me exci...


http://www.ryoko-traveler.com/four-seasons-cafe2_gyosen-park1/
About Monz Cafe (モンズカフェ)
Address / 1-14-5 Tomioka, Koto-ku, Tokyo
Station / Monzen-nakacho station (Tokyo metro, Toei subway)
Open / 8:00 – 19:00
Saturdays, Sundays and another national holidays / 9:00 – 18:00
Closed / No scheduled
Website / http://www.monzcafe.com/(in Japanese only)
About Fruits cafe FRUTAS (フルーツカフェ フルータス)
Address / 1-24-6 Tomioka, Koto-ku, Tokyo
Station / Monzen-nakacho station (Toei subway, Tokyo metro)
Open / 11:00 – 19:30
Closed / Wednesdays (except national holidays)
Website / http://www.frutas.jp/(in?Japanese only)