Last Miyakozushi. But very yound punctatus wasn't in stock !
We went to Miyakozushi the other day.
This was the last time for us to visit Miyakozushi.
Because Miyakozushi quit their business at there this September.
And they will start new sushi restaurant as "Nihonbashi-Kakigaracho Sugita" in Nihonbashi Kakigaracho from middle of October.
The chef took over the place from his parents and decided to start his restaurant there.
But there is already a sushi restaurant named "Miyakozushi" (The restaurant he used to train in his youth days), so he decided to change his restaurant's name.
I'm looking forward to visiting new restaurant 🙂
By the way, this was the first time to visit Miyakozushi at lunchtime though I already visited there for 6 times.
Our course was started from Otsumami as usual. Edamame was served 🙂
Edamame is eaten all year around, but its best season is now summer.
Whelk from Samani (様似のツブ貝)
It had crunchy texture.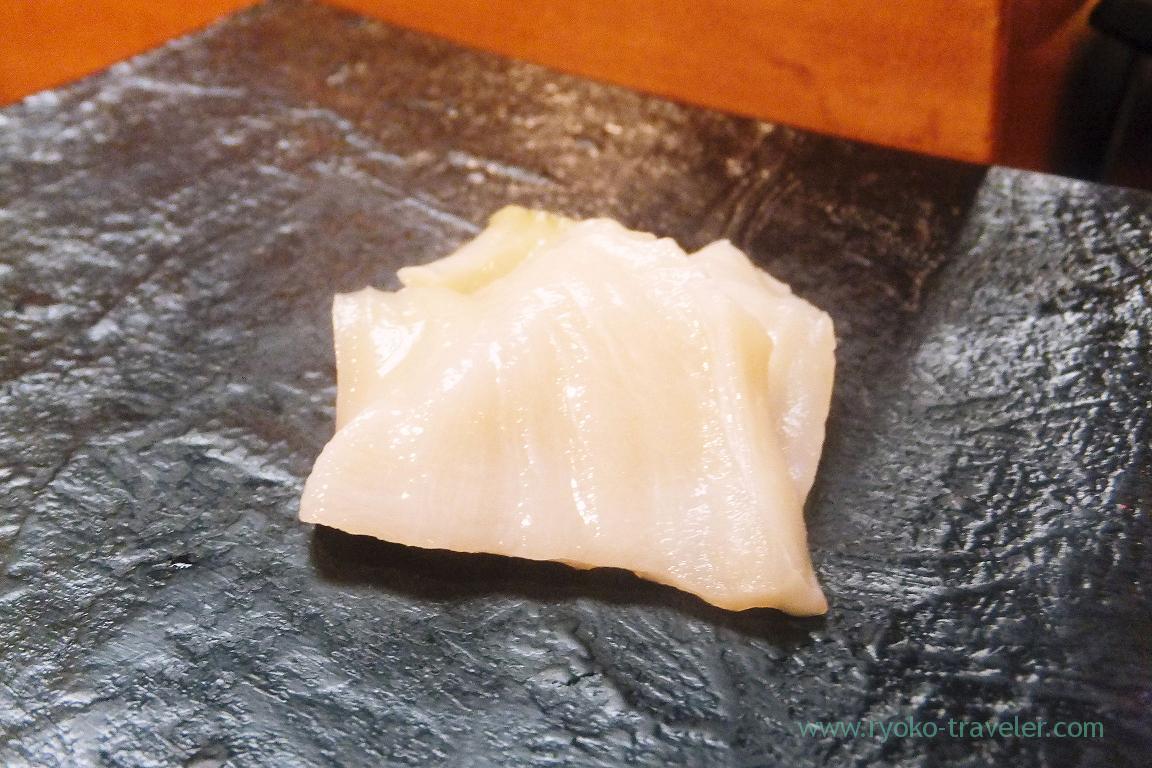 Marinated bonito from Kesennuma (気仙沼のかつおの漬け)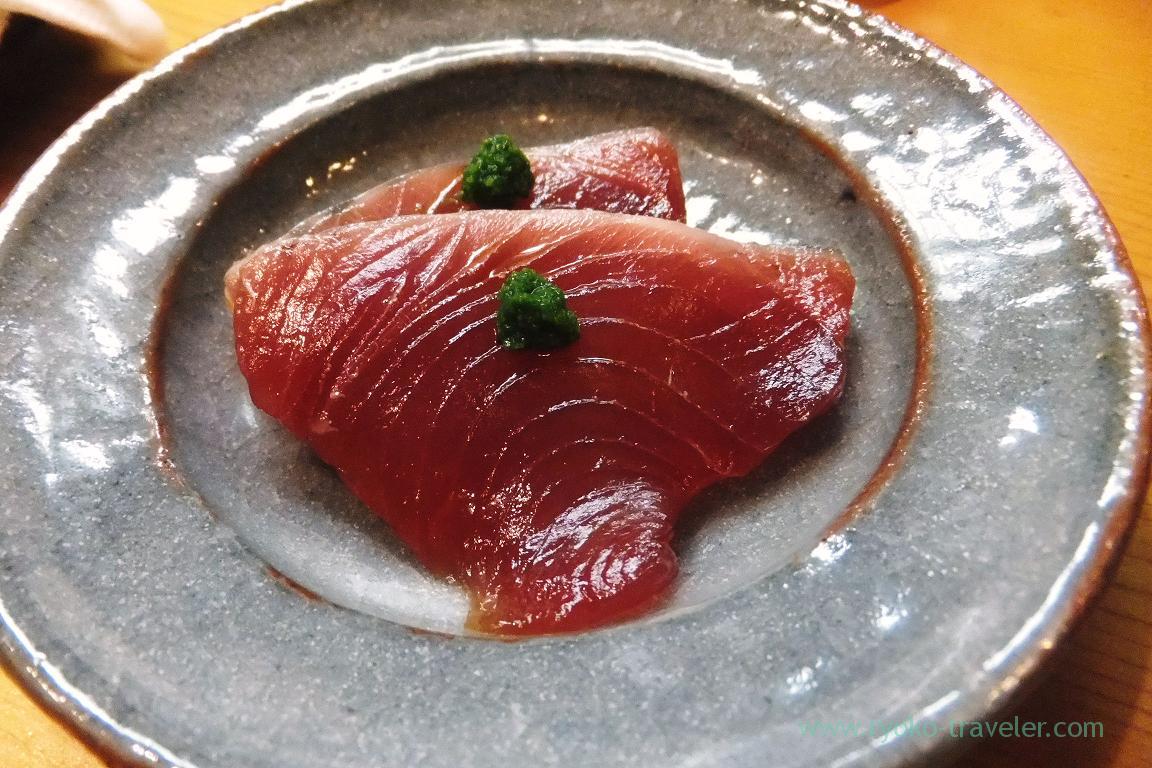 Pandalus latirostris, a kind of shrimp (しまえび)
It had sticky texture and sweetness.
Marinated razor clam with Saikyo miso (タイラ貝の西京漬け)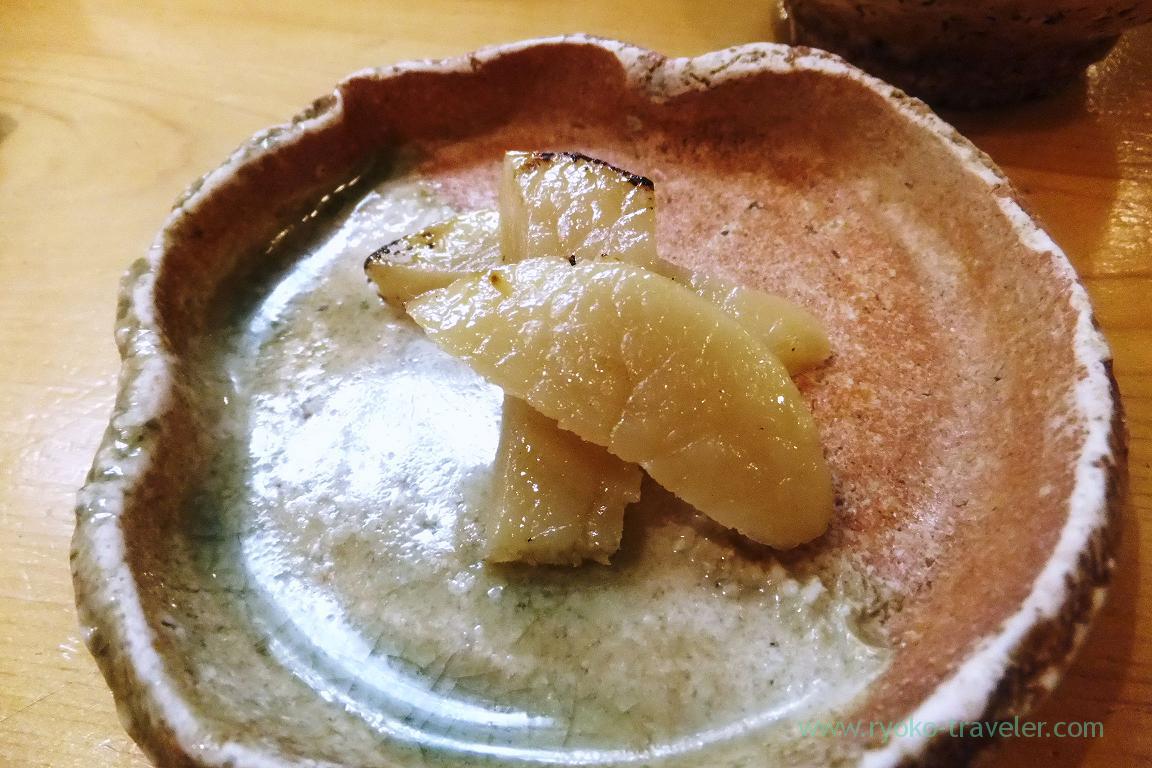 Ovary of sea cucumber and brown meat of Pandalus latirostris (ばちことしまえびの頭の味噌)
Both are delicacies and go with Japanese sake well though we didn't drink any alcoholic drinks at that time.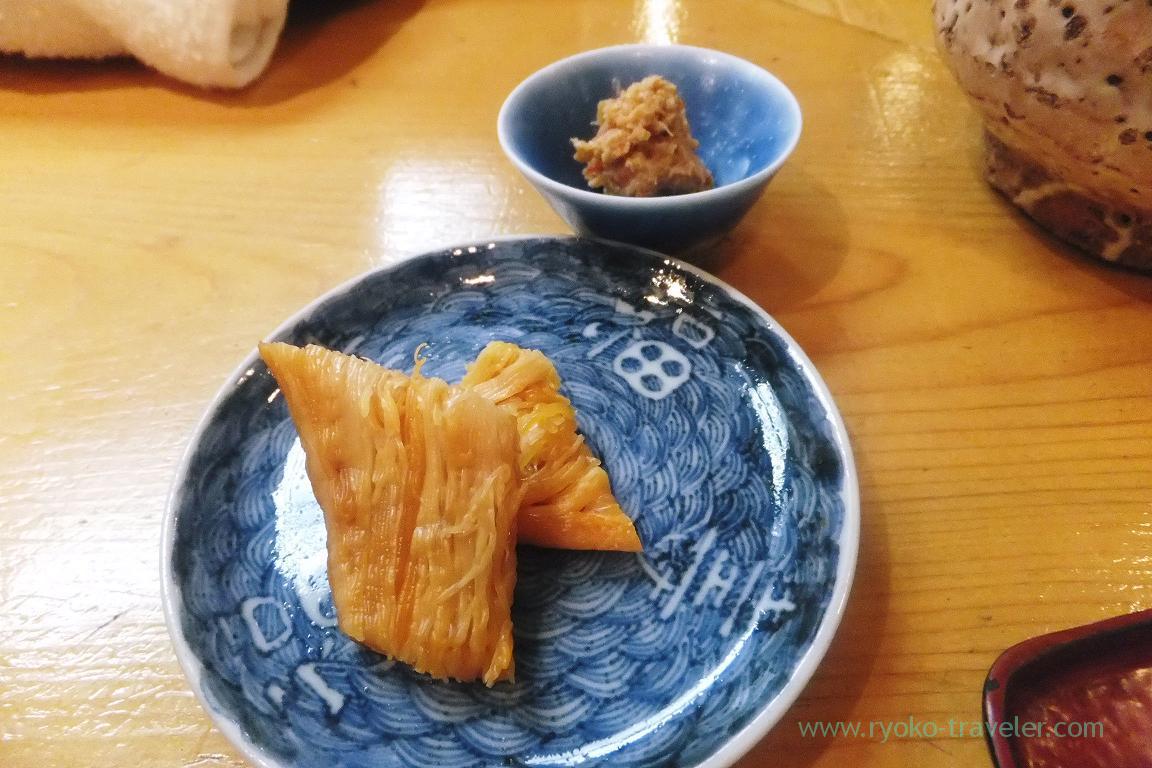 I had eaten ovary of sea cucumber at Ginza Shimada, but that was dried. This was not dried. So, it was soft and juicy.


Fancy stand-up-eating izakaya ! My friends and I visited Ginza Shimada the other day. As its name, Ginza Shimada is located within Ginza area being a little distant from the busy street. The app...
Well, the last otsumami is grilled fish as usual. That day Grilled blackthroat seaperch with salt (アカムツの塩焼き) was served.
It was really fatty. But the fat was somehow light.
I'll be able to drink a cup of this fat 😛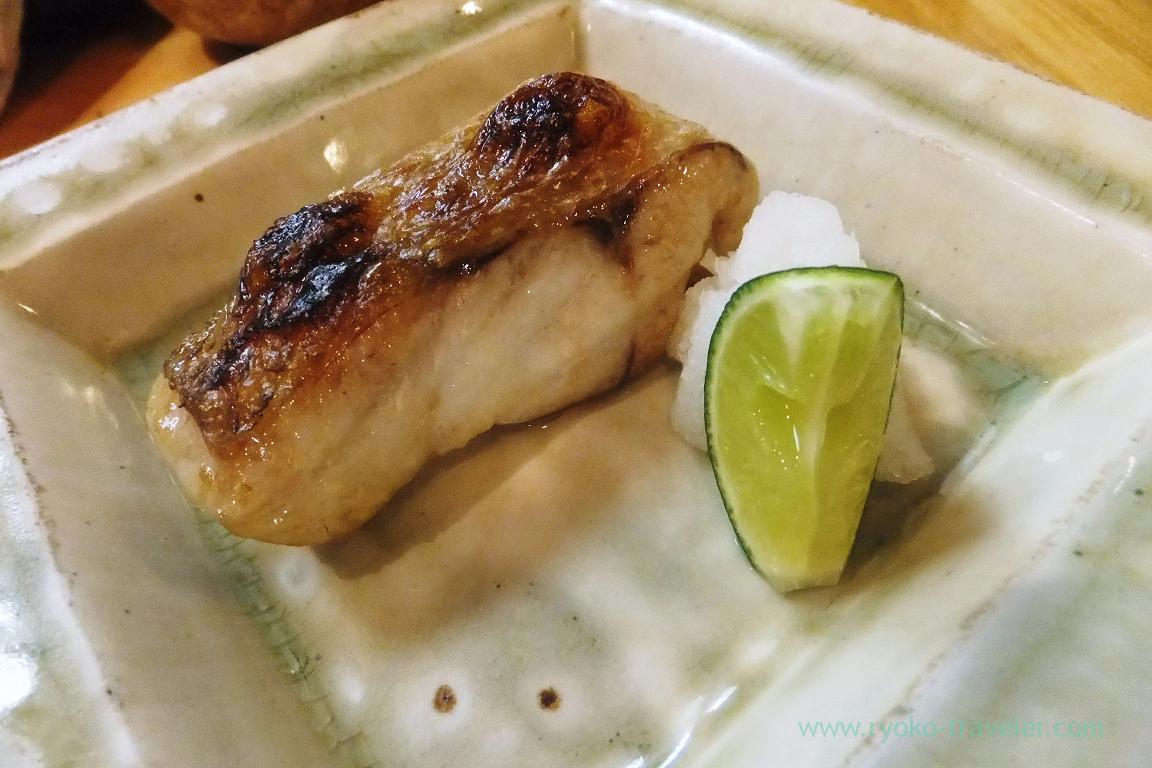 July and August is the season of Shinko (very young punctatus). So, my friend was really looking forward to eating shinko, but to his great sorrow, it was not in stock because it was chill this Spring and the beginning of Summer. So,
shinko is now still too small.

Notice : Miyakozushi quit their business at the place of Bakuro-Yokoyama at the end of September and will be open at Nihonbashi-Kakigaracho with the name "Nihonbashi-Kakegaracho Sugita" in October. (1...
He couldn't hide his shock 😛
But Young punctatus (小肌) that is grown very young punctatus is also splendid at very young punctatus's season.
Red sea bream (真鯛)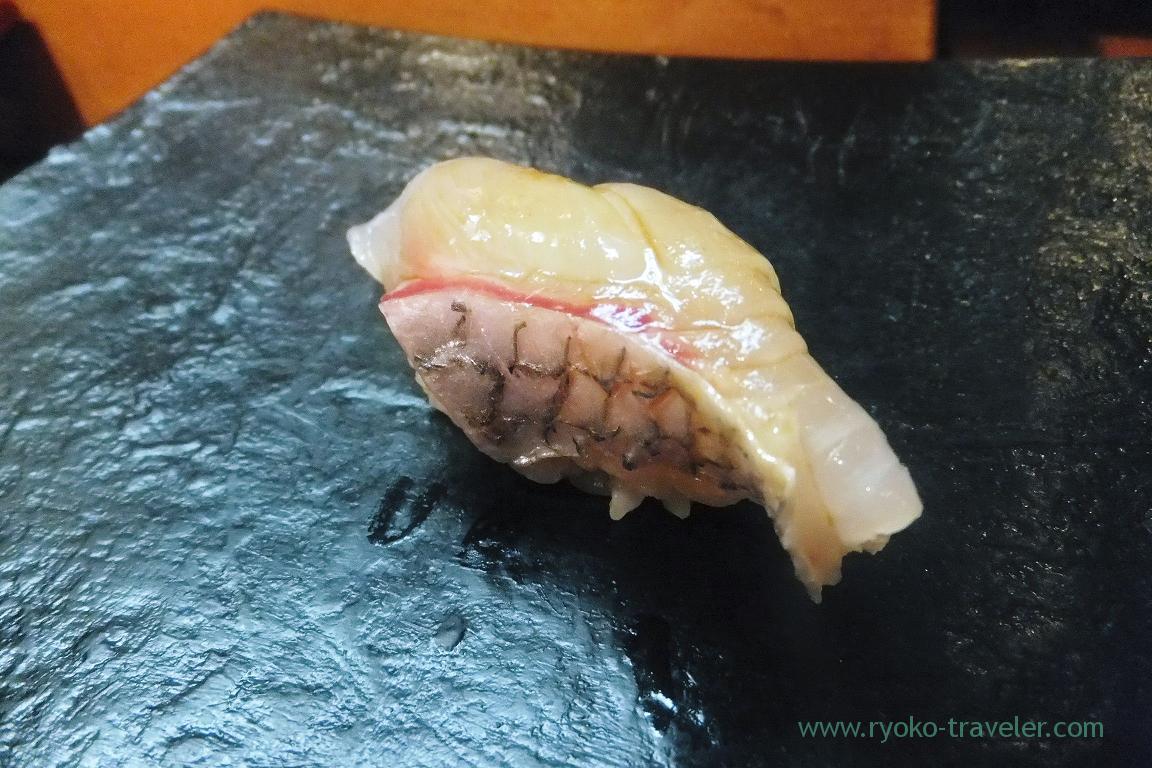 Heart clam (鳥貝)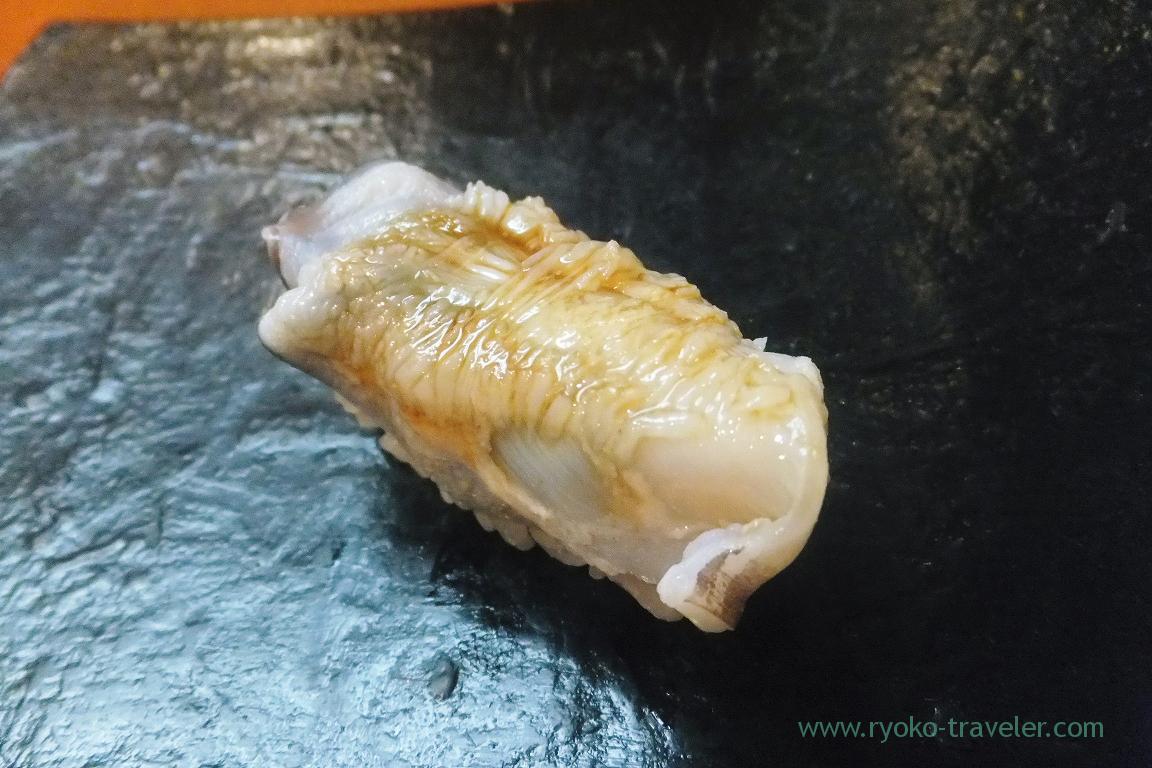 Young red sea bream (春子鯛)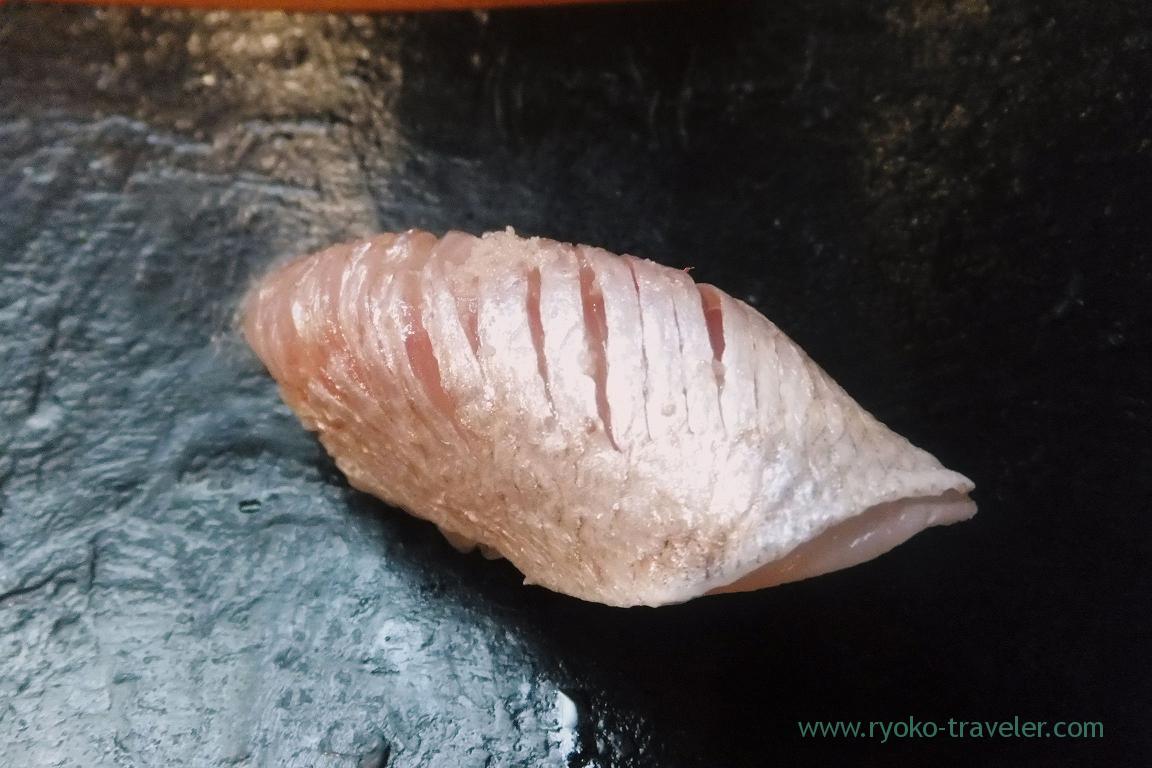 Chu-toro of Pacific bluefin of tuna (本まぐろの中トロ)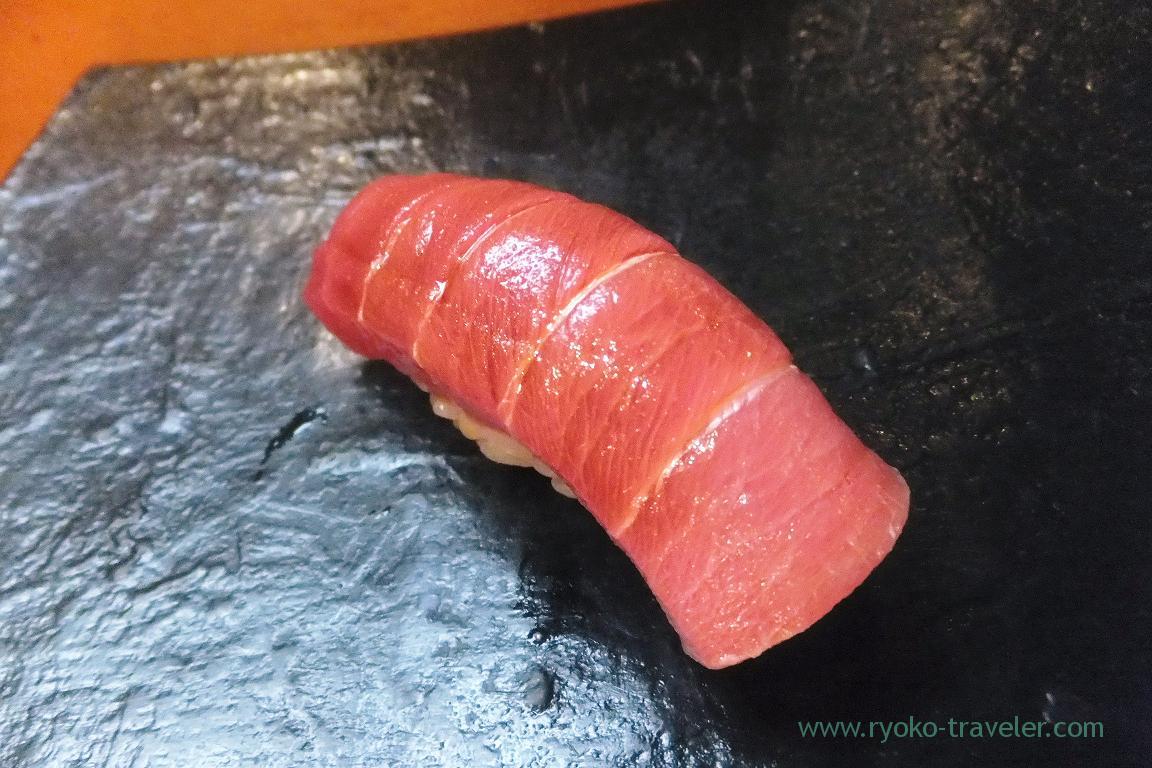 Horse mackerel (鯵)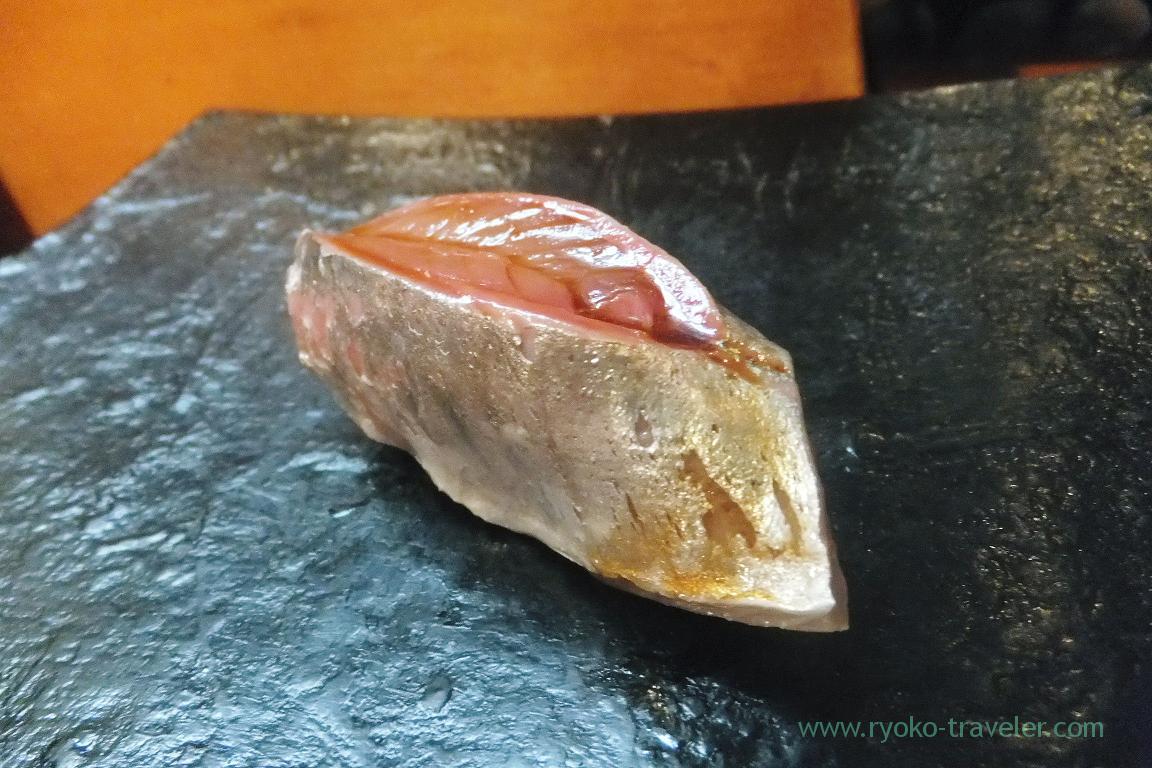 Miyakozushi's Kuruma prawn (車海老) is No.1 all the same, I think. Its ultimate sweetness
and taste spread in my mouth. I had never eaten such a kuruma prawn except Miyakozushi.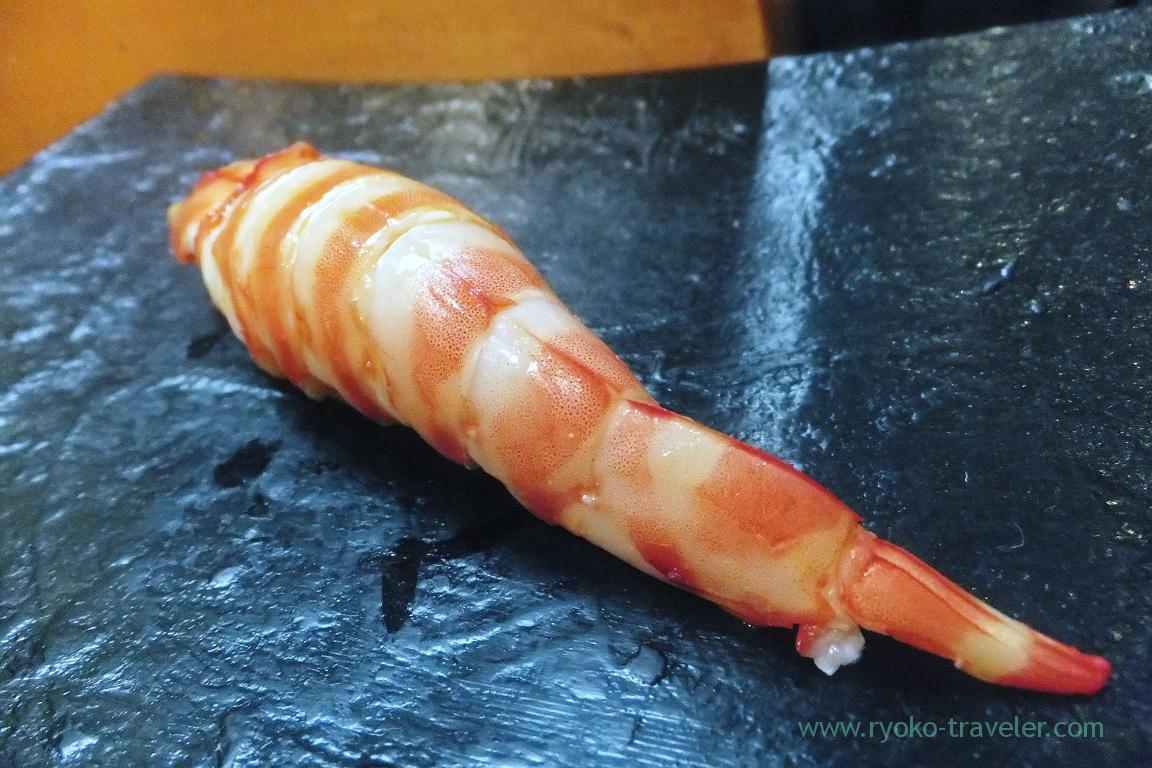 Grilled splendid alfonsino (金目鯛の炙り)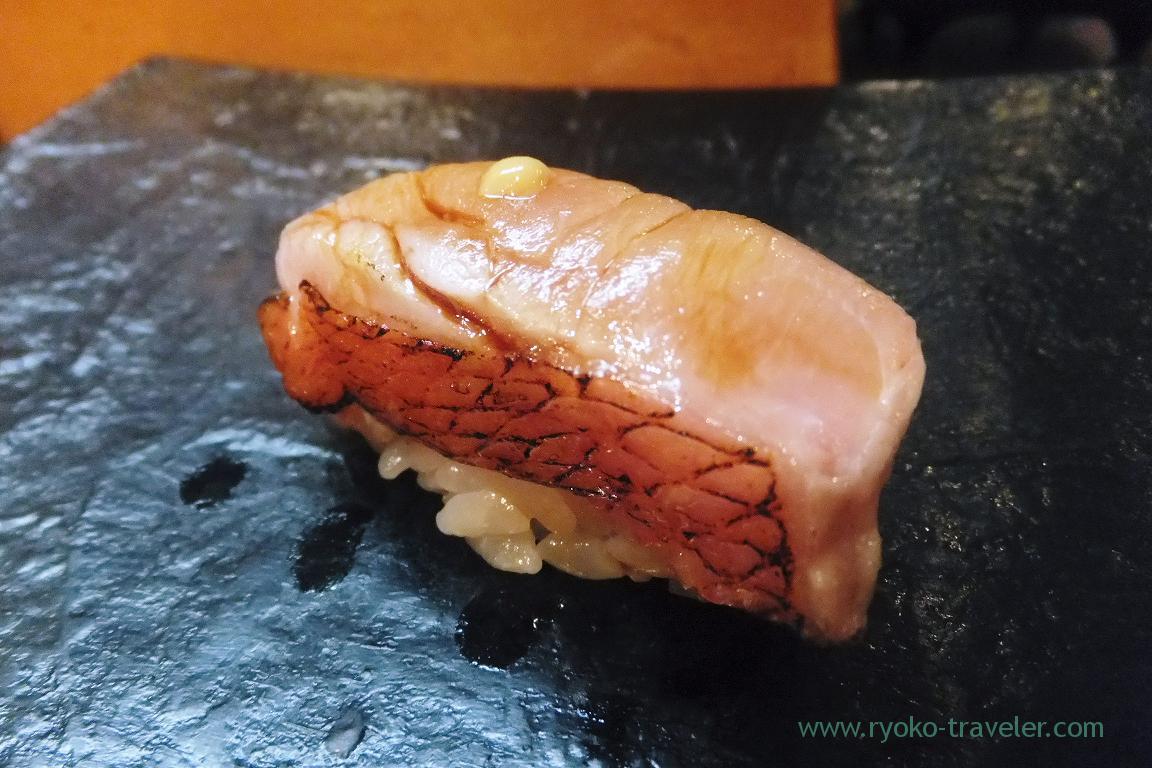 Sea urchin from Karatsu (赤うに)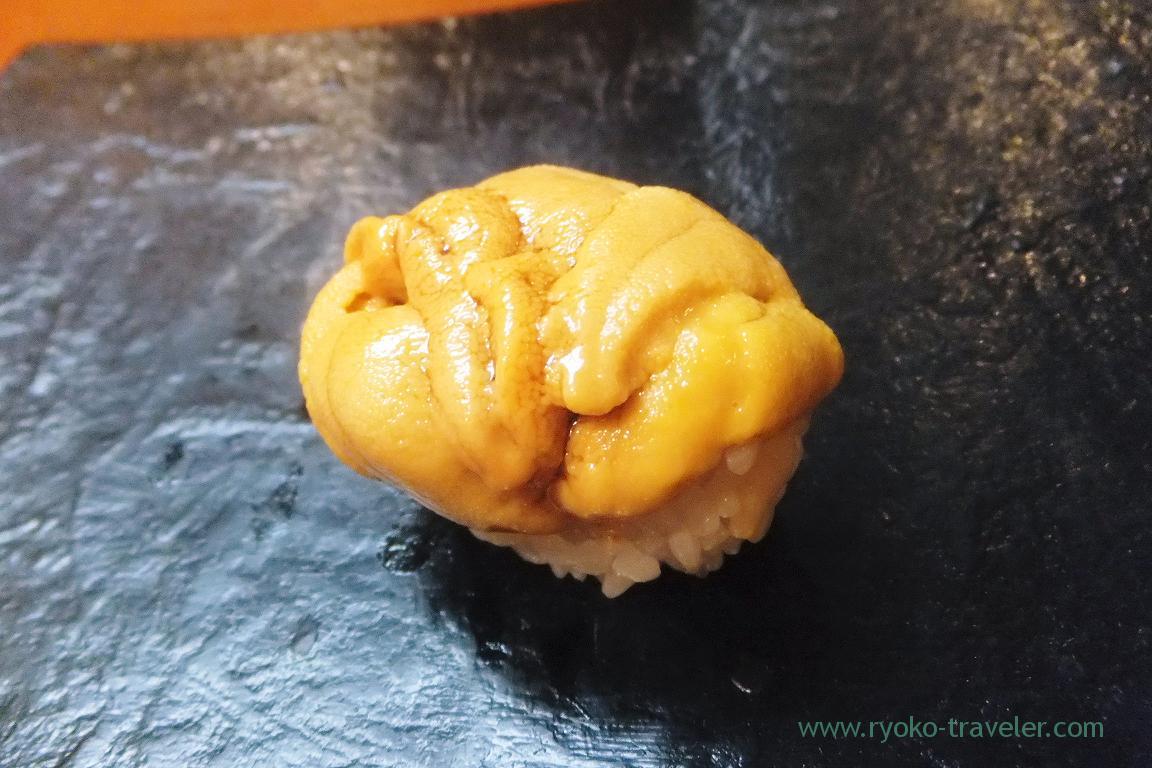 The chef said, "The course have conger eel, tamagoyaki and miso soup left"
Well, my delight didn't in the course and the chef said he have in stock. So, I ordered my delight.
Golden cuttlefish (スミイカ)
That day's squid was so-so. After a while, baby golden cuttlefish will be on the market. So, now is still not good season for golden cuttlefish. We have to wait for a while:)
But it's ok. Squid is my delight, so anyway, I wanted to eat it 🙂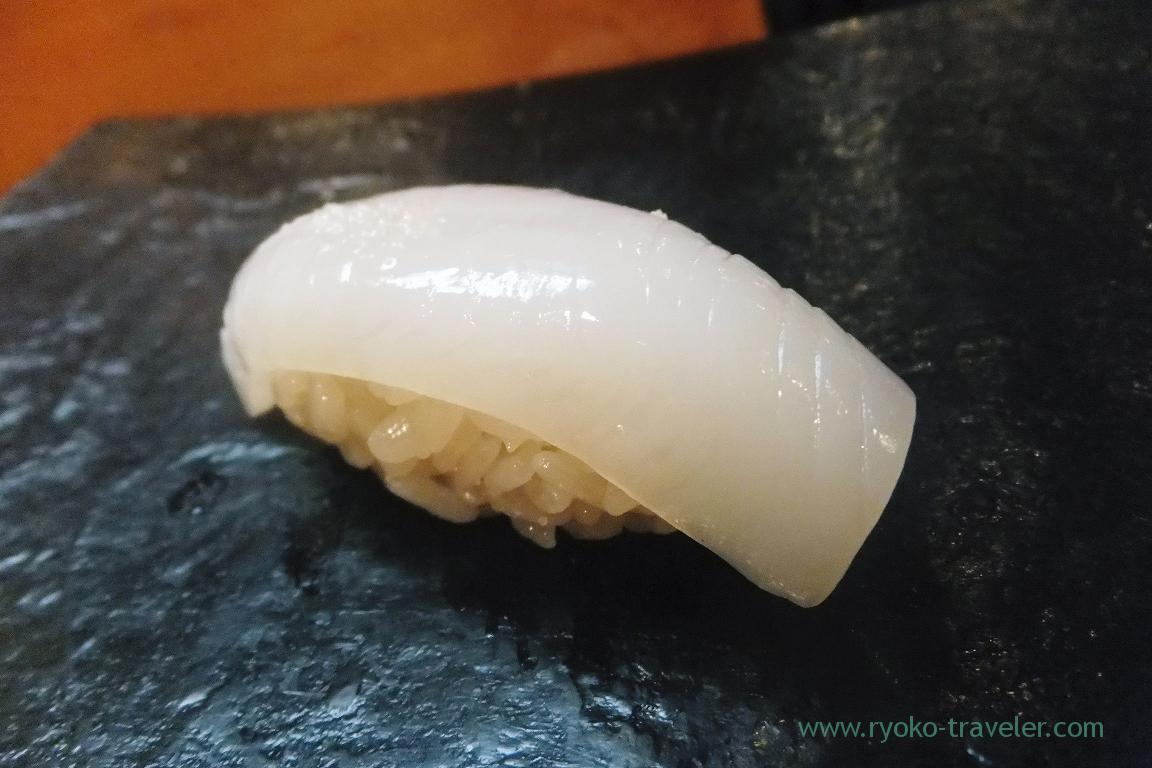 Conger eel (穴子)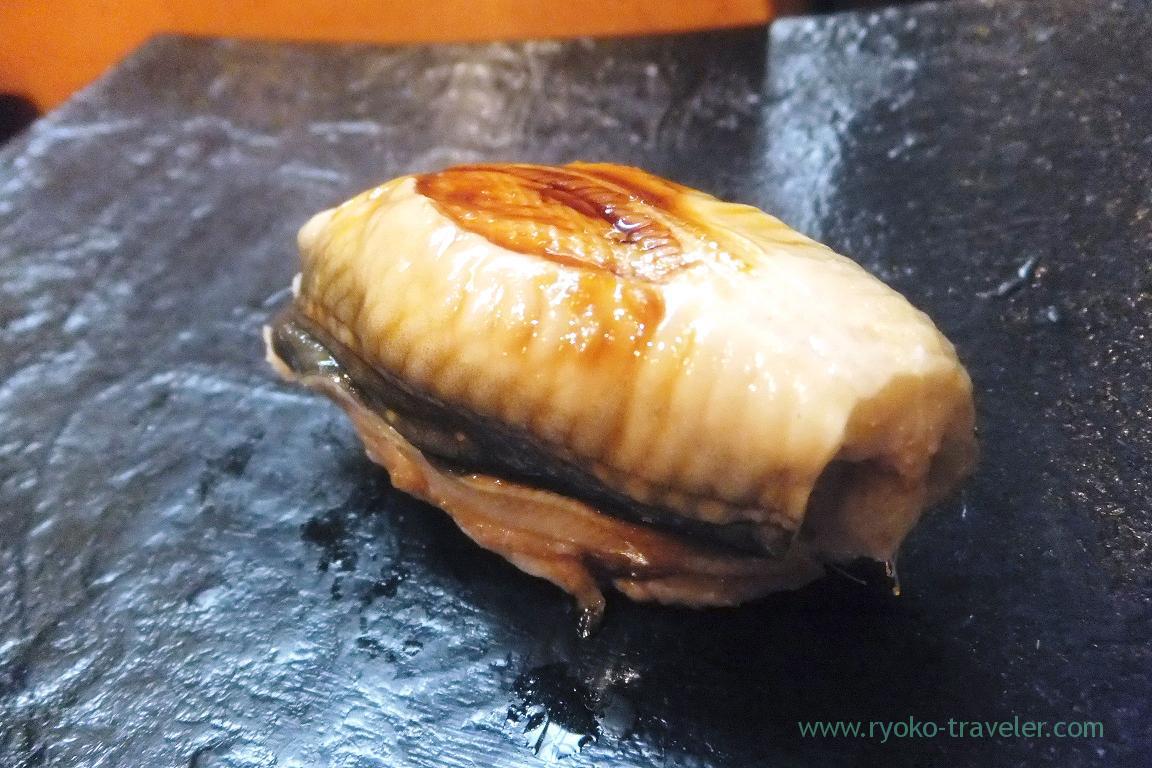 Miso soup with asari clam (あさりのみそ汁)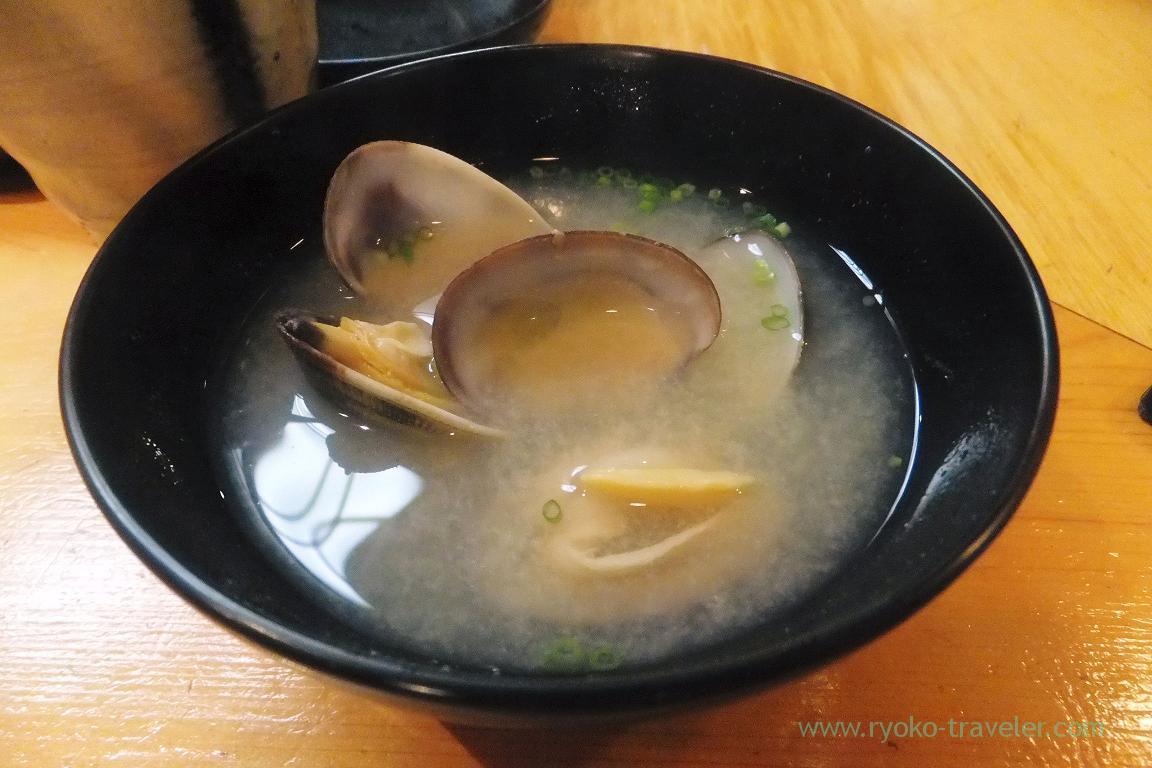 Tamagoyaki (玉子焼き) as dessert.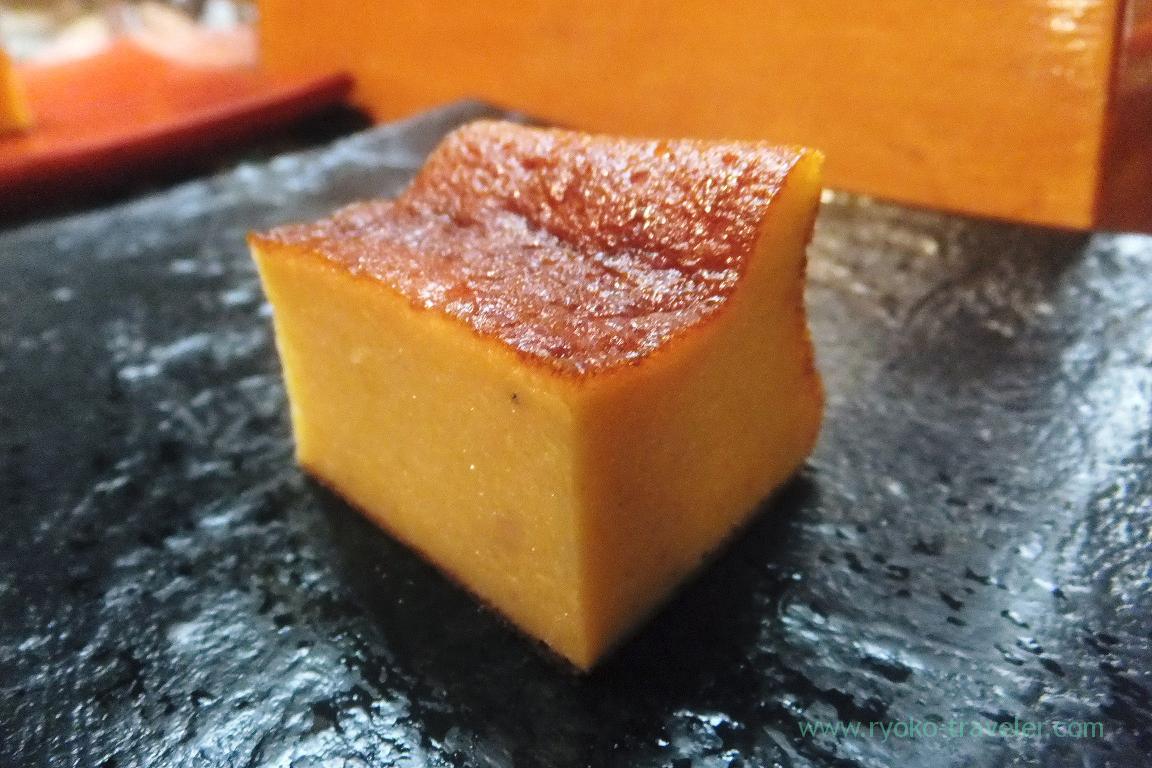 Sugita's Reservation is full until February, 2016. So, we can't go new restaurant for the time being.
So, we'll go to Sushi Hashimoto that is managed by chef had trained at Miyakozushi during that.

High-potential sushi restaurant has opened base on Miyakozushi We heard a sushi chef who trained at Miyakozushi has started his own restaurant in Shintomicho area, so we tried the restaurant ! Sush...
Last Miyakozushi. I have to burn this view into my eyes.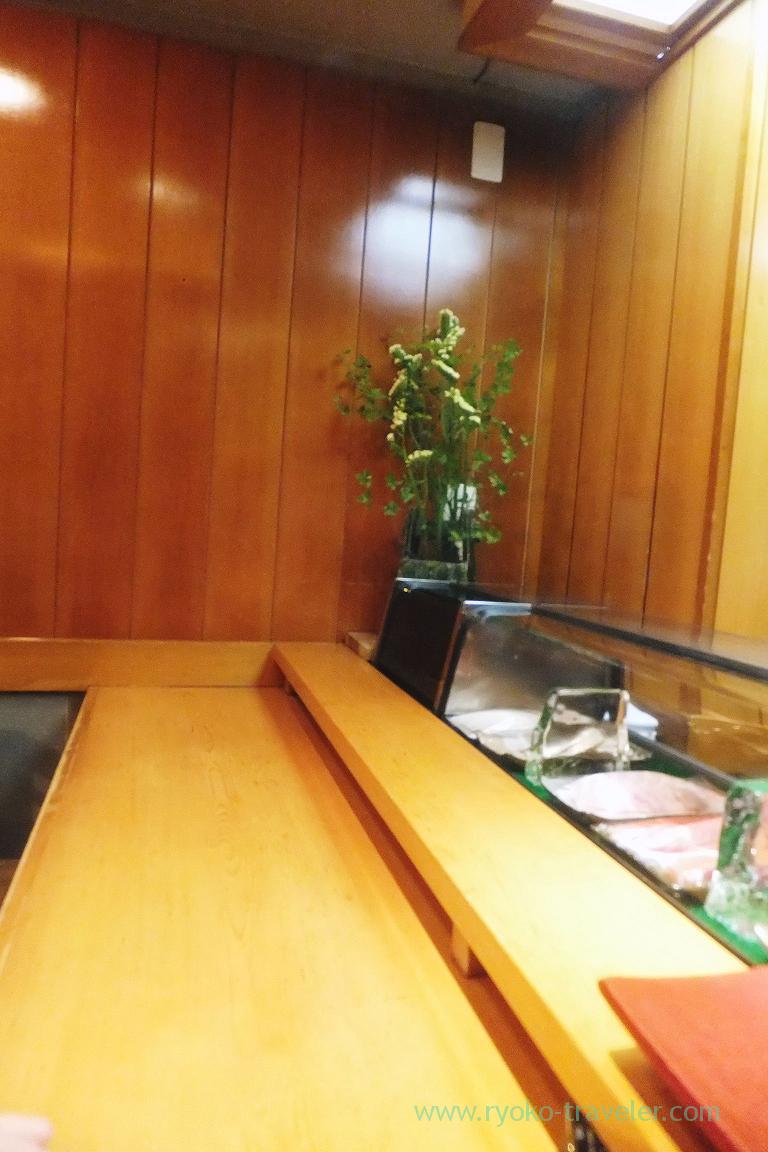 About Miyakozushi (都寿司)
Address / Okuda Bldg 1F, 3-1-3 Higashi-Nihonbashi, Chuo-ku, Tokyo
Station / Bakuro-Yokoyama station (Toei subway)
Open / 17:30 – 22:00
Saturdays / 17:00 – 22:00
Sundays and national holidays / 12:00 – 13:00, 13:30 – 15:30, 17:00 – 21:00
Closed / Mondays