Notice : Miyakozushi quit their business at the place of Bakuro-Yokoyama at the end of September and will be open at Nihonbashi-Kakigaracho with the name "Nihonbashi-Kakegaracho Sugita" in October. (1st, August, 2015)
---
See you next season, winter seafoods !
Well, we visited Miyakozushi again before winter seafood season ends.I'm always thankful to my friend for his having reservation every time 🙂
The foods were almost the same as last time.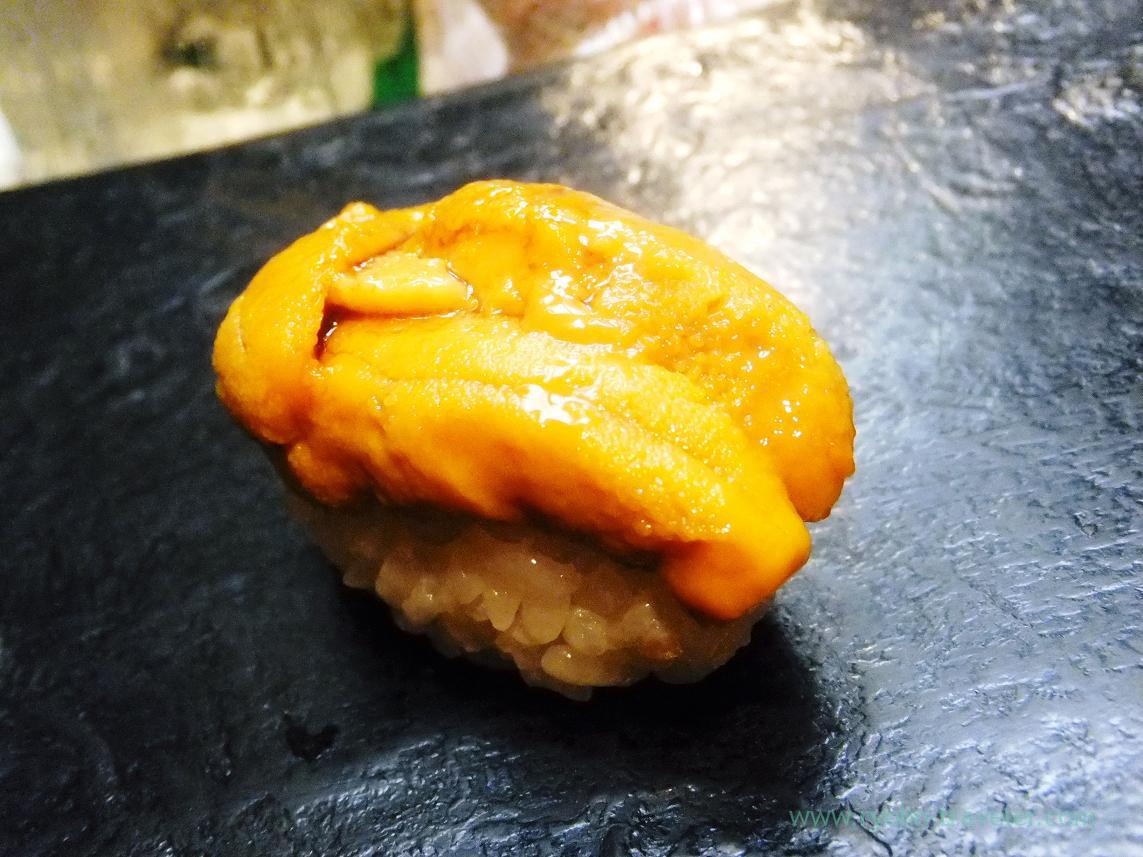 (Moved) Bakuro-Yokoyama : Winter tastes at Miyakozushi

Notice : Miyakozushi quit their business at the place of Bakuro-Yokoyama at the end of September and will be open at Nih...


But those were my favorites, so I was happy to eat them again 🙂
Our dinner started from vinegared sea cucumber (なまこ酢) this time, too. Of course, with green tea.
We don't eat alcoholic drinks, but our dinner starts from "tsumami" 😛
Sashimi was sweet octopus (タコ) from Saga and …
Pacific gaper (ミル貝) from Aichi.
And thread-sail filefish (カワハギ) again.
With its liver and soy sauce, that time, too.
Mackerel roll (サバ巻き)
This is good, but I want to eat it as sushi next time 🙂
Soft roe with ponzu (白子ぽんず)
This might be the last soft roe this season for me 🙁
Oysters marinated with miso (牡蠣の味噌漬け)
I understood. Foods marinated with miso don't go with us who don't drink alcoholic drinks 😛
Green tea can't erase the taste of the miso. The taste of miso remains on our tongues.
Grilled fish came, as the token of end of tsumami. Hairtail (タチウオ)
It was fatty and tasty.
The chef asked us if we need another tsumami, but we answered "no".
And our sushi time starts !
Young punctatus (小肌)
Same as previous time, there were two smaller slices of young punctatus on the shari.
Red sea bream (真鯛)
Of course it was good this time, too. But I was impressed by the ultimate read sea bream last time. So I'm not able to be satisfied this level any more 😛
Young sea bream (春子鯛)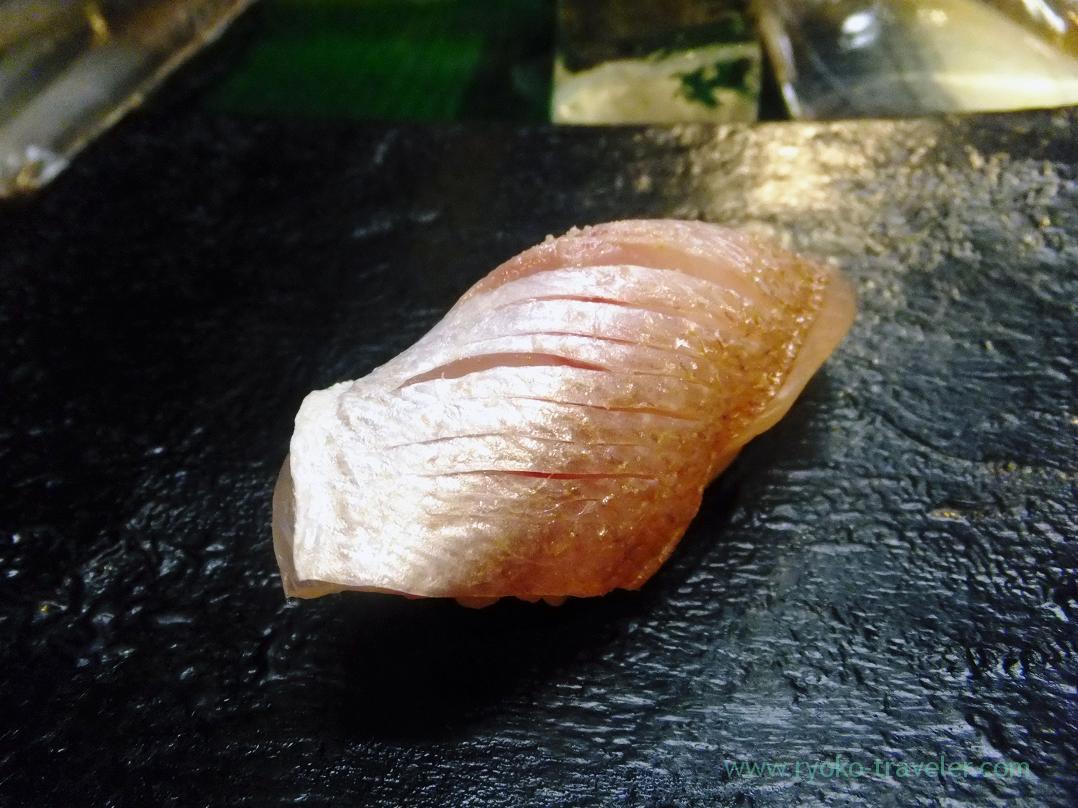 Halfbeak (サヨリ)
Spanish mackerel (鰆)
Lightly grilled in straw. The smoke smell was good.
Chu-toro (中とろ)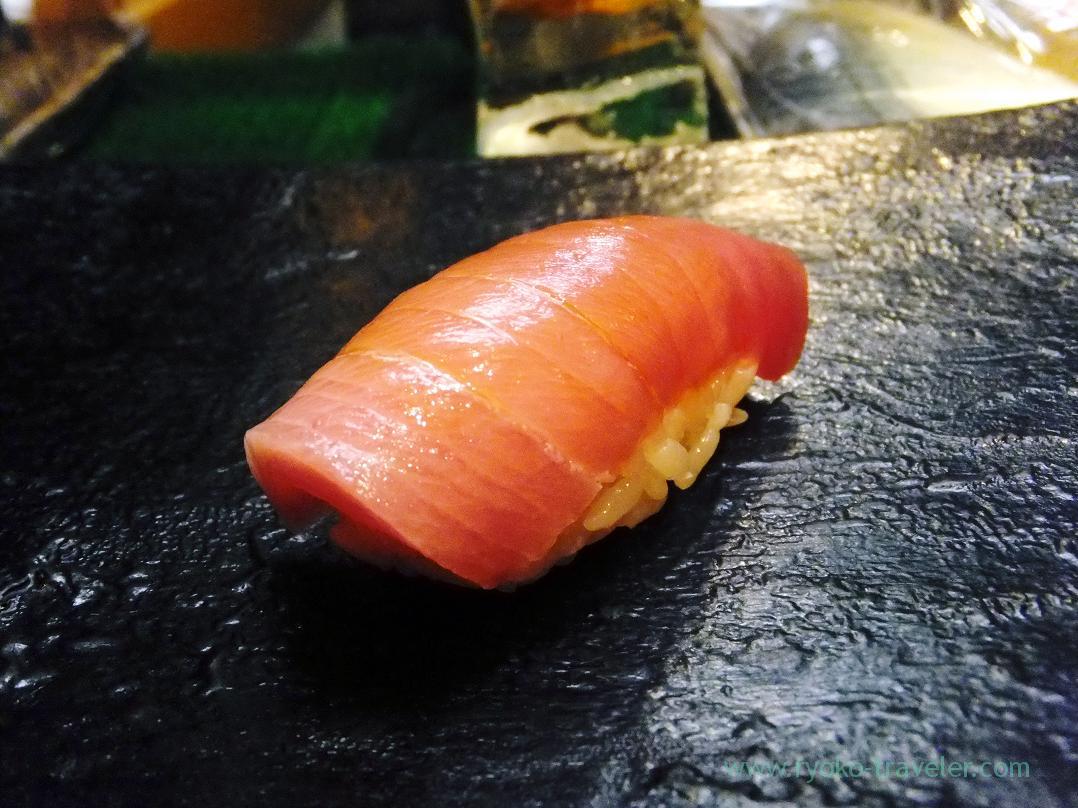 Kuruma prawn (車海老)
It was very large this time, so the chef asked women whether he cut it or not.
It was big last time, too. And it choked me. Maybe that was the reason why he asked us about that this time 😛
Splendid alfonsino (金目鯛)
Lightly grilled fish.So fatty 🙂
Sea urchin (うに)
I feel very happy my mouth was filled with sea urchin. I felt like I'm floating on cloud 9 !
Before serving conger eel, tamagoyaki and asari clam soup contained in my dinner course, the chef asked me whether I need more sushi or not.
Though I was already full, I decided to eat golden cuttlefish (すみいか) that is my delight !
And then conger eel(穴子) came. With sauce.
Tamagoyaki (玉子焼き)
It is 1.5 times larger than usual.
Because my friend ordered his tamagoyaki half as large as usual, his residual tamagoyaki came to me 🙂
Asari clam soup (あさり汁)
It's the sign of the end of dinner… Though it is tasty every time, but I feel sad every time.
We have a reservation in July….
About Miyakozushi (都寿司)
Address / Okuda Bldg 1F, 3-1-3 Higashi-Nihonbashi, Chuo-ku, Tokyo
Station / Bakuro-Yokoyama station (Toei subway)
Open / 17:30 – 22:00
Saturdays / 17:00 – 22:00
Sundays and national holidays / 12:00 – 13:00, 13:30 – 15:30, 17:00 – 21:00
Closed / Mondays