Shortly before my going to Russia (Not shortly ?)
I ate such a beautiful and tasteful meat at Misuji, located at Akasaka. 😀
Misuji
Sirloin steak (サーロイン)
Maki-Sirloin (巻きロース)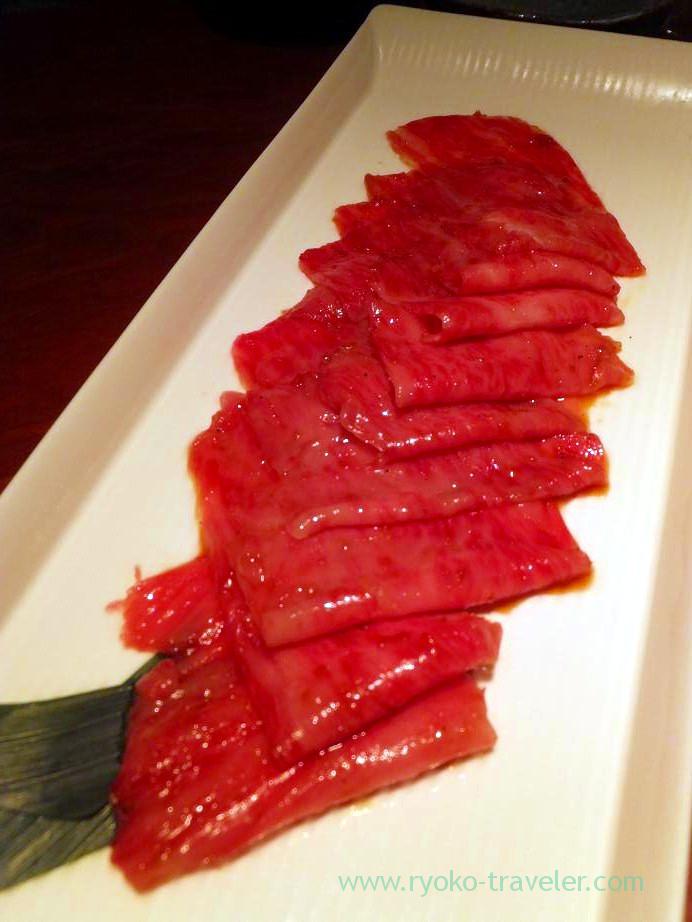 And, I tried to eat seafood curry and rice as new menu at Nakaei, inside Tsukiji Market.
It was too much for me, so I left much. (It is enough for me as a half of it :
Seafood curry(シーフードカレー) 950 yen
And, I was fed up with eating greasy fried egg-plants with spicy miso at Mihosai , located at Hamamatsucho. (It wasn't hot taste at all.)
Greasy fried egg-plants with spicy miso set (茄子の辛味噌炒めセット) 1000 yen
I struggled to eat pile of dak galbi at Karakuniya. It was too sweet for me, but it had plenty of vegetables, so it was healthy.
Dak galbi set(ダッカルビ定食) 780 yen
I ate 4 pieces of red hot chickens of Kentucky at a heat Red hot chicken is my special favorite 🙂 (The picture is the last piece of it.)
Red hot chicken(レッドホットチキン) 250 yen
I ate Uwajima Taimeshi at Taiju, located Hamamatsucho again.(Eating it make me feel like going to Dogo Onsen.)
Uwajima Taimeshi is local dishes around Uwajima in Ehime.
Uwajima-Taimeshi(宇和島鯛めし) 1000 yen
Setting slices of raw seabream on the rice and putting beaten eggs and slices of green onions.
Breakfast just before traveling to Russia was C set at Tonkatsu Yachiyo.
C set(C定食) 1300 yen
Deep fried kuruma prawn, horse mackerel and scallops. Everything was crisp.
Like this, I'm now sorting out pictures of digital camera.
Far from pictures of traveling to Russia :O
About Misuji (みすじ)
Address / Iseko Bldg 2F, 3-16-3 Akasaka, Minato-ku, Tokyo
Station / Akasakamitsuke station (Tokyo metro)
Open / 17:00 – 22:00
Closed / no scheduled
About Nakaei (中栄)
Address / Tsukiji Market Bldg No.1, 5-2-1 Tsukiji, Chuo-ku, Tokyo
Station / Tsukijishijo station (Tokyo subway)
Open / 5:00 – 14:00
Closed / No scheduled
Website / http://www.nakaei.com/(in Japanese only)
About Mihosai Shiten(味芳斎 支店)
Address / Zenkoku Tabacoo building 1F, 1-10-1 Shiba Daimon, Minato-ku, Tokyo
Station / Kanda station (JR, Tokyo metro)
Open / 11:00 – 15:00, 17:00 – 22:00
Closed / Sundays
About Karakuniya Shiba Daimon branch(からくに家 芝大門店)
Address / 2-4-5 Shiba Daimon, Minato-ku, Tokyo
Station / Daimon station (Toei subway)
Open / 11:30 – 14:30, 16:30 – 23:30
Saturdays, Sundays and another national holidays – 11:30 – 14:30, 16:30 – 23:00
Closed / No scheduled
About Taiju (鯛樹)
Address / Romane Bldg 1F, 1-24-5 Hamamatsucho, Minato-ku, Tokyo
Station / Hamamatsucho station (JR), Daimon station (Toei subway)
Open / 11:30 – 13:30, 18:00 – 23:00
Saturdays / 18:00 – 22:30
Closed / Sundays and national holidays
About Tonkatsu Yachiyo (とんかつ八千代)
Address / Tsukiji Market Bldg No.6, 5-2-1 Tsukiji, Chuo-ku, Tokyo
Station / Tsukijisijo station (Toei subway)
Open / 5:00 – 13:00
Closed / Market's holidays