Fish lunch that's worth having.
I heard there's good lunch spot near my office, and went to there 🙂
This alley is along Shin-Ohashi street.
Maybe people never enter this alley if they don't know there's good restaurant. It's between private houses.
Masuya in Tsukishima area.
When I got to this restaurant past 11:30 a.m., there was no vacant seat and two person waited in front of the door.
I ordered Grilled sablefish marinated with Saikyo miso set (銀鱈西京焼き定食, 1200 yen).
The set had grilled fish, pickled vegetables, potato salad, grated daikon radish, miso soup and rice. It's ideal looking of Japanese teishoku ! Miso soup was above the tea cup. Asari clam soup. The rice is Koshihikari from Uonuma.
The sablefish was seasoned stronger and very tasty to have with rice ! The sablefish was fatty ! It was quite tasty !
Everything was tasty. This potato salad was sweet a bit. It had sweet potatoes ? I ate it as dessert after finishing meals except this salad.
They serve fishes mainly at lunchtime. Most of restaurants serve fishes set within 1000 yen at lunchtime around there. But it's worth paying.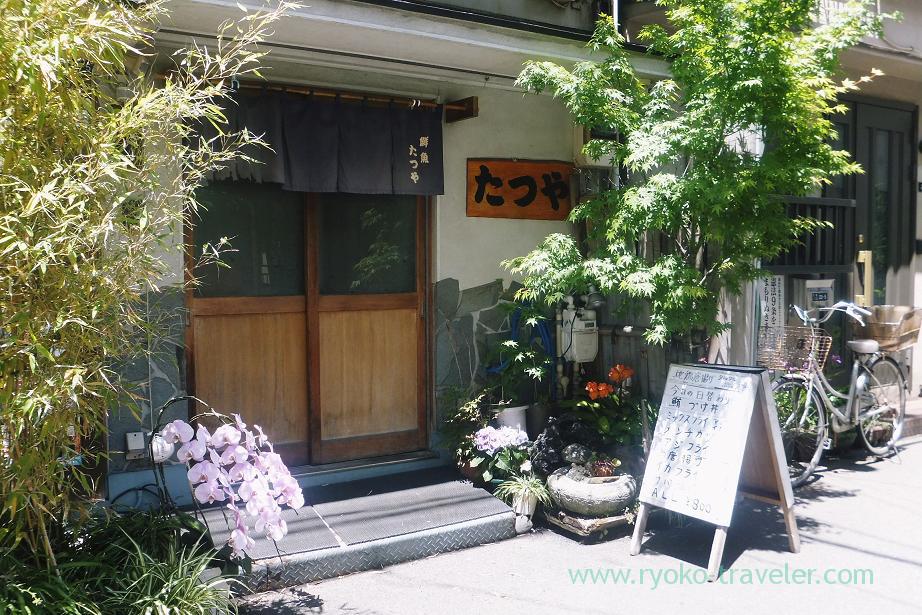 Tsukishima : Tatsuya - adorable lunch spot
Cozy house serve standard Japanese meals There are still so many lunch spots that I haven't visited yet around my offic...
Tsukishima : Karaage at Honmaru (築地 本丸)
Juicy karaage at lunchtime. I was so impressed by the deep fried shrimps at this izakaya before, so I visited there for...
About Masuya (ますや)
Address / 3-15-2 Tsukishima, Chuo-ku, Tokyo
Station / Tsukishima station (Tokyo metro, Toei subway)
Open / 11:30 – 14:00, 17:00 – 22:00
Closed / Sundays and another national holidays