I'm starving of Yukgaejang !
I used to eat Korean foods so frequently. But recently, I don't eat so much. Because a Korean foods restaurant in Nihonbashi that I loved has changed their seasonings. And the new seasonings is not my taste (T_T)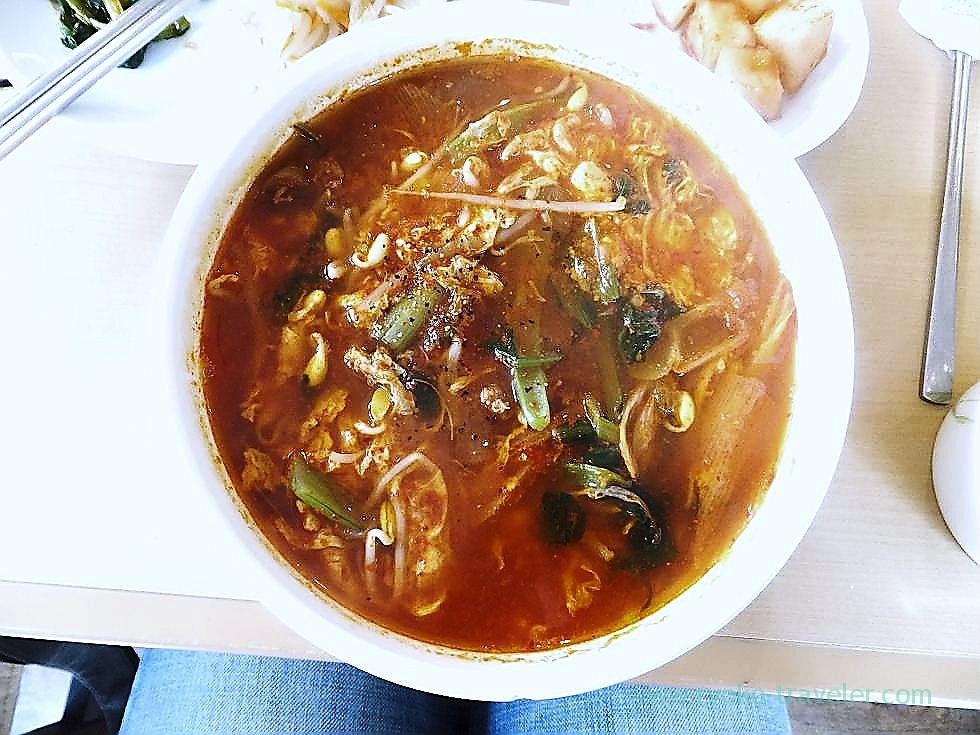 Nihonbashi : Yukhoejang at Mudungsanmgd
Yukhoejang in my memories I went to Nihonbashi after a long time, so I went to eat Yukhoejang (ユッケジャン, 950 yen) at Mud...
But I found a Korean foods restaurant near my office and they serve lunch set at lunchtime. I have been in the office for more 7 years, but I found the restaurant the other day. I heard it is founded many years ago. Probably before I had started working there 😛
Mashiso-ya
After I sat, my side dish came. From left to right, mul kimchi, kimchi and namul.
This was the first time to eat mul kimchi. It was so tasty. The taste of garlic was good. I wanted to eat more 😀
Then, I ordered a my yukgaejang with rice (ユッケジャンごはん, 850 yen).
It had lots of rice in it. About ….. two portion… more ? I was over full 😛
I liked it, but it was not perfect all the same. My perfect yukgaejang is …. only the yukgaejang that I had eaten at Nihonbashi before.
I want to eat wonderful yukgaejang !
Well, Tsukishima is called "Monja town", but somehow there are many Korean foods restaurants and yakiniku restaurants !
About Mashisoya (マシソ屋)
Address / 4-8-13 Tsukishima, Chuo-ku, Tokyo
Station / Tsukishima station (Toei subway, Tokyo metro)
Open / 11:30 – 14:00, 17:00 – 24:00
Closed / Sundays