My No.1 Chinese foods restaurant !
I posted about the restaurant so frequently… and today, too. Manzan is a really good Chinese restaurant in Makuhari hongo. Whenever I want to eat something spicy foods, I go there without thinking.
Manzan's Chen mapo tofu and Chengdu-style dandan noodle is great and I think this is the best Chinese foods restaurant.
So, I went to there with my friend and we shared this two awesome foods.
They serve those foods with rice, almond jelly and salad for 1000 yen at lunchtime (Weekends, too).
Chen Mapo tofu (陳麻婆豆腐)
There're plenty of Sichuan pepper on it.
Chengdu-style dandan noodle (成都担担麺)
Sauce is hidden bottom of the noodles.So, we have to mix it before eating.
Mixed. I love this pungent tastes by sichuan pepper !
We were two, so… we ate boiled dumplings, too. Peanuts sauce was bottom of it. This boiled dumplings are small, but it is hard for me to eat it by myself. So, when I go to there with friends, I want to order it by all means.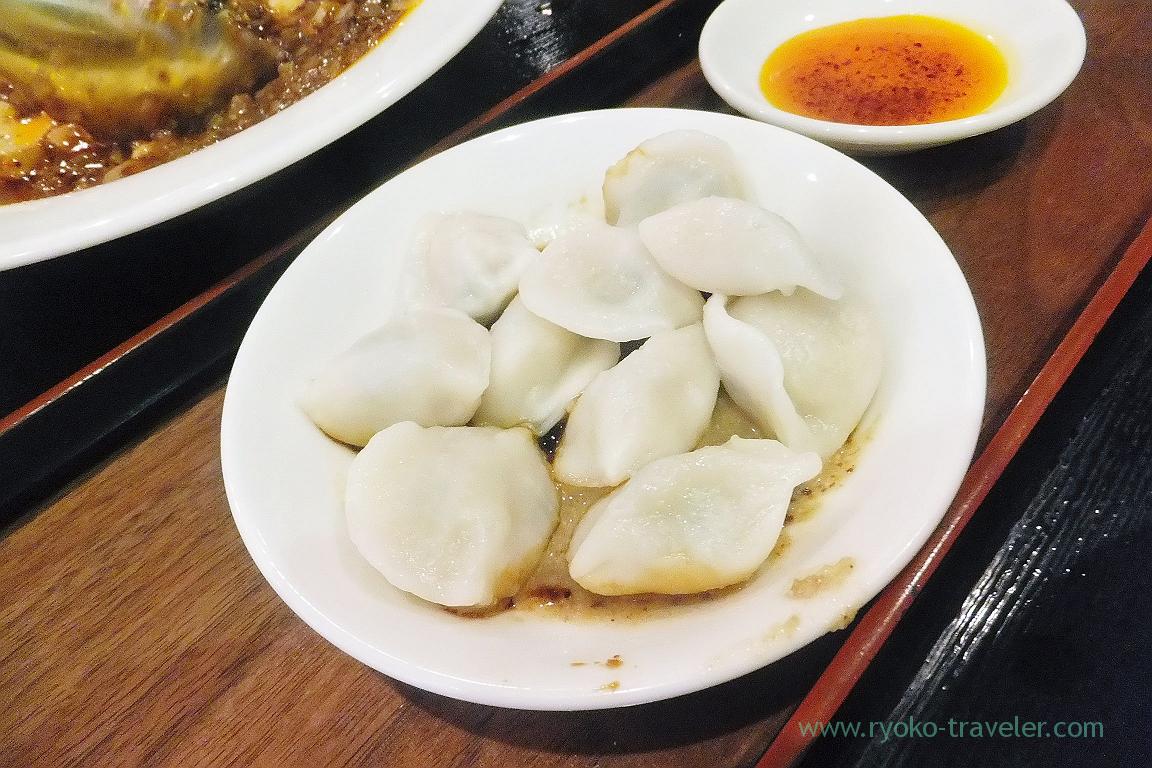 Of course, there are some shops that serve good dandan noodles in Tokyo.
Rashohan
http://www.ryoko-traveler.com/rashohan1/
Aun
http://www.ryoko-traveler.com/sichuan-dandan-noodles-aun4/
But, they serve just dandan noodles for 800 – 1000 yen and of course, rice and almond jelly is excluded even at lunchtime.
1000 yen is very inexpensive. And the quality is high !
About Manzan (蔓山)
Address / Mariot Hongo Building 1F, 6-25-4 Makuhari-Hongo, Hanamigawa-ku,
Chiba-shi, Chiba
Station / Makuhari-Hongo station (JR), Keisei Makuhari-Hongo station (Keisei
Chiba Line)
Open / from 11:30 to 14:00, 18:00 to 22:00
Closed / Tuesdays
Website / http://www.manzan4000.com/