So spicy mapo tofu.
Recently I'm suffering from mouth ulcer and perleche. Still I can't stop eating spicy foods 😛
I came to Manzan for severe spicy mapo tofu.
Chen Mapo tofu (陳麻婆豆腐, 1000 yen)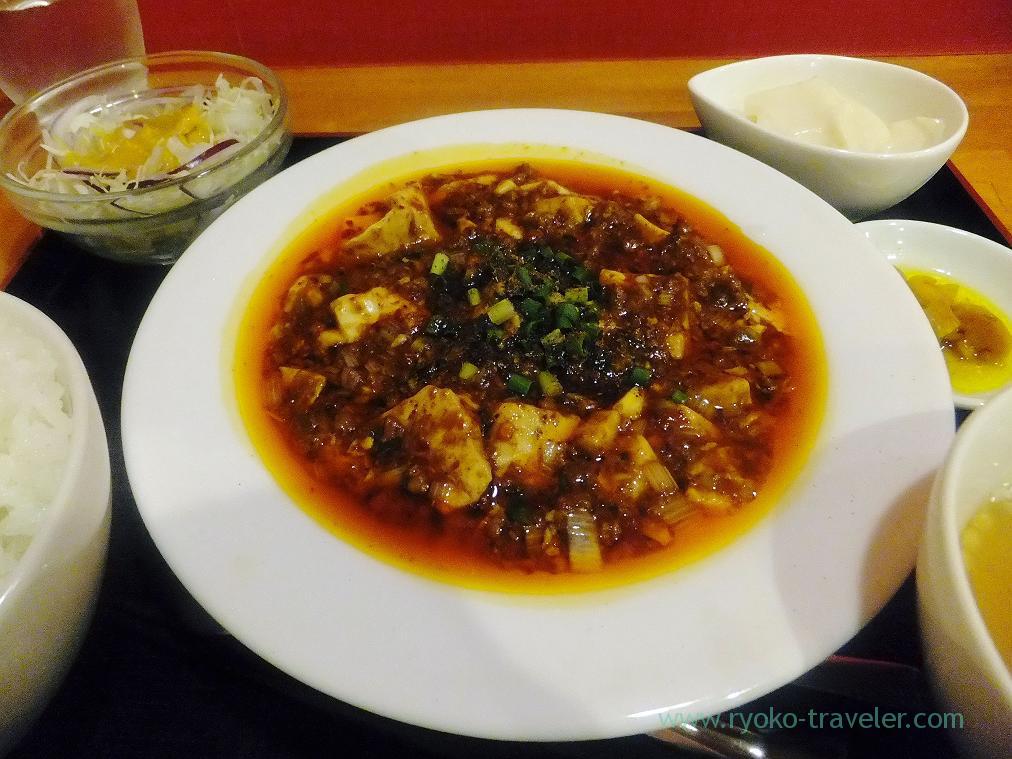 This was the first time here after the consumption tax increase and I found the prices  of their lunch sets increased from 950 to 1000 yen.
Still it is inexpensive.
That day's mapo tofu was watery and it wasn't my delight as usual. But still it was good.
Mapo tofu have plenty of tofu, so cook have to take amount of water into  consideration. So, it is difficult to make best mapo tofu, I think.
Most of restaurants serve only mapo tofu and rice for near 1000 yen within Tokyo, so the prices in Chiba is low all the same 🙂
And I like the set having almond jelly. I can't eat a lot of sweet foods, so I can't order one whole almond jelly by myself. So, I love this "small" almond jelly.
This soup was simple but tasty, too.
I love spicy foods, but I decided not to eat severe spicy foods for a while.
Yes, I'll keep eating medium spicy foods !
About Manzan (蔓山)
Address / Mariot Hongo Building 1F, 6-25-4 Makuhari-Hongo, Hanamigawa-ku,
Chiba-shi, Chiba
Station / Makuhari-Hongo station (JR), Keisei Makuhari-Hongo station (Keisei Chiba Line)
Open / 11:30 – 14:00, 18:00 – 22:00
Closed / Tuesdays
Website / http://www.manzan4000.com/