Because of disappointing, I ate cherry blossom up !
To my regret, I couldn't see cherry blossoms in full bloom this year… 🙁
This year, cherry blossoms began to bloom from middle of March and passed away early April.
The time when many cherry blossoms were in full bloom, it continued blowing violent wind for several days.
So I couldn't go to see cherry blossoms and those flowers fell soon 🙁
Where only I could see cherry blossom was
Mama river
That I had seen last year, too.
It was far from in full bloom, but those flowers were beautiful.
The buds were just ready to burst open 🙂
Of course, blooming flowers were so beautiful 🙂
On the way to Mama river, I dropped in at
Katsushika Hachimangu Shrine.
Well, it was beginning to bloom.
Speaking of cherry blossom season, you never fail to eat Sakuramochi and strawberry daifuku 😀
It is a strawberry daifuku flavor CHOCO CRO (いちご大福チョコクロ, 180 yen). At Saint Marc cafe. Only this season !
Sakuramochi was contained in the bread. But only a little bit…
Cherry blossoms 2012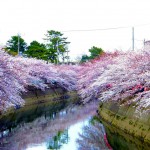 So Beautiful ! I got up at 12 o'clock this morning. (morning? it's already noon.) I went to bed at 0:00, so I slept for 12 hours :O I have a backache :( Probably,I had awaken once at 8 o'clock...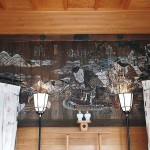 I must upload an article about it in April. When I went to Mama river to see cherry blossoms, I dropped in at Katsushika Hachimangu Shrine. The shrine stands besides the street to the Mama rive...
About Mama river (真間川)
Address / 2-1, Kitakata, Ichikawa-shi, Chiba
Station / Keisei Yawata station (Keisei Main Line)
About Katsushika Hachimangu shrine (葛飾八幡宮)
Address / 4-2-1 Yawata, Ichikawa-shi, Chiba
Station / Keisei Yawata station (Keisei main line)
Open / 24 hours
Closed /No scheduled
Website / http://www.katsushikahachimangu.com/ (in japanese only)