Notice : They aren't open during lunchtime now. (Oct 21st, 2017)
---
At maguro-ichi, you can eat whole part of tuna !
Recently I rarely go to Funabashi. But I got off at Funabashi station after a long absense the other day.
My target was here. Maguro-ichi.
It is on underground of the building and outstanding Italian foods restaurant started business on the ground floor.  So, Maguro-ichi don't have much of a presence. But it was open ! I was relieved. It's the best seafood shop in Funabashi !
We ordered as same as foods that we ordered last time.
http://www.ryoko-traveler.com/maguro-ichi4/
Because we were two person, the staff led us to tatami area.
We ordered sashimi bowl and four precious parts of tuna bowl.
They serve sashimi bowl only. Miso soup, pickled vegetables and small foods are there. We have to take our foods by ourselves there.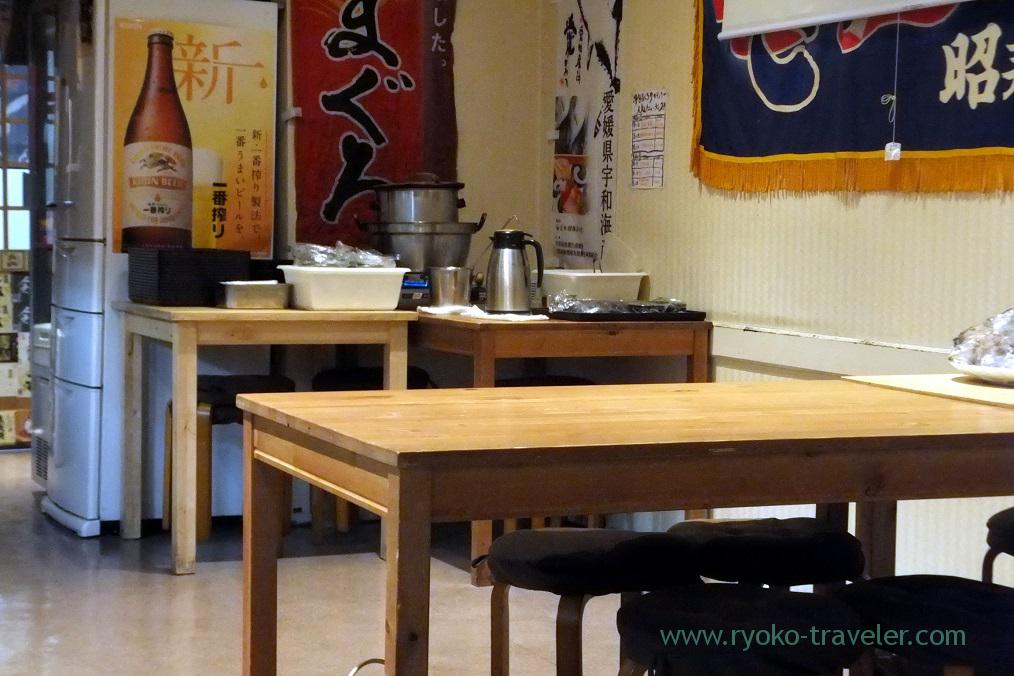 My sashimi bowl set (海鮮丼, 1300 yen). Of course, we took our mozuku seaweed, miso soup and pickled vegetables by ourselves.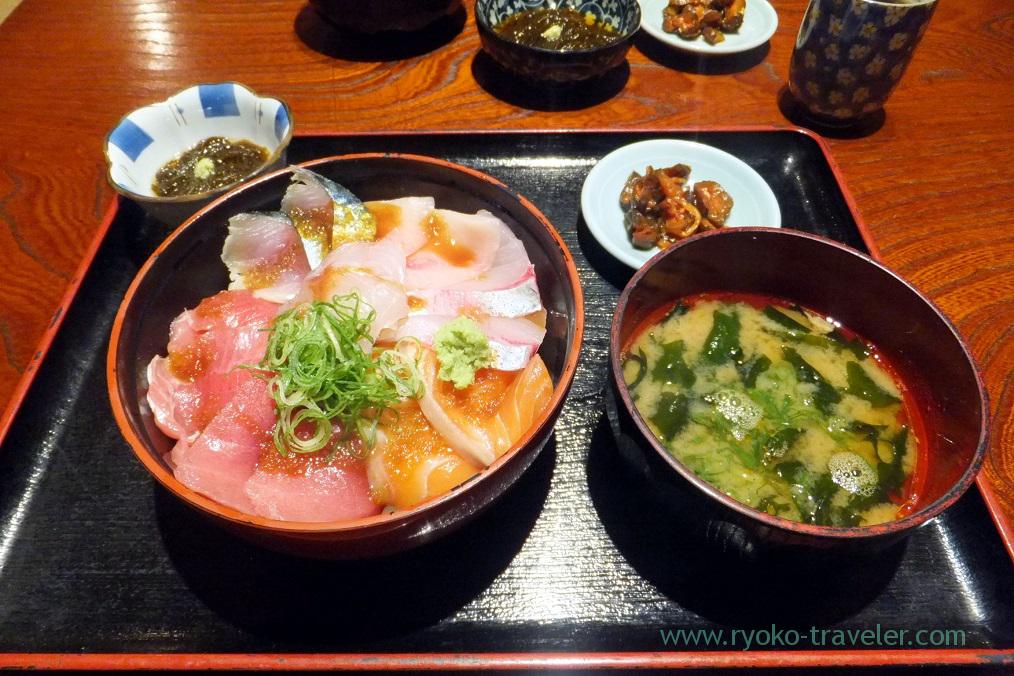 Vinegared mackerel, tuna, salmon, marlin, tuna, greater amberjack and yellow jack. Everythin was cut thickly and delicious 🙂 You can find those were so fresh from this photo 🙂
Four precious parts of tuna bowl (まぐろ稀少部位四色丼, 2000 yen).
Precious tuna meat around eye, heads, cheek and chin. I think such a precious tuna meat can't be eaten at lunch time at such a inexpensive price. Maguro-ichi buy whole tuna and cut it by themselves at their kitchen. So, they can serve such a precious meat of tuna at inexpensive price 🙂
About Maguro-ichi (まぐろ市)
Honcho Central Building. B1F, 4-41-19 Honcho, Funabashi-shi, Chiba
Station / Funabashi station (JR), Keisei Funabashi station (Keisei main line)
Open / 11:30 – 14:00, 17:00 – 23:30
Closed / Sundays
Update History
Mar 22, 2016 New post
Oct 21, 2017 Added notice about suspension of lunchtime