Notice : They aren't open during lunchtime now. (Oct 21st, 2017)
---
Splendid seafood in the daytime.
I had lunch at Maguro-ichi that is my favorite seafood izakaya close to Funabashi Keisei station.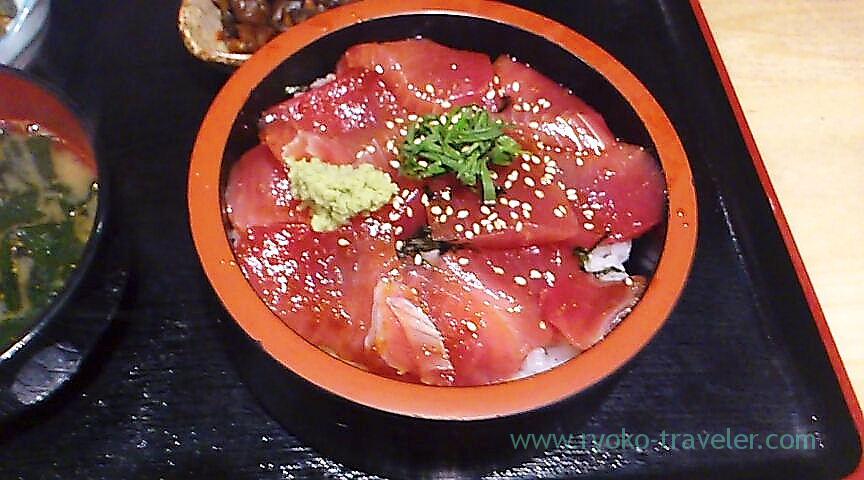 Funabashi : Marinated tuna bowl at Maguro-ichi (まぐろ市)

Notice : They aren't open during lunchtime now. (Oct 21st, 2017) Best location for me after dental treatment The...


http://www.ryoko-traveler.com/maguro-ichi3/
Maguro-Ichi is in the same building as my dentist.
But mostly I rarely feel like eating something just after dental treatment.
I usually go to there by myself. I take lunch just after my dental treatment if I'm OK. If I can't take lunch just after the dental treatment and still I want to eat at the shop, I take time at Don Quijote and LOFT near the shop and then go back to the building and have lunch 🙂
But I went to there with my friend that day.
I ordered a Sashimi bowl (海鮮丼). Prices got higher 😛 It cost me 1300yen.
The waiter bring bowls to our table, but we have to get miso soup, pickled vegetables and tuna's skin dressed with Korean-style sauce at the table.
But it seemed that bowls became more gorgeous !
And my sashimi bowl have squid marinated with soy sauce (called oki-duke) ! It's my delight ! In addition, greater amberjack, sea bream, octopus, chu-toro and o-toro.
And I also like this tuna's skin dressed with Korean-style sauce 🙂
Its texture was like gelatin !
This is my friend's Maguro-Ichi special. Four precious part of tuna bowl (まぐろの希少部位四色丼, 1800 yen).
There're not many restaurants that serve such a precious food ! Oh my !
If you want to eat something fresh seafood at Funabashi, I recommend this Maguro-Ichi, not Funabashi market. Funabashi market is not bad, but Maguro-Ichi serve more tasty seafood than some in Funabashi Market.
About Maguro-ichi (まぐろ市)
Honcho Central Building. B1F, 4-41-19 Honcho, Funabashi-shi, Chiba
Station / Funabashi station (JR), Keisei Funabashi station (Keisei main line)
Open / from 11:30 to 14:00, 17:00 to 23:30
Closed / Sundays
Update History
Feb 16, 2015 New post
Oct 21, 2017 Added notice about suspension of lunchtime