Notice : They aren't open during lunchtime now. (Oct 21st, 2017)
---
Do you see three colors in the bowl … ?
I think Maguro-ichi is the best seafoods izakaya around Funabashi area.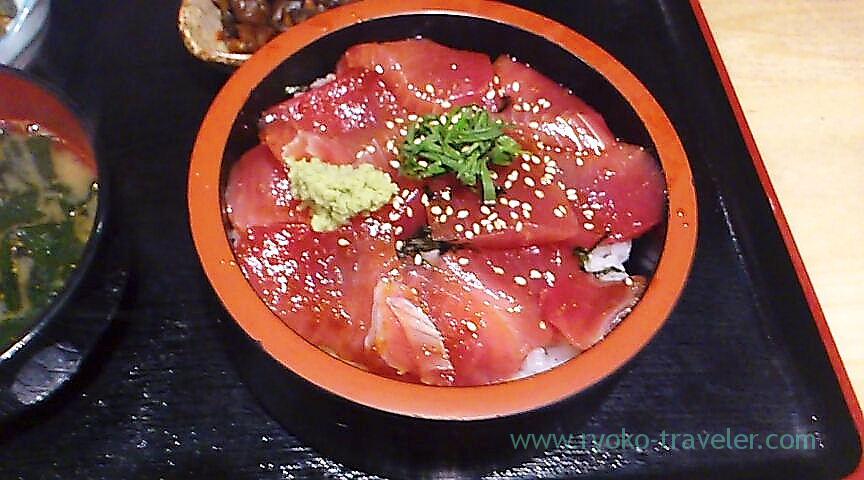 Funabashi : Marinated tuna bowl at Maguro-ichi (まぐろ市)

Notice : They aren't open during lunchtime now. (Oct 21st, 2017) Best location for me after dental treatment The...


Maguro-ichi and my dentist is in the same building.
So, after my dental treatment, I always feel like going to there 😀
At first, I intended to eat tuna bowl, but the waiter said, "Today's three-color sashimi bowl have scallop, sea bream and grilled tuna"
Suddenly I felt like eating scallop, so I ordered a Tricolor Sashimi bowl (三色丼, 900 yen).
I took my miso soup, pickled vegetables and skin of tuna with kimchi sauce at the buffet in advance.
(I couldn't dish up my miso soup well…. so many bones in it !!!)
The waiter said it is "three colors" sashimi bowl……..
Three…. ? Everything is white ! I can say two colors with difficulty… But not three ! Never 😛 A….wasabi's green ?
No, no. usually "****** colors" in the sashimi bowl means only seafoods !
Scallops were sweet but tuna was a little bit too fatty for me. Umm. My stomach got older all the same ,,,,, Oh my !
Skin of tuna with kimchi sauce.
It was so tasty as usual.
Maguro-ichi is worth visiting only for it 😀
About Maguro-ichi (まぐろ市)
Honcho Central Building. B1F, 4-41-19 Honcho, Funabashi-shi, Chiba
Station / Funabashi station (JR), Keisei Funabashi station (Keisei main line)
Open / 11:30 – 14:00, 17:00 – 23:30
Closed / Sundays
Update History
Jan 31, 2014 New post
Oct 21, 2017 Added notice about suspension of lunchtime