Speaking of Taiwanese foods, I remember minced pork rice and beef noodles at first.
If you get to Taipei main station from Taiwan Taoyuan International Airport, you must be starving because of long trip.
There's a good beef noodles shop close to Taipei main station.
Its name is Liu Shan Dong Beef Noodles.
It's a so popular beef noodles shop and they got Michellin Bib Gourmand.
They have been there for about 50 years.
And, they are open from 8 a.m. through 8 p.m.
You can have breakfast, lunch and dinner at there. Anytime you can visit except midnight 🙂
When I visited there for the first time, though it was too late for lunchtime, it was completely filled with people. I waited for 5 minutes or so. And the lady brought me to the small square table and shared the table with a couple.
Almost all people seemed to be local people. Staffs don't speak both English and Japanese.
If you want to avoid to be packed, you'd be better go there around 10 a.m. on weekdays. Many local people are working or studying.
Location
The shop stand along such a narrow alley.
But it's close to Taipei station.
Menu
There's Chinese menu on the wall, and there's no English menu.
There're some small foods (各式小菜) like pickles in front of the kitchen, so you can order them with 20 TWD each.
They don't prepare drinks including alcoholic drinks.
Though I can't speak Chinese, I pointed at my target food name on the wall 🙂
But I knew later, they have such a menu in English, Korean and Japanese. So, if you need it, ask them.
Beef noodles
Braised beef noodles (紅焼牛肉麺 / 140TWD)
When I visited there for the first time, I had it. It was like udon ! It was quite different from the thing I had imagined ! But it was tasty. The soup had plenty of beef broth. And it had soy sauce.  And it had plenty of simmered beef meat !
Clear beef noodles (清燉牛肉麺 /140TWD)
Though the braised beef noodles above was good, I like clear beef noodles better.
It's my tastes. It had much garlic flavor 🙂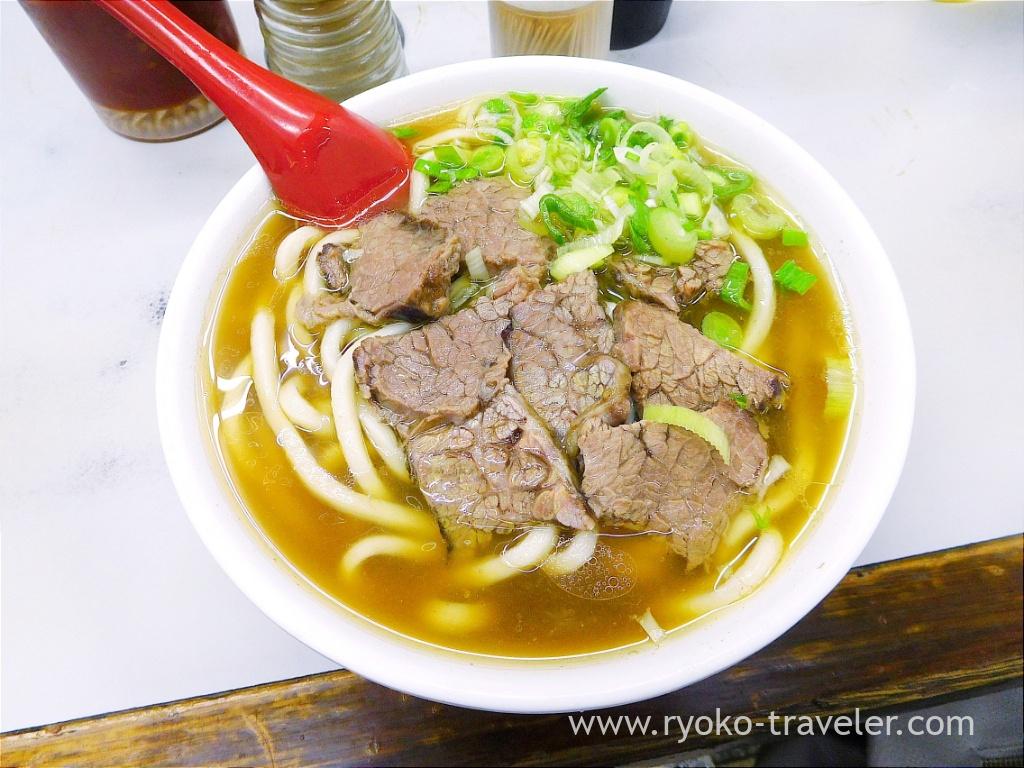 The beef is, as you see, soft and juicy.
And it went with douchi on the table very well.
Of course noodles itself is enough good, but this douchi is awesome. It added the noodles to more flavor.
The shop recommend you put them into the noodles after you enjoy the noodles as it is.
Douchi is on the table. It's spicy just a little. This douchi is good for all noodles in the shop.
Second helping of soup
If you ask them, they add soup into your bowl. I was very surprised at a man besides me because he drunk the soup up at first as soon as his noodles was served and he got extra soup :p
Certainly their soup is awesome.
About Liu Shan Dong Beef Noodles (劉山東牛肉麵)
Address / 台湾台北開封街一段14巷2號
Station / Taipei station
Open / 8:00 – 20:00
Closed / no scheduled