For seeing lifestyle of wealthy merchant in Edo period.
We walked to Kusakabe folk museum from the ramen shop where we had lunch.
http://www.ryoko-traveler.com/tsuzumi-soba1/
Kusakabe Folk Museum have many old items that were used by people in Edo period.
This is that last sightseeing in Takayama.
Takayama used to be a castle town. But in 1692, it became Tokugawa's demesne.
Kusakabe family continued to serve as goyo-shonin (a chartered merchant) for Tokugawa Bakufu.
Original house was destroyed by big fire in Meiji era and it was rebuilt four years later.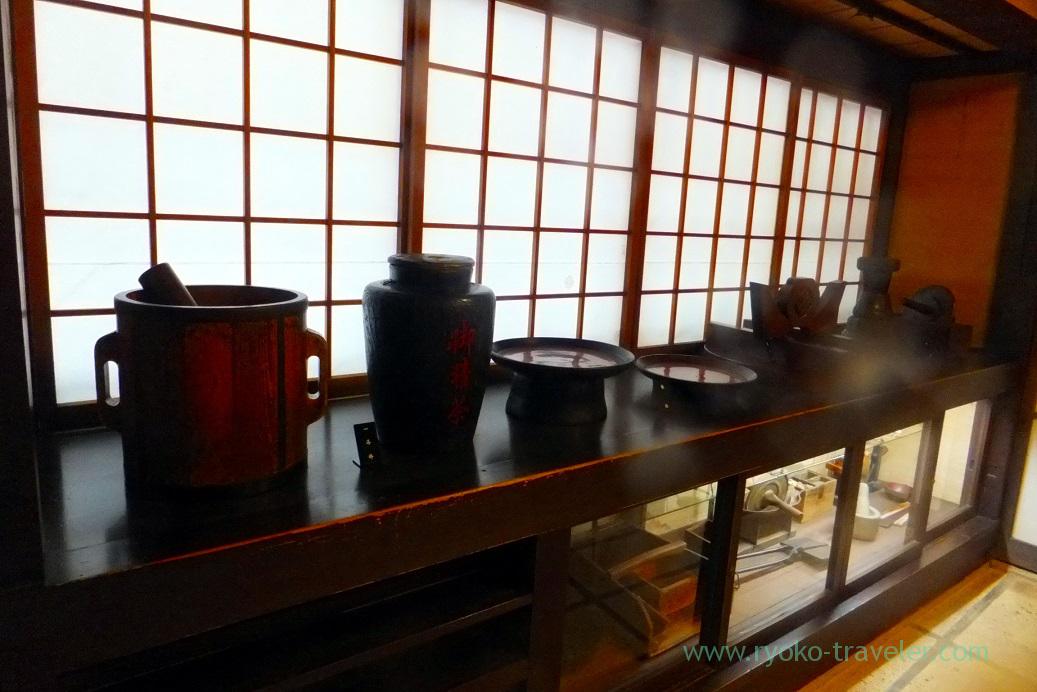 It was shop area. Kusakabe family ran exchange shop and so on.
Exhibition room
There's 2nd floor.
Chest. Those are made from woods.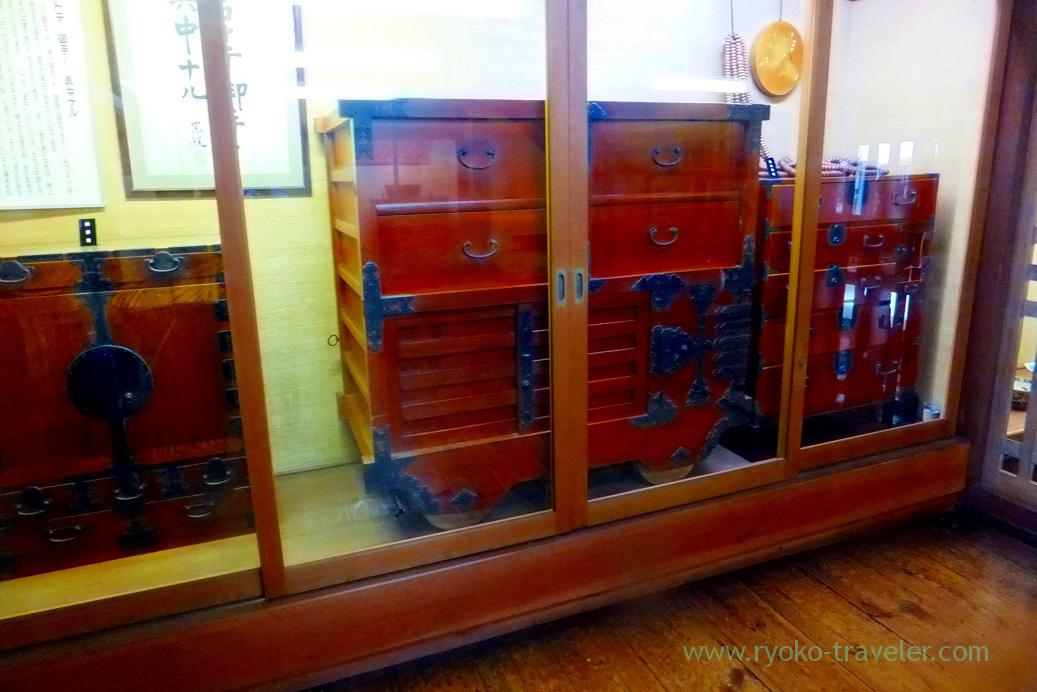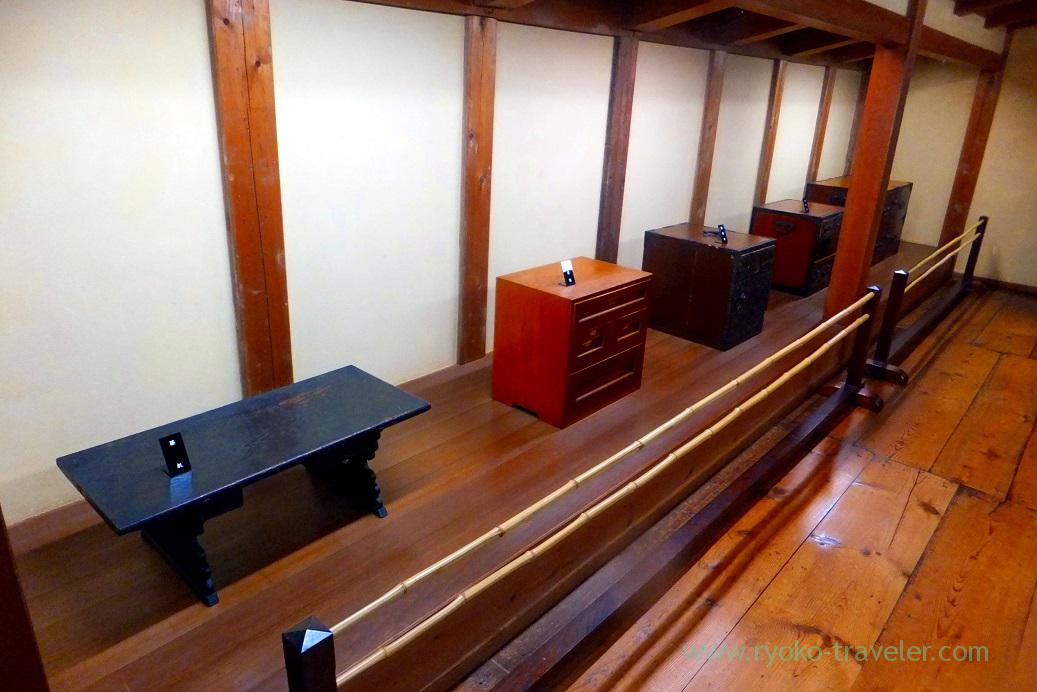 Dishes.
Wooden tableware
Hibachi (Fire bowl)
I can't believe that ancient people in Takayama kept off the cold with such a small fire bowl.
Kimono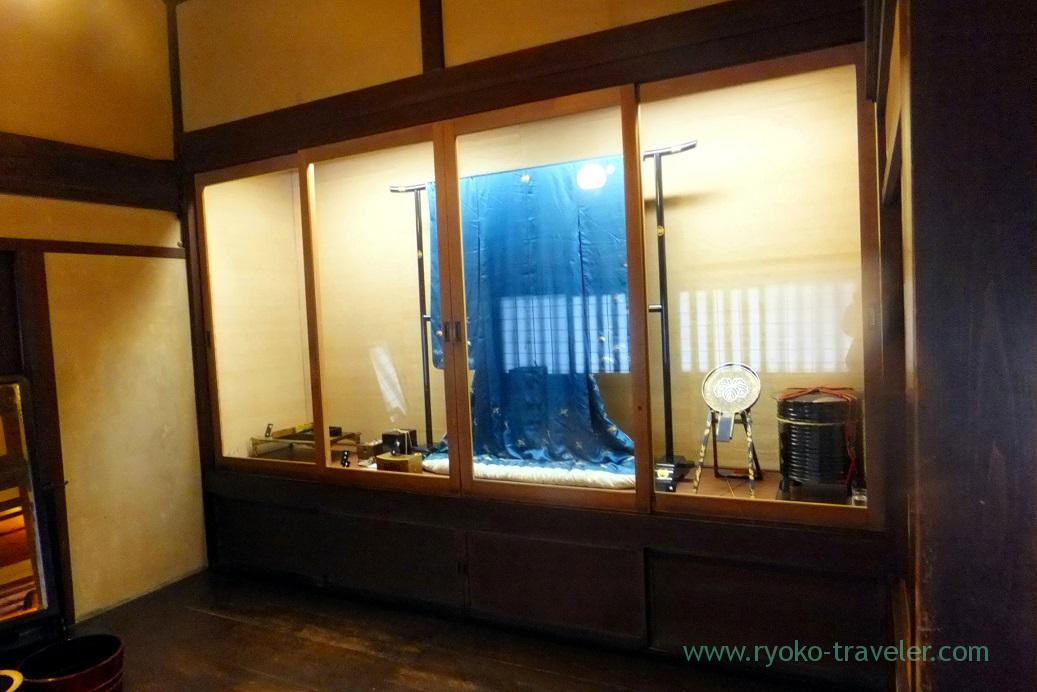 Shovels, umbrella and lanterns
Kago
Small, narrow and short. I heard that ancient people was small, but it was even too small for me !
Because there was no visitors except us because of heavy snow. We enjoyed the calm old house to the full 🙂
Well, we planned to take Takayama onsen bath after Kusakabe Folk museum. But we had much time left before the hotel's bus coming. So, we killed time in the warm waiting room of Nouhi bath terminal.It was around noon.
But just after we were seated, I got shocking mail from Nouhi bus company.
"Your bus being scheduled to depart at 5:30 p.m. has been cancelled because of heavy snowfall."
Oh my !
I hurried to the reception with my smartphone and asked about it. She said to us that 2:00 p.m. bus was decided to depart in time, but 3:00 p.m. bus was not decided at all yet. And every bus after that is cancelled. 2:00 p.m. bus didn't have much vacant seats left.
So, I said to her that we took 2:00 p.m. but without hesitation.
Of course, we gave up taking onsen bath that time and decided to go toward Nagoya. And we couldn't go to an old Japanese cafe in Takayama, too 🙁
But we wanted to eat just Hida beef ! So, thoug much time didn't pass since we ate ramen yet, we went to yakiniku restaurant to eat Hida beef.
By the way, 3:00 p.m. bus was cancelled when we got out of the bath terminal for Hida beef.
We were really relieved.
About Kusakabe folk museum (Kusakabe mingeikan, 日下部民藝館)
Address / 1-52 Daishinmachi, Takayama-shi, Gifu
Station / Takayama station (JR)
Open / 9:00 – 16:30 (December – February until 16:00)
Close / no scheduled
Website / http://www.kusakabe-mingeikan.com/