I visited 黃龍荘 at lunchtime close to Chiang Kai Shek Memorial station.
Their former name was 勝香品點心總匯 and located along Yongkang street.
And then they moved to current place and named current name.
this appearance is easy for people to know what they serve. Xiaolongbao (soup dumplings), dumplings, noodles and soup. Their appearance and inside was still new.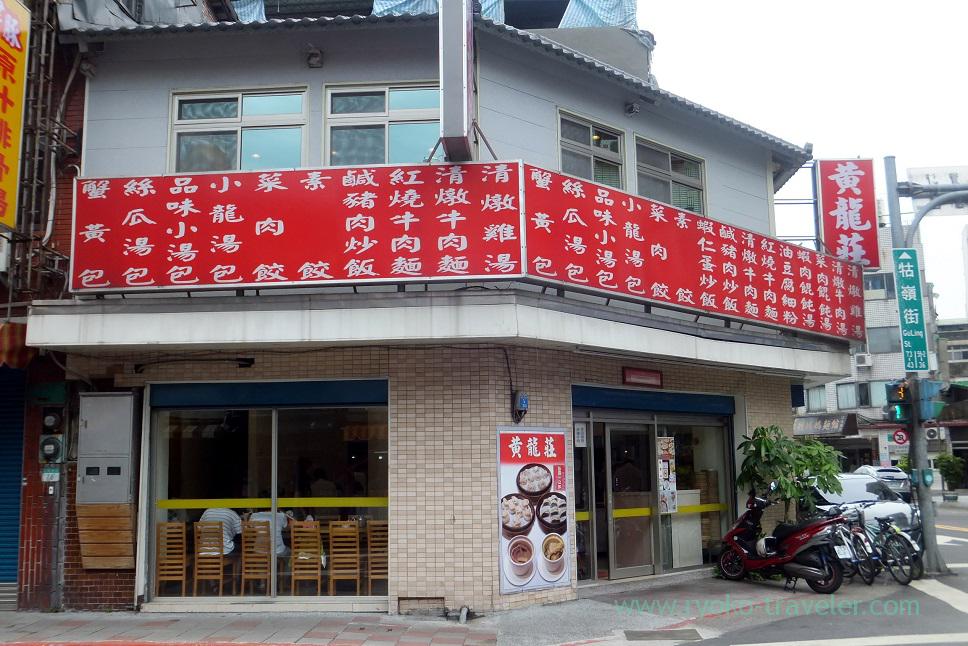 Where?
The closest staion is Chiang Kai Shek Memorial station and also it's close to Nanmen Market.
Local atmosphere
When I visited there, there was no tourists except me. Many local families enjoyed lunch. This restaurant is run by family and it have good atmosphere.

There are seats on the 1F and 2F. I was seated on the 1F, and I think 2F is larger than 1F because there's no kitchen.
The staff took me to the seat next to the refrigerator having small foods.

After I ordered dumplings, the staff served shredded ginger. I was waiting for foods with burdock tea on the table. It had light tastes. It went with their foods very well.
The family next to me started to eat shredded ginger with soy sauce only.
I imitated 🙂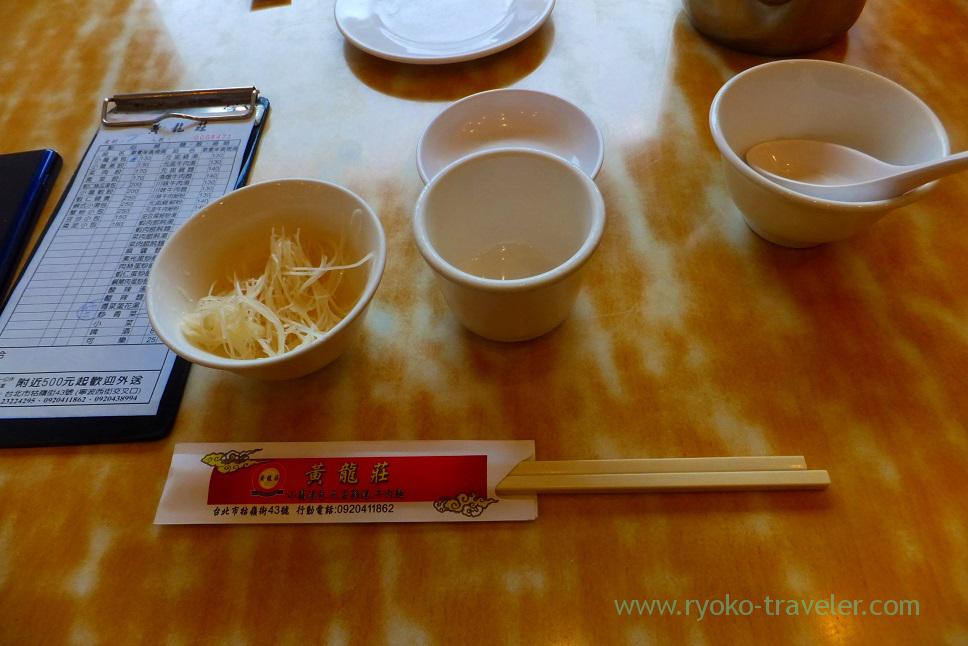 Foods that I had
Soup dumplings with aegyptiaca and shrimps
They have some soup dumplings, and I tried to order normal soup dumplings, but the staff recommended me, so I ordered soup dumpling having Luffa aegyptiaca and shrimps (蝦仁絲瓜湯包, $NT200)

This was the first time to eat Luffa aegyptiaca though we though we grew it when we were in elementary school.
Umm. I can't find the tastes of Luffa aegyptiaca. But they use top quality Luffa aegyptiaca and their soup dumpling having Luffa aegyptiaca is very popular.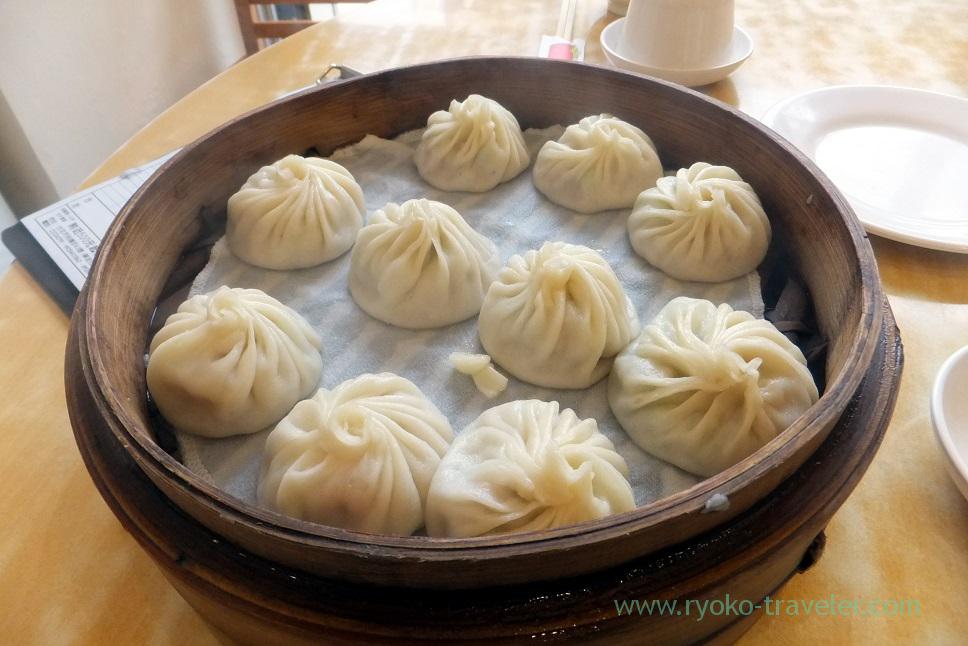 Fried green vegetables
Fried green vegetables (炒青菜, NT$100)
The menu says just "Fried green vegetables". Seasonal green vegetables are used for it. The staff who took my order highly recommended it. She said to me, "This is Chinese water spinach !".

I heard in advance, Chinese and Taiwanese think Japanese like Chinese water spinach very much. Certainly, I was recommended it at many restaurant in Taiwan. Yes, I like it, too.
It was seasoned with much garlic 🙂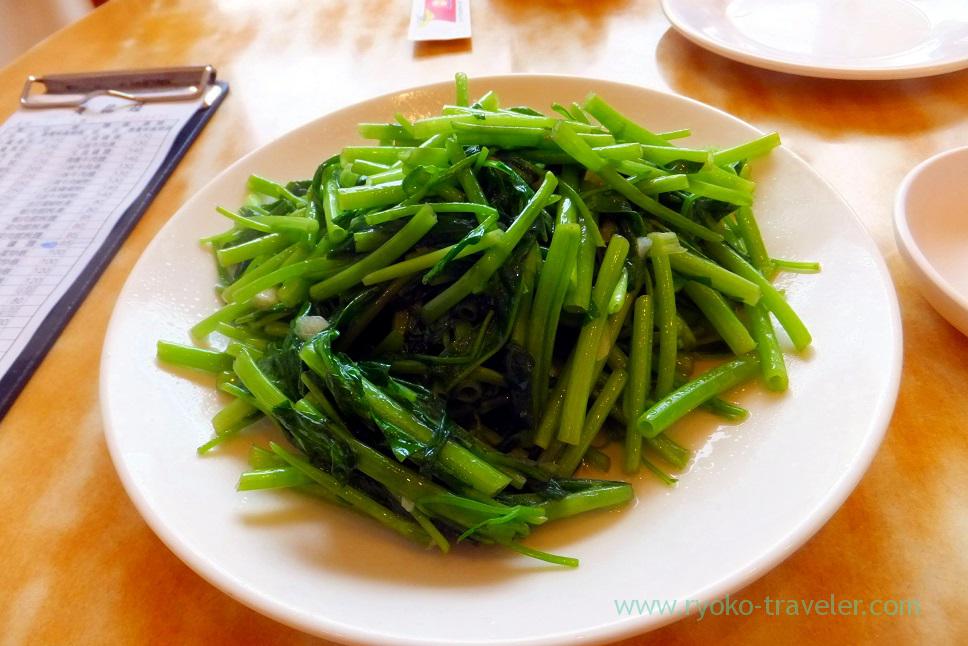 They were so kind and I could enjoy my lunch to the full.
About the restaurant
Name in English / Unknown
Name in Taiwanese / 黃龍荘
Address / 台北市牯嶺街43號
Phone / 02-2322-4295

Open / 10 a.m. 9 p.m.
Closed / no scheduled

Credit card / Unavailable
Reservation / Available
Smoking / Not permitted