I knew there is a good atomosphere cafe in an old Japanese house near Funabashi station.
But I didn't know where it is.
So, I tried to go to there with the help of a map before going to sento.
It was hard to find it even with a map 🙁
There are some dead ends around there.
Of course I met dead ends several times, too. 😛
Finally, I could find the cafe, and I found that I went a very long way round.
There is a simple road that have no dead ends to the opposite site of my road.
Its appearance is a ordinary private house.
Kopie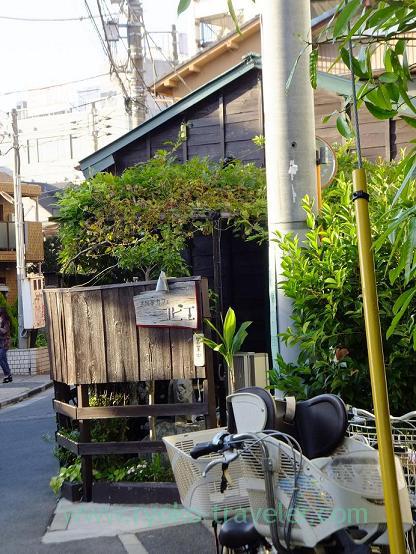 There are much outdoor seats than indoor seats.
There are not much seat in the house. Very small.
But there was a good atmosphere in the house.
I felt like I was in friend's house 🙂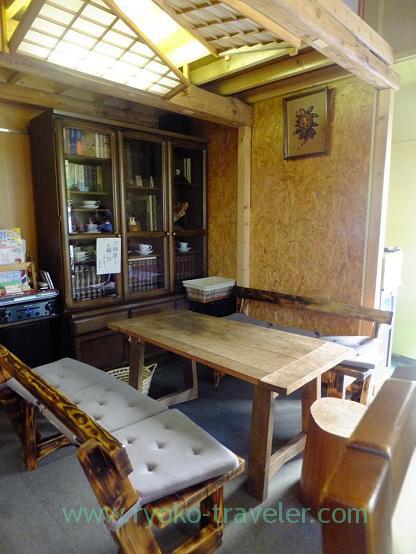 I sat in the right end of the wooden counter table.
And I felt a little hungry because of my long walking, so I ordered an pancakes with chocolate sauce and banana set (with drink – 900 yen).
I was waiting with lemonade 🙂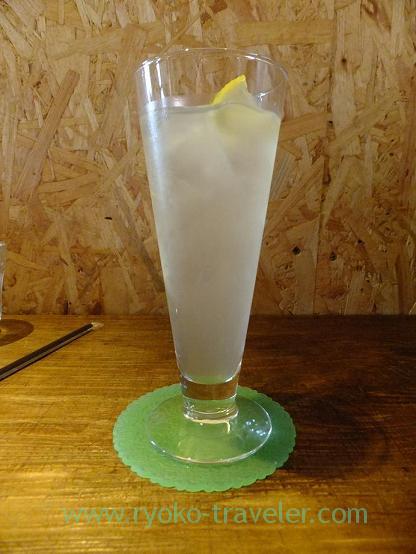 When I ordered the lemonade to an waitress, the waitress said to me, "One lemon water, OK."
"Lemon water" ….Sounds not good 🙁
There are much elder people who convert borrowed words by katakana to native words like her.
Though, lemon is borrowed word, too 😛
My nose caught the smell of coffee beans grinded in the coffee mill besides while waiting my pancakes.
And I felt like drinking a cup of coffee 🙂 I want to drink the coffee next time.
After a while, my pancakes came.
It took much time. The cafe is for people who want to spend good and slow time there.
Heart shape pancake !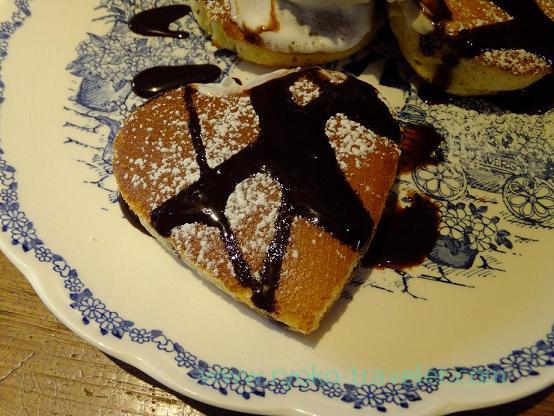 It had a good baked color 😀
I'm envious.
I often make pancakes for my breakfast at holidays, but I can't bake well 🙁
This was a really girly brunch 😉
Eh, I never upload my handmade pancake.
My handmade pancake looks so terrible 🙁
Kopie (コピエ)
1-27-11 Honcho, Funabashi-shi, Chiba
Open – from 11:00 to 18:30
Holiday – Mondays