Kashigashira got easier to visit than ever
I asked to my friend to join his lunch at Kashigashira last Saturday and went to there !
Recently (after summer vacation ?), Kashigashira don't have much guests compared with ever.
When I got to there before 5 minutes that day, there were only 8 people waiting in front of the door.
And two of them were in our group 😛
Street in front of Kashigashira also wasn't packed.Still there were much people 🙂
But as soon as it was open, there were many people gathering in line along the stairs.
Well, we should go earlier all the same.
That day, we ordered chef's choice, too.
Grilled Cyura Kinme's head with salt (美らきんめのかぶとやき)
This Splendid alfosino was caught in Cyura (Okinawa), so it is called "Cyura Kinme"
(Kinme is short name of splendid alfosino in Japanese)
It was bigger than ordinary splendid alfosino that I usually see.
The eyes were eaten by two of my friends…. umm. disgusting ! (I felt so in silent..)
Assorted sashimi (刺し盛り)
Four portion of sashimi was beautifully dished up as usual.
Octopus, chutoro, Spanish mackerel, Splendid alfosino, botan shrimp, scallop, blackthroat seaperche and so on. Everything was great.
The green things are botan shrimps' eggs.
But,,, I need rice all the same and I want them on the rice. So, I want to have lunch during my work some time in this week 🙂
After that, we said good-bye to one of our friend and remains went to Turret coffee as usual.
Now seasonal coffee is Hawaiian Coconuts caramel moccha (ハワイアンキャラメルココナッツモカ). 490 yen.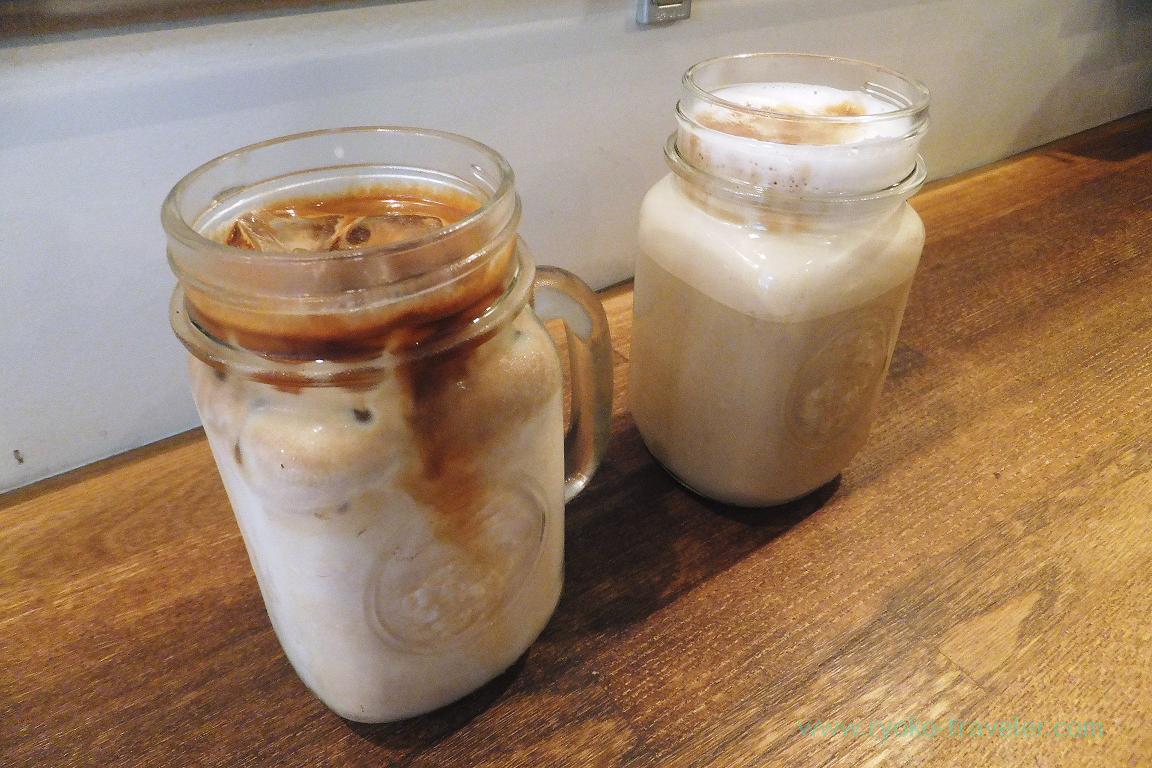 Truthfully speaking, I wanted to have limited menu at Starbucks on our way to Turret coffee 😉
Chesnuts! I have to try soon !
http://www.starbucks.co.jp/cafe/?nid=wh_01_pc
We chatted a lot for a while and then went toward Kanda to eat Sanuki udon at a new buzzing shop.
About Kashigashira (河岸頭)
Address / Lions Mansion Higashi-Ginza Bldg B1F, 4-12-2 Tsukiji, Chuo-ku, Tokyo
Station / Tsukiji station (Tokyo metro)
Open / 11:00 – 14:00, 18:00 – 23:00
Closed / Sundays and another national holidays
Website / http://kashigashira.com/(in Japanese only)
About Turret coffee (ターレットコーヒー)
Address / SK Higashi-Ginza Bldg 1F, 2-12-6 Tsukiji, Chuo-ku, Tokyo
Station / Tsukiji sation (Tokyo metro)
Open / 7:00 – 18:00
Saturdays – 10:00 – 18:00
Closed / No scheduled