Welcome to Tokyo, Mitzie Mee !
Two days have passed since I came back from Osaka X(
Osaka is great place all the same. Delicious foods and fine weather welcomed us.
I want to go there again soon !
I'll post about it later. Before that, I went to Kashigashira before the trip.

1-5-4 Tsukiji, Chuo-ku, Tokyo
Mitee Mee whose blog is one of my favorite, traveled Tokyo and came Kashigashira to see me.
I took the reservation just before the day. But when I telephoned Kashigashira,I never thought I could get our seats because Kashigashira is so popular and they
don't have much seats. We were lucky !
(I went to Kashigashira before the daytime, too :P)
I got to Kashigashira before 6:30p.m., appointed time and there were already some group and they enjoyed foods and drinks.
I go to Kashigashira at lunchtime so frequently. But much time had passed since I went to Kashigashira for dinner last.
They serve chef's choice course at 4500 yen only.
They asked me if we have any allergies and something we can't eat when I took the reservation.
At first, we toasted with beer.
And then, Otoshi was served.
Liver of ark shell, spinach with boiled very young sardines and blackthroat seaperch.

Shijimi clam soup (しじみスープ)
Always I think it's too small for me. I want to drink it in a bowl like miso soup. And cod chips was good, too.
Tuna sashimi dressed with yuzu pepper (まぐろのゆず胡椒和え)
She liked it. I did too.
Tuna tsumire (まぐろのつみれ)
Tuna ball. Inside of it was very hot. Most fish balls that I know contain sardines or white fish. So, tuna ball is unique !
Marinated mackerel with vinegar soaked in soup (鯖のマリネ煮浸し)

Fried scallops with butter (ほたてバターソテー)
Is there anyone who hate it ? Everyone love it !
Though I forgot the name of the shell, it was big and delicious.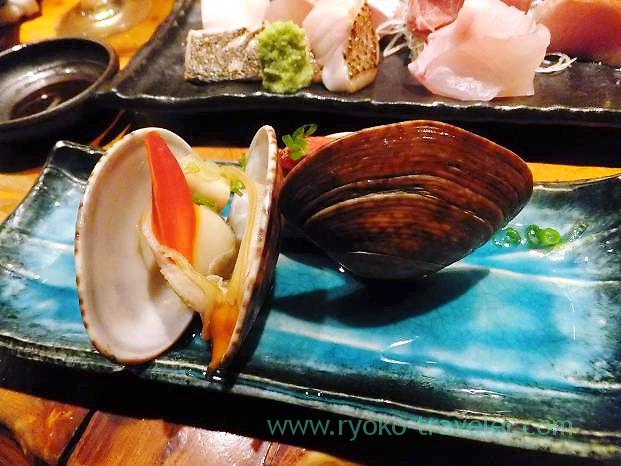 And I wanted her to have something Japanese sake because Kashigashira prepare so much varieties of Japanese sake.
So I asked her to drink something japanese sake.
I think glass and box filled with sake is great view 🙂
But I don't know a lot about Japanese sake, so the staff chose our sake.
She chose "Gokyo (五橋)" and "Senchu-Hassaku (船中八策)".
Both were easy to drink.
Most Japanese sake texture smooth and I don't feel much alcohol. So it's danger drink !
I felt nealy full. But assorted sashimi (刺身盛り合わせ) came.
barracuda,middle-sized yellowtail…
Squid, red sea bream, grilled splendid alfonsino, tuna…
Round Greeneyes tempura (めひかりの天ぷら)
Round greeneyes is called "Mehikari" in Japanese. Rather big round greeneyes. The innard was bitter a bit and I like the taste !
Oh my ! Gorgeous !
Grilled splendid alfonsino head (金目鯛のかぶと焼き) !
Its skin was crisp and the meat was juicy. From its appearance, it seems not to have much meats, but seeking with chopsticks, much juicy meat appears !
This means the end of our course.
Taimeshi (or sea bream rice, 鯛めし) came.
I was full, so I felt relieved a bit 😛
Kashigashira's dinner was great as usual and she seemed to be satisfied with foods. I was really glad.
But to my great regret, we couldn't have conversation smoothly because of my poor English skill 🙁
On this opportunity, I'll train English more harder and wait her coming again !
About Kashigashira (河岸頭)
Address / Lions Mansion Higashi-Ginza Bldg B1F, 4-12-2 Tsukiji, Chuo-ku, Tokyo
Station / Tsukiji station (Tokyo metro)
Open / 11:00 – 14:00, 18:00 – 23:00
Closed / Sundays and another national holidays
Website / http://kashigashira.com/(in Japanese only)