Kagaya is relaxation space for elder business men
So popular cheap izakaya that is named Kagaya was my longing place. And finally, I went to one of the branch close to Funabashi station.
My friend who is regular customer of there took us to there. He said he always come there by himself.
There is 2nd floor and our table was on the floor. But the 2nd floor was like labyrinth !
There are many doors and I couldn't find my group. After all I asked the staff.
But she also hesitated 😛
On entering the room, I found it is so large tatami room for party.
I think just this room accommodates about 100 people.
But there are wide intervals between the tables when party isn't held..
I was really excited, so I forgot to take photos of menu. So, I don't remember those price. But those are inexpensive !
Kagaya is chain store of izakaya. About 50 branches are around Kanto region. It
is heaven of middle-aged men. By the way, "Kagaya" is so popular name.
If you search "Kagaya" on google, you find much "Kagaya ryokan" in Wakura Onsen.
After I ordered my drink, otoshi was served.
Otoshi (お通し)
Kagaya's specialty is giblets, but they prepare many kinds of foods.
Seafood,
Hen clam (あおやぎ) 600 yen
White trevally (シマアジ)
Tuna's left-over flesh on the spine(まぐろのなかおち)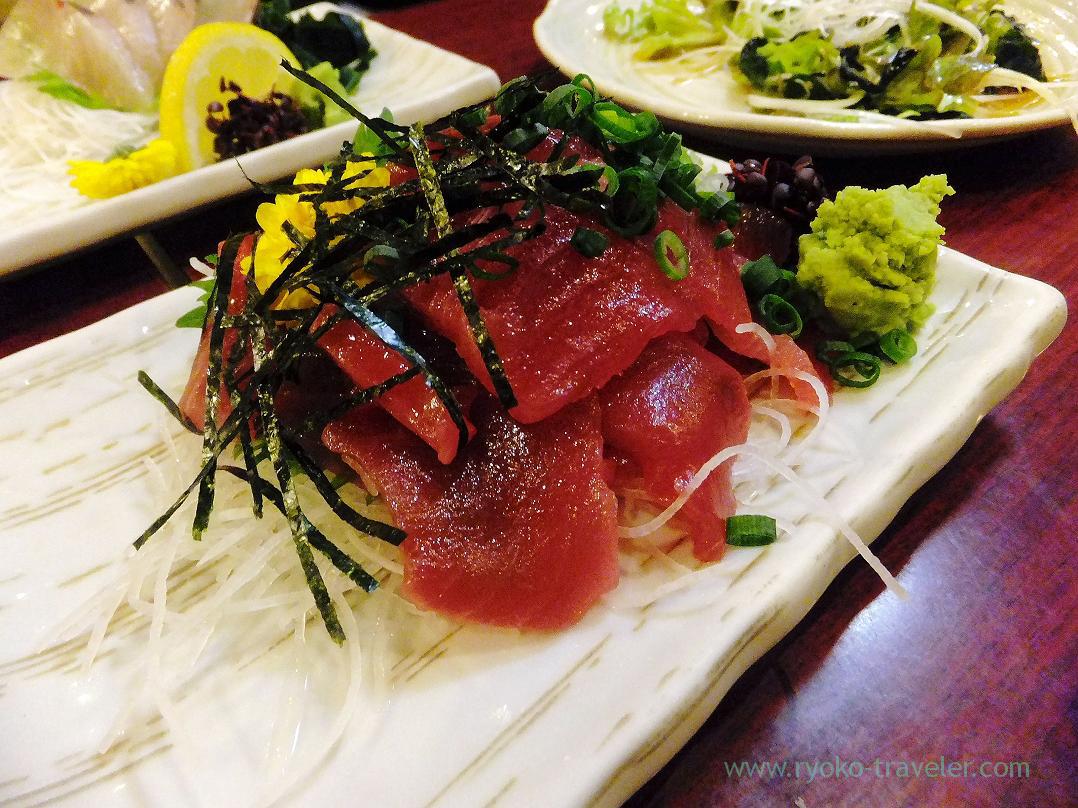 Tuna Cutlet. (マグロカツ)
It was good. But unfortunately the chef put too much Worcestershire sauce 🙁
Okizuke squid (いかの沖漬け)
Chinese foods,
Shrimp and mayonnaise (エビマヨ)
I always can't think it is real Chinese food. I can't think Chinese foods contain mayonnaise.
Fried egg and Chinese chive (ニラ玉)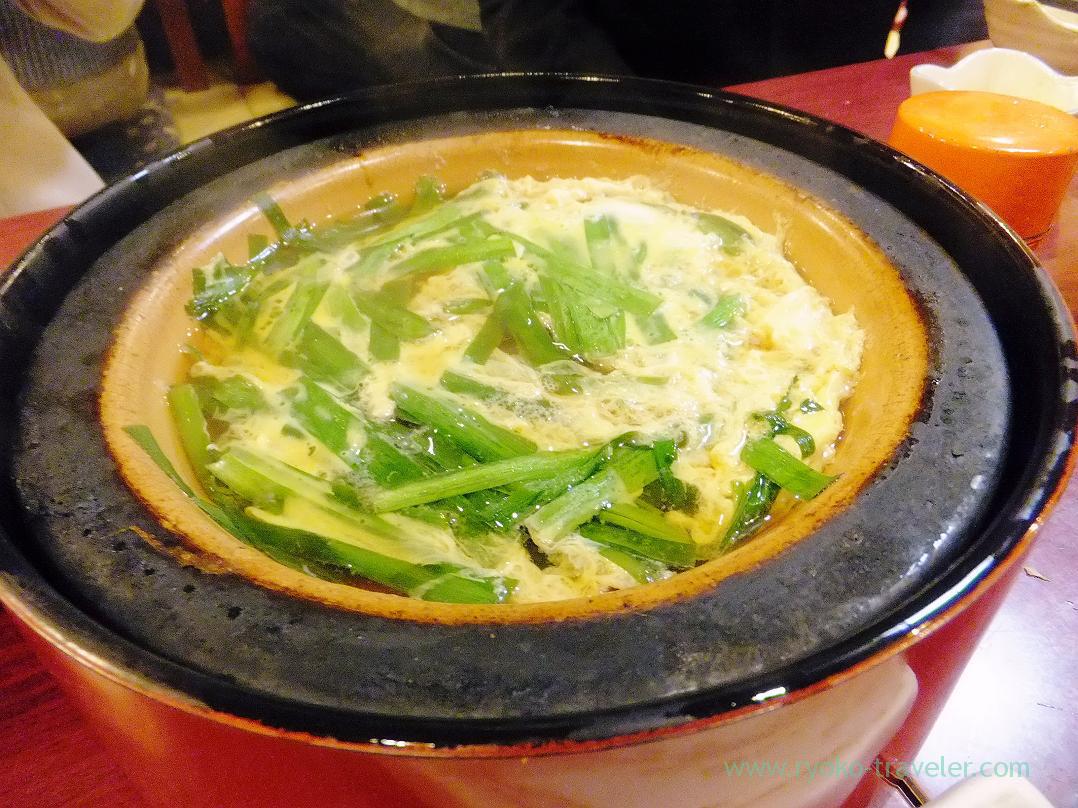 Korean food ?
Korean-style salad (韓国風サラダ) 600 yen
I don't know what is "Korean-style" … probably sauce for yakiniku was put on it as dressing 😛
And don't miss giblet !
Guts stew (もつ煮込み)
It was so noisy and I couldn't hear what my friends say easily.
But it was fun 🙂
Funabashi's Kagaya is open from 4 p.m.Just after their opening time, almost all seats are occupied.
So, when we got to there around 7 p.m. there were some traces of feast 🙂
There are always some people waiting outside the building.
About Kagaya Funabashi branch (加賀屋 船橋店)
Address / 4-42-7 Honcho, Funabashi-shi, Chiba
Station / Funabashi station (JR), Keisei-Funabashi station (Keisei main line)
Open / 16:00 – 23:00
Closed / Sundays