There is an izakaya that serves Indian lunch set on Sundays lunchtime only near Morishita subway station.
It's ordinary an izakaya appearance. But some notices in front of the izakaya shows you that it serves curry and rice.
Jyogame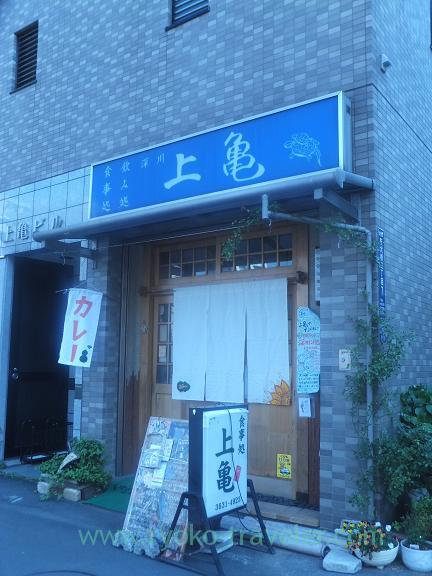 Only Sundays from 11 am to 15 pm 🙂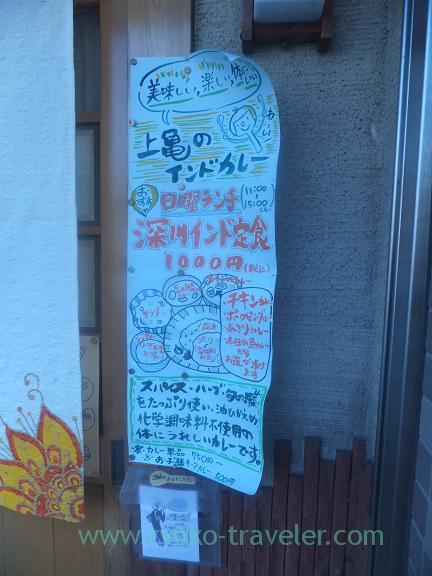 Curry lunch menus. It seems a school festival 🙂
It have atmosphere of handmade products.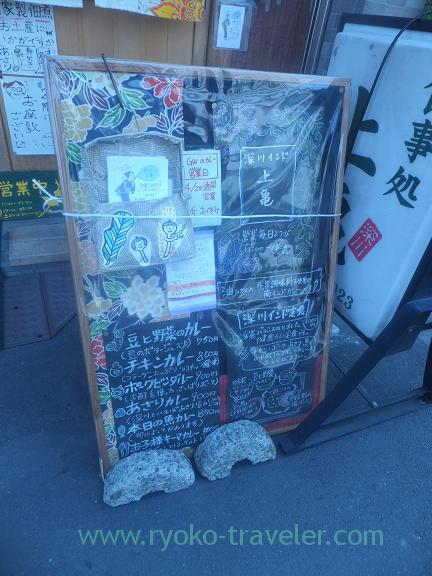 Menus, too.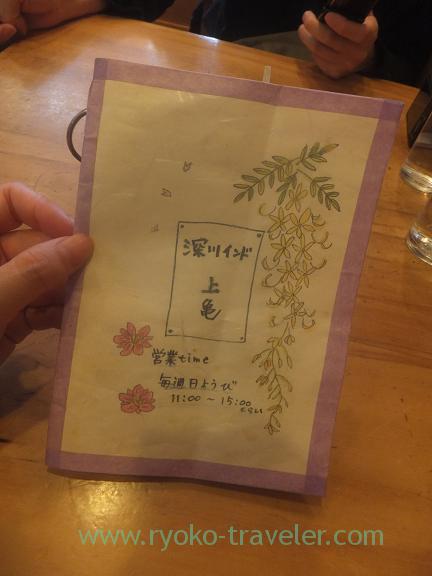 Cute.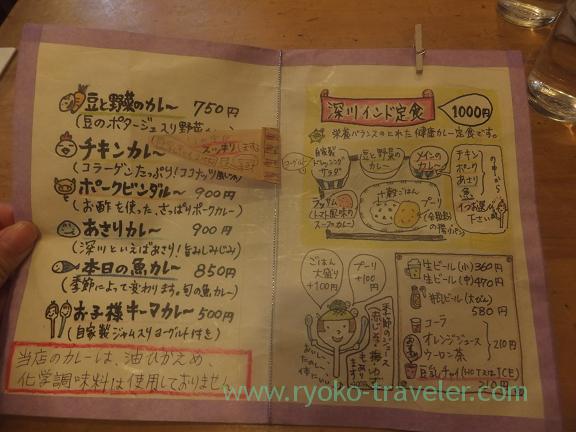 But the competent cook serves good dishes !
I ordered a Fukagawa Indian lunch set (深川インド定食, 1000 yen).
I choiced asari clam curry from 3 kinds of curry that is asari, pork or fish.
"Fukagawa" is a old name of the place around there.
The place names of 'Fukagawa' have remained near the town.
The load of bread is puri. Indian deep fried bread. I saw it for the first time. Indian foods is pretty deep 🙂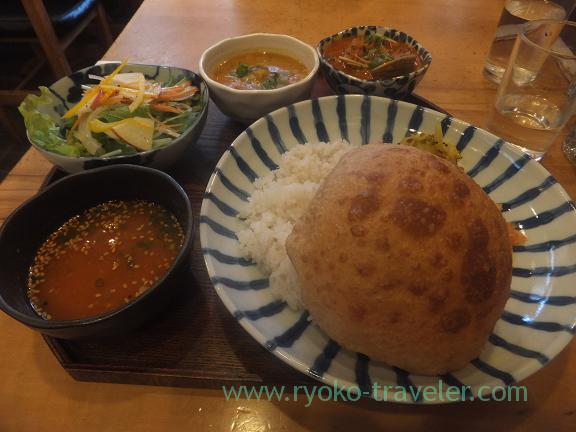 Left is beans and vegetables curry,  and right is asari clam curry.
Asari clam curry had so much taste of asari clam. Awesome !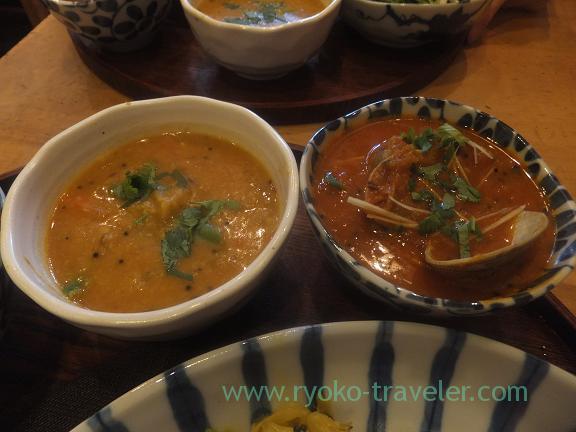 Rassam.
It is a spicy soup. Of course asari clam was so tasty , but I liked this rassam best in my set.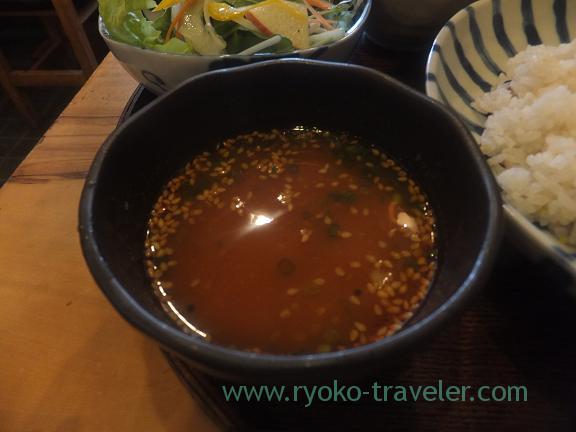 I felt an impulse to pour the soup over rice :p
After the meal,ordered a soy milk chai (210 yen).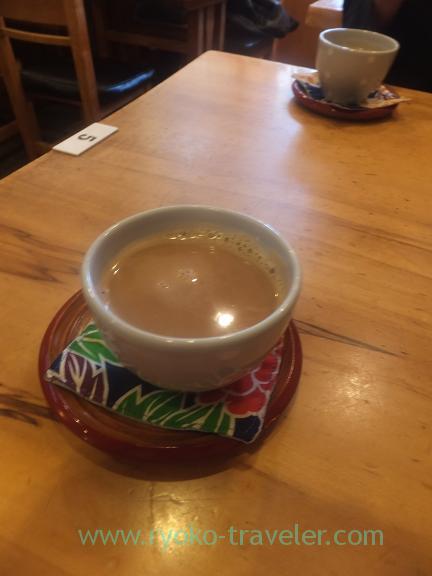 I feel that chai ends my Indian curry meal.
After that, we went to Ueno park for Pakistan and Japan friendship bazar.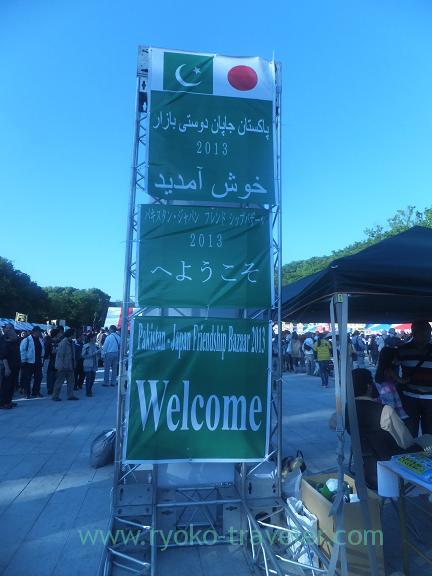 A lot of stalls were there, but there were few Pakistani dishes…. Turky, India,,,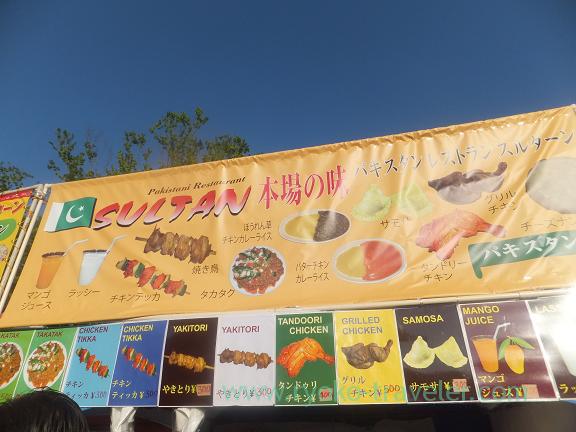 Taka tak (500 yen) was very hot and good.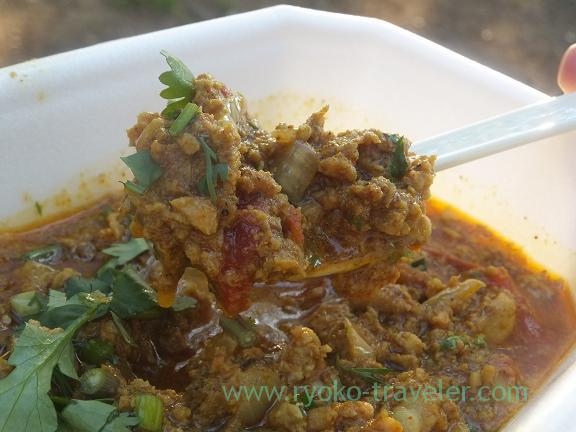 Truthfully speaking, I ate another foods at there, but those foods were not good taste, so, I don't want to remember …
Some dishes were not suitable for cooking at stalls, I felt.
Jyogame (上亀)
Jyogame building. 1st floor, 3-7-3 Shin-Ohashi, Koto-ku, Tokyo
Open – Sundays from 11:00 to 15:00
Holiday – except Sundays