Delicious soba can be eaten in the private house.
I have a cold or any allergies. The cause is unclear.
Anyway, my eyes are itchy and I have a sore throat and bad cough.
I have an appointment of having dinner two days after tomorrow ! (>_<)
Today's post is my lunch I had before becoming ill.
There is a soba restaurant in a quiet residential area far from Ichikawa station.
Soba Isba Isato
As you see, it's a private house ! Probably they live on the second floor of the house and run a soba restaurant on the first floor.
They renovated their private house as restaurant. There are only 4 tables in the room and the the chef doesn't make much soba. So you must reserve in advance.
Menus written in vermilion ink.
There are three valuable sets.
*Soba with simply soup (ざるコース, 1800 yen)
*Soba with simply soup and grated daikon set (おろしコース, 2000 yen)
*Soba with duck soup set (鴨汁コース, 2200 yen)
Last time I ordered a soba with grated daikon set.
http://www.ryoko-traveler.com/isato1/
To tell the truth, I'm always disappointed with duck soup at any restaurants. So much fat.
But I liked this restaurant's soba last time, so I ordered a duck soup set expectantly. My friend ordered a "Sanzaru set (参ざるセット)" that have three soups.
At first, Pickled chayote in salted rice bran (Nukaduke, 隼人瓜のぬか漬け) came.
Soba-miso (そば味噌)
Tamagoyaki with ducks meat (玉子焼き)
Much ducks meat in it. So juicy 😀
After long minutes, finally my soba came.
Soba with duck soup (鴨汁そば)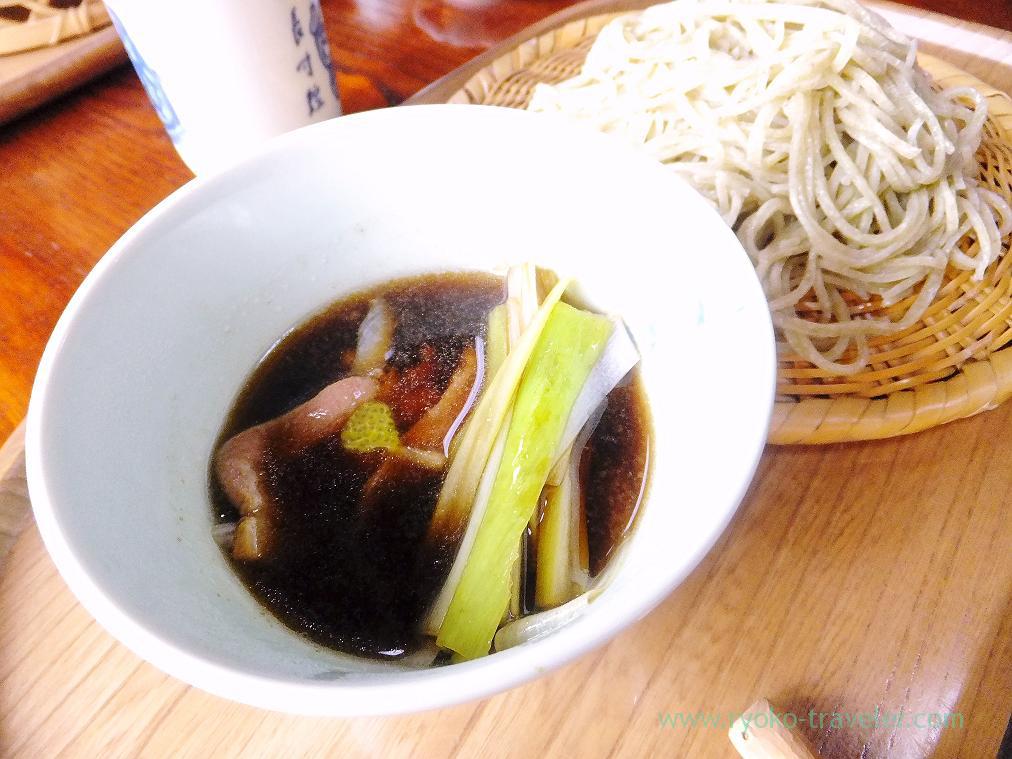 That day's soba was from Mashu (摩周), Hokkaido.
I was a little anxious, but it was so tasty !!! It was not greasy at all !!! And the green onions were good, too !
Last dessert came.
Warabi-mochi-like sobagaki (そばがきのわらび餅風)
It gratify my sweets desire and sobagaki desire 😀
About Soba Isba Isato (Soba Isba いさと)
Address / 1-12-9 Kounodai, Ichikawa-shi, Chiba
Station / Ichikawa station (JR), Kounodai station
Open / from 11:00 until ingredients out (for 20 persons only)
Closed / From Mondays to Wednesdays