Inexpensive and popular izakaya is always fully packed
My friend took me to  Ippei that is a middle-aged men's paradise.
Inexpensive izakaya.
It was crowded because that day was before holiday.
As you see, many people waited in front of the shop.
We waited around 30 minutes ? Finally we could be seated.
I ordered a Kalimotxo (カリモーチョ, 300yen) that have coke and red wine and my friend ordered an oolong tea.
Kalimotxo didn't have the tasted of coke and wine.
I felt it wasn't a really coke and wine. Probably it was drink that is named "Kalimotxo" 😛
Probably it is because before holiday,  many sashimi was sold out. Both of horse mackerel and sardine was sold out. But they said that they can serve bonito.
So I ordered that.
Bonito sashimi (鰹のお刺身, 450 yen)
It was fatty and tasty 🙂
Raw octopus (生たこ, 350 yen)
I liked it best. Well, I like the texture of raw octopus 🙂
Steamed potato with butter (じゃがバター, 200 yen)
I wanted my steamed potato hotter. It already got cold.
It was hard for butter to melt on the potato.
Grilled sailfin sandfish (ハタハタ焼き, 250 yen)
This was the first time to eat sailfin sandfish. Tasty, but it didn't have much meat and those bones were hard.
Gut and tofu nikomi (牛豆腐煮込み, 450 yen)
As its looking, it had a really wild taste.
The nikomi that we ate last time was best for me.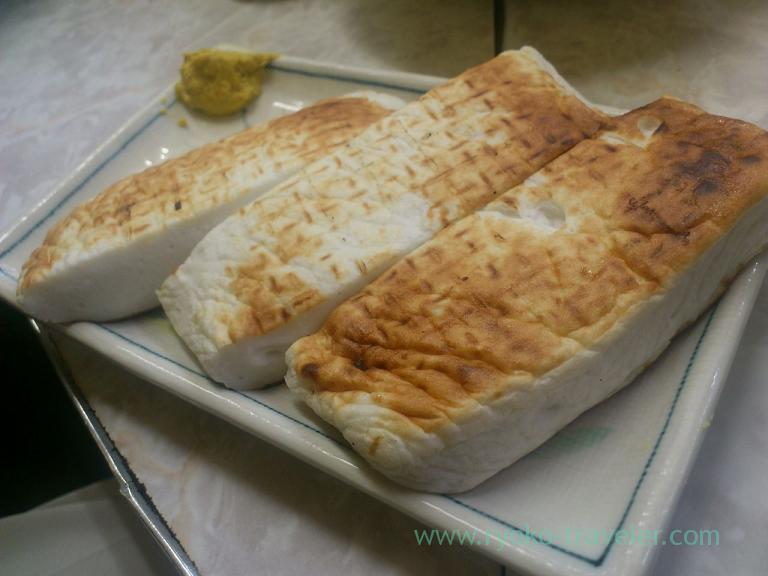 The middle-aged men pilgrimage, Ippei (Funabashi)

I've been to cheap izakaya near Funabashi station. Ippei Speaking of cheap izakaya, it is inexpensive, yummy...


Anyway, Ippei serves dishes with lower price 🙂
About Ippei (一平)
Address / 4-42-4 Honcho, Funabashi-shi, Chiba
Station / Funabashi station (JR), Keisei Funabashi station (Keisei main line)
Open / from 15:00 to 22:30
Saturdays / from 14:00 to 21:30
Closed / Sundays and national holidays
Website / http://www.boowy.net/ippei/