I did Hatsumode and first eat out of 2015 near my house.
Today I went to Inage Sengen Jinja Shrine for hatsumode.
Hatsumode is first visit shrine or temple of the New Year.
Many people visit there at the midnight of January 1st.
Eh ? It's impossible for me ! Extremely cold for me !
I can't take cold weather !
Anyway, I visited there in the daytime.
Though it was second day of 2015, it was crowded with many people.
I wanted goshuin, but it was quite crowded and I gave up getting it.
I got a protective charm because this year because this year is ato-yaku (post-age of calamity at which the fear of calamity may recede) for me.
And I took an sacred lot. Mine was Blessing(吉) !
(great blessing > middle blessing > small blessing > blessing > ending blessing > curse > small curse > ending curse > great curse)
After that we had lunch. Of course this was the first eating out this year !
As same as last year, I had lunch at Manzan close to Makuhari-Hongo sta.
I'm happy that Manzan is open throughout New Year holidays. I didn't know another restaurants' open duing New Year Holidays, especially, until 3rd except chain stores.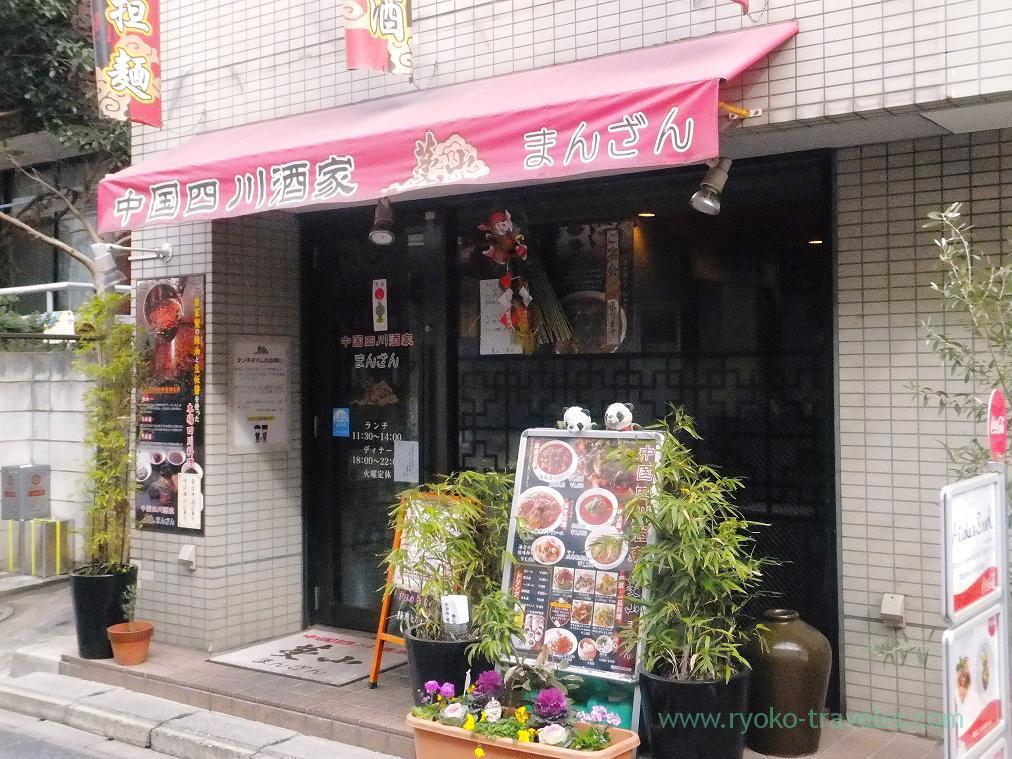 This might be the 10th time that I visited there. But every time I ordered mapo tofu or dandan noodles only.
So, I tried another food this time.
Ramen hot and sour soup (サンラーメン, 1000 yen)
I thought ramen hot and sour soup is, as its name, have sour-taste soup and not so spicy. So I didn't interested in it at all.
But I heard this restaurant's ramen hot and sour soup is not only sour but also very spicy.
I had never seen such a bright red ramen hot and sour soup ! It's the Sichuan-style !?
And it was so spicy as I heard. And because of its spiciness, the sweetness of this almond jelly was comfortable after the spicy meal 🙂
We were two, so we ordered Chinese dumplings (水餃子, 400 yen).
About Manzan (蔓山)
Address / Mariot Hongo Building 1F, 6-25-4 Makuhari-Hongo, Hanamigawa-ku,
Chiba-shi, Chiba
Station / Makuhari-Hongo station (JR), Keisei Makuhari-Hongo station (Keisei
Chiba Line)
Open / from 11:30 to 14:00, 18:00 to 22:00
Closed / Tuesdays
Website / http://www.manzan4000.com/
About Inage Sengen Jinja Shrine (稲毛浅間神社)
Address / 1-15-10 Inage, Inage-ku, Chiba-shi, Chiba
Station / Keisei Inage station (Keisei Chiba Line), Inage station (JR)
Website / http://www.inage-sengenjinja.or.jp/