Porchini, saury, summer truffle…luxury dinner.
Fortunately, I could visit il tram again in this best season for saury 🙂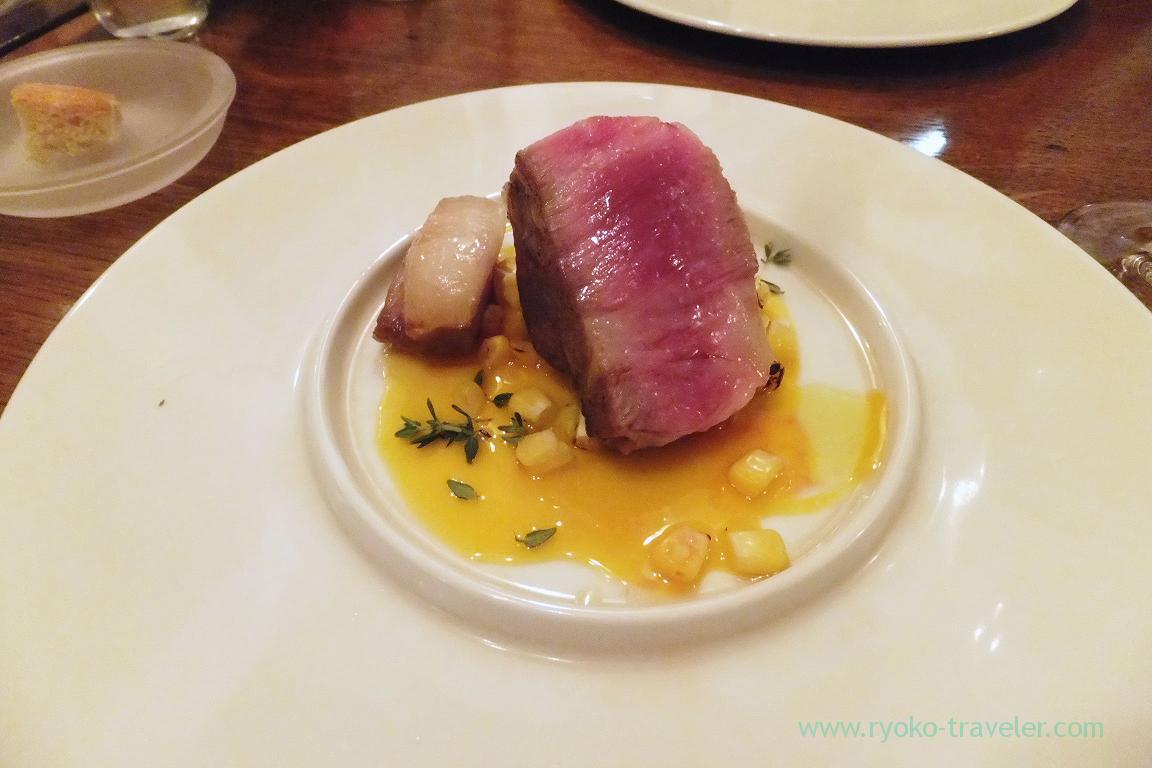 Kiyosumi-Shirakawa : Saury, Mangalitsa pork at il tram
My friend asked me to join dinner at il tram the other day. Of course, I went to there in the heavy rainfall. I ...
We toasted with wine as usual.
We took dinner course (5000 yen plus 300 yen for bread ) as usual 🙂
At first the cold soup was served.
Cold tomato, plum and daikon radish soup (トマト・梅・大根の冷たいスープ)
Funny dish. il tram have such funny dishes. It was still humid night, this cold sour soup was comfortable.
Burrata with grilled corn puree, edible flower (ブッラータ 焼きトウモロコシのピュレ エディブルフラワー)
Burrata is a kind of cheese. I ate it last time, too.
It had corn purre this time.
Kiyosumi-Shirakawa : Italian Dinner, beautiful to the eye at il tram
Creative dinner in the cozy restaurant. My friends asked me to join the dinner at il tram in Kiyosumi-Shirakawa with th...
Summer porchini fritto with bottarga, sudachi (サマーポルチーニのフリット ボッタルガ 酢橘を添えて)
You don't understand from this photo, but porchini is hidden under the shredded mullet roe. Large porchini !
Roasted fresh saury (秋刀魚のロースト)
Grilled rolled saury ! I ate it last year and I was so impressed by the tastes ! I was glad that I could meet it again ! Its skin was crisp and the meat was fatty !
Roasted chicory with gorgonzora picante (チコリの1時間ロースト ゴルゴンゾーラ・ピカンテを添えて)
Chicory is served every time in dinner course. It's my delight 🙂
Cacio e pepe, summer truffle, Tagliolini (カチョエ・ペペ サマートリュフ タリオリーニ)
Roasted lamb meat from Australia, lenti puree, cumin flavor (オーストラリア産 仔羊肩肉のロースト レンズ豆のピュレ クミン風味)
Medium rare. Beautiful dish.
About il tram (イルトラム)
Address / 4-9-5 Miyoshi, Koto-ku, Tokyo
Station / Kiyosumi-Shirakawa station (Toei subway, Tokyo metro)
Open / 18:30 – 23:00
Saturdays, Sundays and another national holidays / 12:00 – 14:30, 18:30 – 23:00
Closed / Mondays (in case of national holidays, it is open and the next day is closed
Website / http://www.il-tram.com/(in Japanese only)