Creative dinner in the cozy restaurant.
My friends asked me to join the dinner at il tram in Kiyosumi-Shirakawa with them. Of course, I joined with them 🙂
There're only 12 seats or so. It's hard to reserve, especially at lunchtime on Saturdays.
We toasted with Sans Soufre from Takeda Winery that time, too. Takeda Winery is Japanese winery located in Yamagata prefecture.
We took dinner course as usual. Our course started from warm soup.
Butter nuts zuppa with kumin, bubbles of parmigiano (バターナッツのズッパ パルミジャーノの泡 クミン風味)
After that black cups were served.
Burrata tomato and bassil extracts, lemon (ブッラータ トマトとバジルのエキス レモン)
White of cheese, red of tomato, and violet and orange of flowers. Beautiful.
Warm green asparagus with half-boiled egg, bottarga and pecorino romano (グリーンアスパラガスの温製 半熟卵 ボッタルガ ペコリーノ・ロマーノ)
Something was hidden under the mullet roe and cheese. Do you find ?
Half-boiled egg !
Salsiccia finocchiona gnocchi, glebionis coronaria and garbanzo beans (サルシッシャ フィノッキオーナ ニョッキと菊菜 ひよこ豆)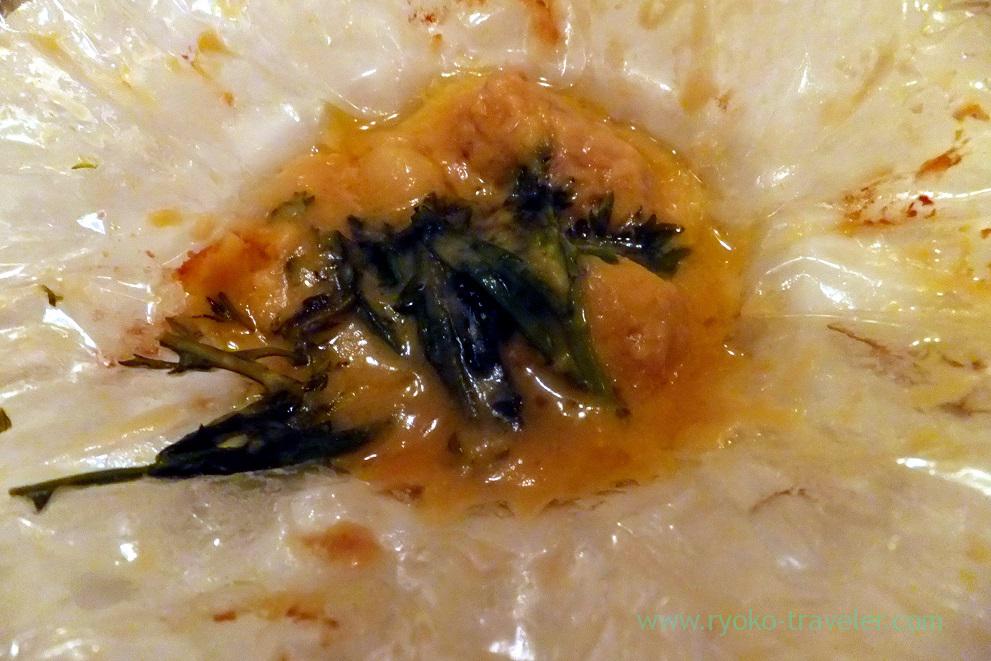 Roasted chicory with gorgonzora picante (チコリの1時間ロースト ゴルゴンゾーラのピカンテ). This is served everytime. It tasted goodas usual. Gorgonzora went with the chicory very well.
Gnocchi with sakura prawn, spring cabbage and yukishita carrots (桜エビ・春キャベツ・雪下人参のニョッキ)
The smell of sakura prawn was great !
Last. Entree. Mostly he serve meat as entree. That time, too. I'm really looking foward to having his meat dish every time 🙂
Roasted lamb shoulder meat from Australia with shiitake mushroom grown on logs puree (オーストラリア産仔羊肩肉ロースト 原木椎茸のピュレ).
il tram made us happy from the beginning to the end of dinner that time, too.
This restaurant is included in category of Italian restaurant. But the chef recently use Japanese ingredients and sometimes he serve dishes far from Italian foods. But his creative dinner is worth eating. I'm looking forward to visiting there next month, too !
About il tram (イルトラム)
Address / 4-9-5 Miyoshi, Koto-ku, Tokyo
Station / Kiyosumi-Shirakawa station (Toei subway, Tokyo metro)
Open / 18:30 – 23:00
Saturdays, Sundays and another national holidays / 12:00 – 14:30, 18:30 – 23:00
Closed / Mondays (in case of national holidays, it is open and the next day is closed
Website / http://www.il-tram.com/(in Japanese only)