My friend asked me to join dinner at il tram the other day. Of course, I went to there in the heavy rainfall.
I really wanted to go there. Because, another friend posted about the dinner at il tram on facebook a few days ago.
il tram basically serve same menus as course in a certain period and then change it.
That is to say, "I can eat as same foods as he ate the other day !"
Especially I wanted saury and Mangalitsa pork !
As soon as we were seated, the cook apologized us.
He had to change the one of food in the course.
He got huge salmon and had to use it.
So, bonito in a course was changed to salmon.
But no problem. My saury and mangalitsa was in safe 🙂
And also salmon that I ate at il tram last time was delicious and I wanted to eat it again. That's great.
My drink was Sans soufre from Takeda winery.
Sparkling wine.
Butter nuts zuppa with cumin (バターナッツのズッパ クミン風味)
The yellow powder is grated dried mullet roe. It was lukewarm and thanks to the temperature, I felt the sweetness of butter nuts more.
Burrata from Puglia with bassil and lemon oil (ブーリア産ブッラータチーズ バジルとレモンのオイル)
I didn't know the cheese. It was similar to mozzarella in its taste and texture 🙂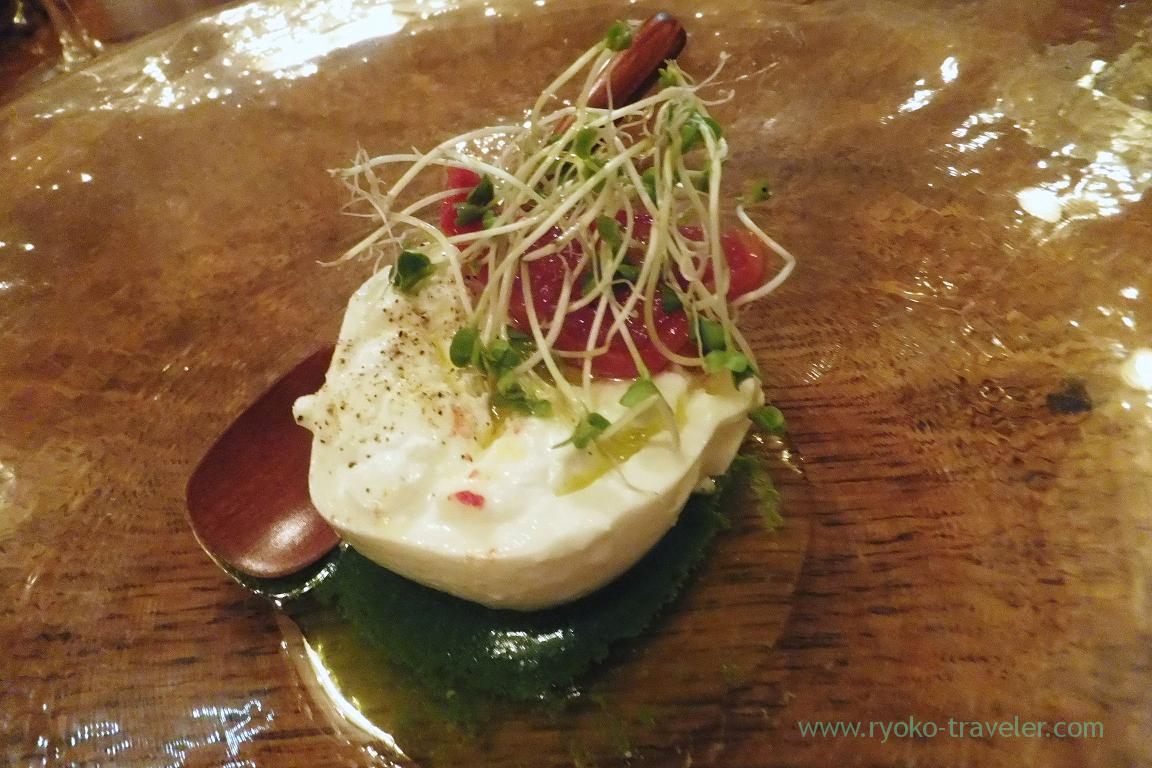 Cold raw salmon with Hatcho miso and wasabi (サーモンの冷製 八丁味噌)
Miso and wasabi is Japanese foods. But it went with olive oil well. The cook said sometimes he thinks why does he buy Japanese foods like miso, wasabi, shiokoji and so on nevertheless he is running French foods restaurant 😛
Involtini of fresh saury and purre of paprika and oregano (新秋刀魚のインボルティーニ パプリカのピュレ オレガノ)
My first target came ! So fatty saury was rolled 🙂
Both its crisp skin and the meat was delicious !
We had to prepare next drink for gorgeous one. Red wine from Yemen.
iXSiR Altitudes
Roasted chicory with gorgonzora picante (チコリの1時間ロースト ゴルゴンゾーラ・ピカンテを添えて)
Ah, I really wanted to eat it again. So happy to eat it again ! Why is it so delicious nevertheless its plain looking !?
Pappardelle with Pecorino Romano, salt and pepper and mushroom (ペコリーノロマーノ・塩胡椒・マッシュルーム パッパルデッレ)
So much grated Pecorino Romano was put like snow.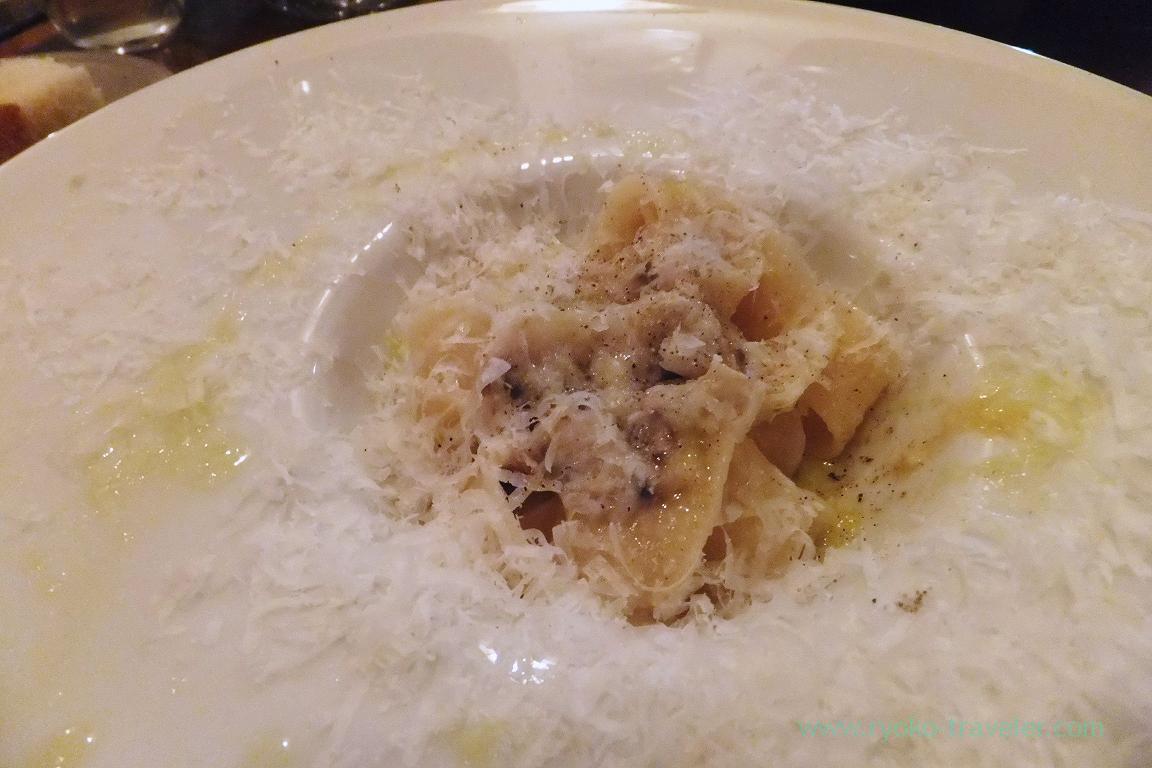 Last ! Our longing Mangalitsa pork came !
Roasted Mangalitsa pork shoulder with corn, yolk and shiokoji (ハンガリー産 マンガリッツァ豚肩ロースト トウモロコシ 卵黄 塩麹)
The cook gave us it in special 😉
Of course, it is Mangalitsa pork !
Unbelievably delicious meat ! This was the second time to eat Mangaritsa pork !
Last time I ate it at Merveille !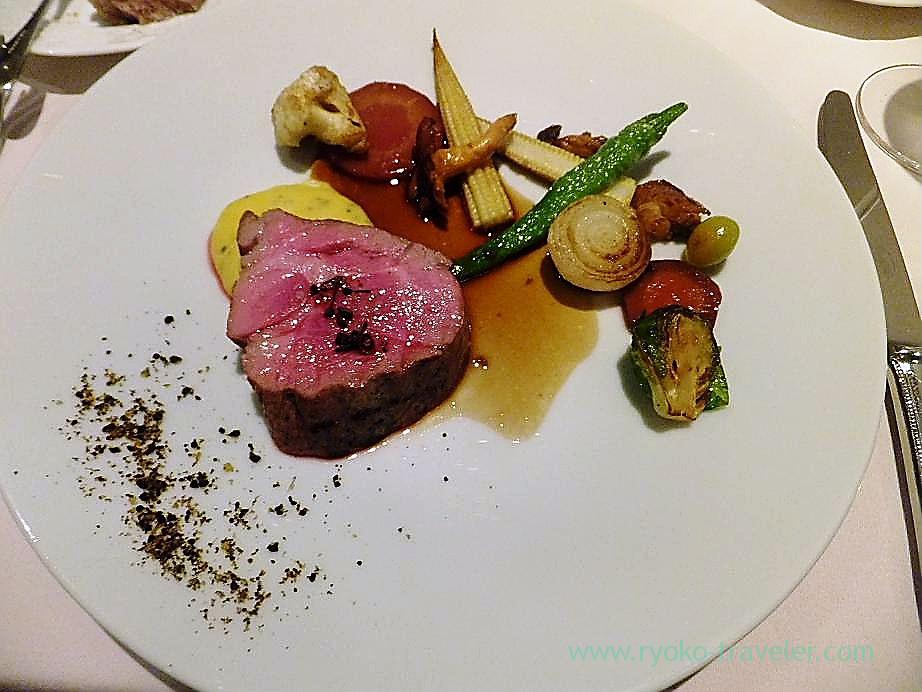 (Closed) Nihonbashi : French dinner with friends at Merveille

Notice : This restaurant has already quit their busines (12nd, October, 2015) Wonderful French cuisine party only...


They also served awesome Mangaritsa pork.
But this restaurant has already quit their business.
As same as last time, I was really satisfied with the dinner.
http://www.ryoko-traveler.com/il-tram1/
I want to visit there soon (when new course appear) !
About il tram (イルトラム)
Address / 4-9-5 Miyoshi, Koto-ku, Tokyo
Station / Kiyosumi-Shirakawa station (Toei subway, Tokyo metro)
Open / 18:30 – 23:00
Saturdays, Sundays and another national holidays / 12:00 – 14:30, 18:30 – 23:00
Closed / Mondays (in case of national holidays, it is open and the next day is closed
Website / http://www.il-tram.com/(in Japanese only)