To my great regret, one of my coworker quit the company this month.
So, I won't be able to go to Tsukiji and Kachidoki at lunchtime earlier because I'll have to stay in the office around 11:30 pm.
Mototane, Hajime Sengyo-ten, Ikenoya and so on….. Their foods always sell out earlier.
If I want to go there, I have to go there before noon. Ummmm….. 🙁
That's why I want to go there as much as possible this month.
Ikenoya is one of my favorite lunch spot ! It is not farther than Tsukiji, so I often go there. Especially, oyster fry is so good ! I frequently went to there during every winter.
Sometimes I gave up going to Tsukiji on my way and I changed my direction and went to Ikenoya:P
I had wanted to eat grilled salted greater amberjack, so I ordered it.
*Grilled salted greater amberjack set (かんぱち塩焼き定食) 780 yen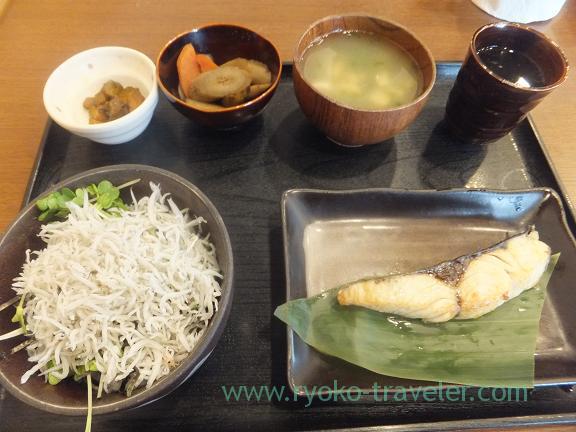 Speaking of greater amberjack, What I know the way of eating is only sashimi. This was the first time to eat heated greater amberjack.
Umm. I had wanted to eat it, but I think greater amberjack should not be heated. It was dried out. I found why there are not many restaurants that serves heated greater amberjack 😛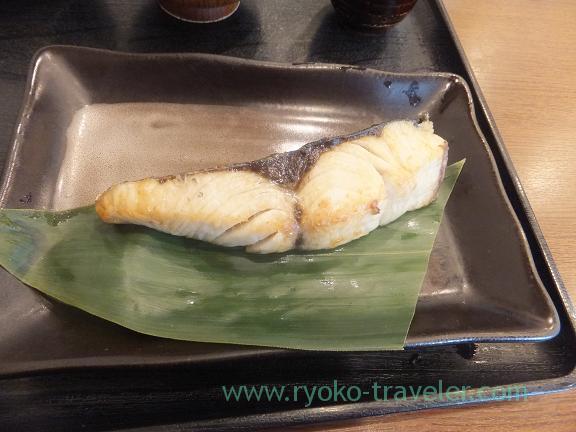 If you order grilled fish or boiled fish at Ikenoya, you can choice one from some side dish (mainly deep fried foods).
That day, I could choice from minced cutlet, ham cutlet, stuffed cabbage and dried sardine bowl.
I ordered dried sardine bowl.
At first, I was very worried about that. This set have a cup of rice. Dried sardine bowl is much dried sardines on the rice. …. Two portions of rice ? :O
No, no. Only one portions of rice 🙂 It meaned they change from the cup of rice to dried sardine bowl 🙂
Many dried sardines were on the rice !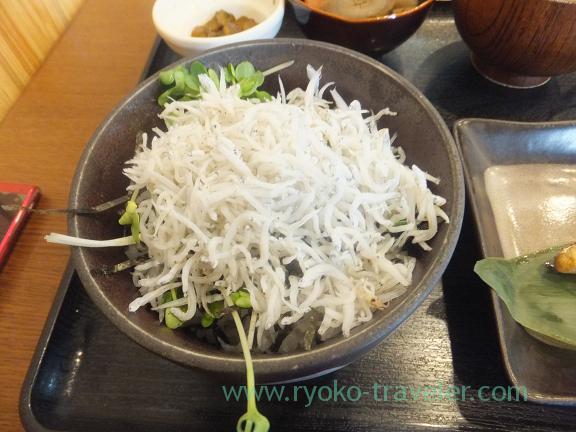 Lightly salted dried sardines were so tasty 😀
But,,, I don't want to give up taking lunch at Ikenoya ! Oyster fry season will come soon ~~~~~ !
Ikenoya (池のや)
3-7-10 Kachidoki, Chuo-ku, Tokyo
Open – from 11:00 to 14:00 and from 17:00 to 22:30
Saturdays – from 11:00 to 14:00
Holiday – Sundays, national holidays